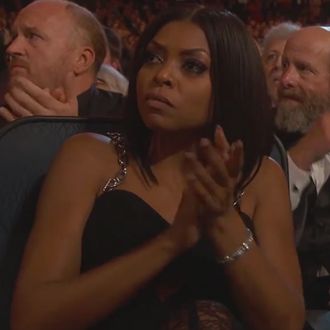 Taraji is your biggest stan.
Taraji P. Henson might have lost the Emmy last night, but you wouldn't have known it. She was first on her feet, cheered harder, and gave the biggest hug to the history-making Viola Davis, who became the first black woman to win Outstanding Actress in a Drama. Before that, she had the chance to give Regina King her very first statuette. Taraji will be your ultimate hype woman, because she knows better than anyone that these black women have been working in the industry for decades, and now, they're finally getting what's theirs.
Come get your Emmy, Regina!
And now come get your hug.
Why aren't you all still clapping??
"A rising tide lifts all boats."
Viola beelined for this hug.
These are some epic hugs.
This is what female friendship looks like.
Meanwhile, we're just going to be sitting here like Kerry Washington: