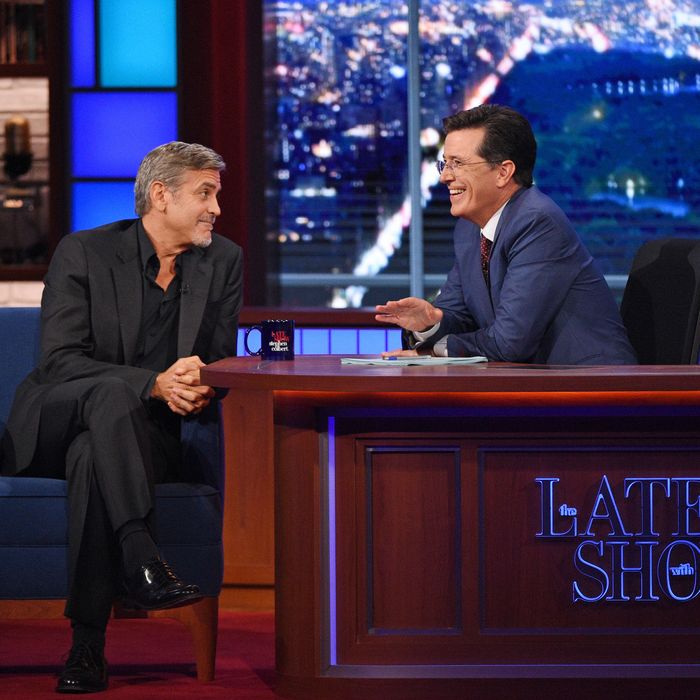 Welcome back, C-shaped desk.
Photo: Jeffrey R. Staab/CBS
Has there ever been a more effortless, joyful premiere than that of The Late Show With Stephen Colbert? The new Late Show walks in the enormous shadow of Letterman's tenure, but it is definitively its own animal. It is as slick as a late-night network show has ever been, even while invoking the hand-spun feel of public-access shows and '90s Conan. It is as giddy and weird as Strangers With Candy, even as Colbert asks legitimately hard-hitting questions of his guests. It's almost enough to make us look forward to the 2016 election. It's almost enough to make us not miss The Colbert Report … almost.
The good news is a lot of Report-isms have carried over to the new show, down to his opening "Hello, nation" greeting. Stephen Colbert the conservative blowhard may have given way to Stephen Colbert the comedy genius himself.
1. The Sentimental Set
The Colbert Report set was always more than just a desk, chair, and increasingly intricate portrait of the host — it served as a living library of Colbert memories. Those memories, which include Captain America's vibranium shield (gifted to Stephen by Cap himself — seriously, he left the shield to Stephen Colbert in his will) and a pennant the real Stephen Colbert's mother kept from the 1963 Freedom March on Washington, are now joined by an ancient cursed amulet that compels Colbert to sell hummus.
2. Jimmy!
It's unclear if Jim Hoskinson, the Colbert director Stephen Colbert often bossed around on-camera with a simple "Jimmy," is actually back from directing Last Week Tonight or if "Jimmy" has merely become Colbert's catchall term for whichever director he is currently working with, but when Colbert talked to "Jimmy" from the set of The Late Show, it felt good to know that some things never change.
3. The Casual Prop Comedy
The funniest joke in the entire world to me is Stephen Colbert casually smashing his hand on a calculator. He did it on Strangers With Candy while calculating Jerri's aptitude-test score, and he did it on The Colbert Report so often that there's an entire supercut of the running gag. No one handles — or mishandles — a prop like Stephen Colbert, and him dumping a whole package of Oreos in his mouth/down his shirt/all over his face was an absolute delight.
4. The Stephen-Centric Décor
He may not be playing a narcissistic conservative anymore, but as Stephen Colbert himself pointed out, he is still a (pretend) narcissist. As such, in addition to the memorabilia collection, the new Late Show set sports a projected Stephen-faced Sistine Chapel homage and, of course, a C-shaped desk.
5. The Incredible Music
Stephen Colbert has great music taste, so he obviously picked music wunderkind Jon Batiste and his band, Stay Human, to provide the show with its unique sound. Already the new Late Show has featured Brittany Howard, Ben Folds, and the legendary Mavis Staples, among others, as musical guests. But what else do you expect from the man who repeatedly challenged the Decemberists to contests, sang "Lean on Me" with Michael Stipe and Brian Eno for no apparent reason, and (I was a former Colbert Report intern) played Neutral Milk Hotel's "Holland, 1945" during at least one commercial break during every single taping?
6. It's Okay for Things to Get Uncomfortable
During his time on The Daily Show and in the early days of The Colbert Report, no one was quite sure just how seriously to take Colbert. Through all of his devil's-advocate blustering, Colbert was always asking questions as tough as they were hilarious — and sometimes it got uncomfortable. When Colbert asked, entirely seriously, how Jeb Bush would be different from his brother, it was presented in a funny way, but he wanted a serious answer, and he wouldn't accept anything less. It may be a late-night comedy show, but that doesn't seem to mean that Colbert is taking his job as semi-accidental political force any less seriously.
7. Colbert Nation
Some things never change. Colbert still loves his audience, and they love him right back. It's possible there's never been a late-night host with such an immediate and devoted following, as evidenced by the Colbert Nation's dutiful chanting of "Stephen, Stephen" at the top of the show. Colbert's fanbase is so intense, he once had a shot at the presidency so legitimate, he had to rescind his satirical candidacy. He doesn't have a sidekick, but he clearly doesn't need one. The cult of personality around Stephen Colbert acts as his co-host. And, if the premiere episode was any indication, it's only about to grow.