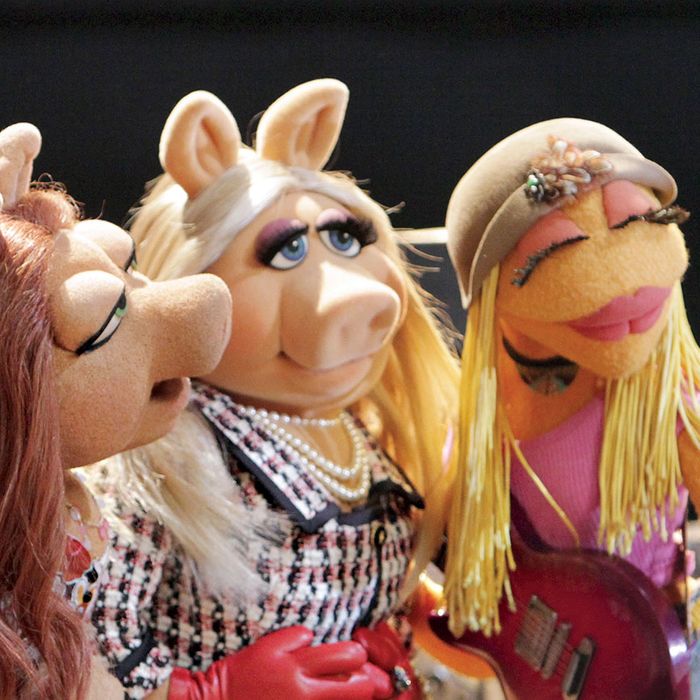 The Muppets.
Photo: Andrea McCallin/Courtesy of ABC
When Muppets creator Jim Henson died in May 1990, it wasn't just Kermit the Frog who lost his voice; it was his whole enterprise. The Jim Henson Company has struggled ever since to recapture the magic — or at least to remain a viable entertainment brand. A big part of the problem was that word, brand: More than any other set of lovable characters, the Muppets never felt like a product. Between them, Henson and his puppeteer partner, Frank Oz, provided the voices of Kermit, Dr. Teeth, Rowlf, Waldorf, and the Swedish Chef (Henson), and Animal, Fozzie Bear, Miss Piggy, and Sam the Eagle (Oz). And they acted them, too, hoisting lovingly crafted creations over their heads. The effect was less like a constellation of salable characters than a repertory company of actors. They didn't just have recurring bits of shtick: They had neuroses, manias, yearnings, blind spots. They were only human, because they were so powerfully associated with the humans who created them; that's why, no matter how diligently new actors and puppeteers worked, things always felt a bit off.
The shifting cultural context hurt, too. The original Muppet Show, which ran in syndication from 1976 to 1981, adopted the variety-show format descended from vaudeville. Even during the late '70s, it was a bit of a nostalgia act. The last full-on attempt to mount a new Muppets series was Muppets Tonight, which ran from 1996 to 1998 on ABC; it was fitfully charming but lacked the spark of Henson's original, and its overall faithfulness to its predecessor gave it an unintentionally sad undertone; it served mainly to remind Muppet lovers that what was lost was lost. At a certain point, you had to wonder if time had simply passed the Muppets by — if their greatness would eventually have to be accepted as past tense, along with Henson's.
But then there were a string of delightful hits: the 2005 TV special The Muppets' Wizard of Oz; the 2011 movie The Muppets (written by and starring lifelong Henson devotee Jason Segel) and its sequel, Muppets Most Wanted (2014). Finally, there was hope. All three put the familiar characters into fresh contexts and made breakout stars of new characters, including the kindhearted, confused Walter in The Muppets and Pepe the King Prawn (who'd been around for a while, but graduated to icon status with adults when he stole Oz out from under Dorothy by turning to the camera and intoning, "Those of you who have Dark Side of the Moon, press PLAY"). And now comes a new ABC series, simply titled The Muppets, which feels like a culmination of the company's post-Henson struggles: a show that incorporates many of the trends that have defined TV since 1990, including reality television and scripted sitcoms with documentary affectations.
The Muppets is set on and around a nonexistent late-night variety show, Up Late With Miss Piggy, that's shot on a Hollywood soundstage and supposedly airs after Jimmy Kimmel Live. Series creators Bill Prady and Bob Kushell have made some bold choices, including shooting the entire thing with a handheld camera and presenting it as a series of "caught" moments, giving an effect similar to that of The Office or Parks and Recreation. A summer PR campaign played up the idea that the Muppets were real-world stars who had private lives as well as careers, and broke the bombshell revelation that Kermit (Steve Whitmire) had split with his longtime girlfriend, Piggy (Eric Jacobson*), to take up with a younger pig, Denise (Julianne Buescher). Denise is the head of marketing for the network; the pilot deals with the fallout from Kermit's decision, which includes Piggy's fury, unexplained until the show's final moments, that Elizabeth Banks has been booked as a guest. (No spoilers here, but the big reveal is both surprising and psychologically acute.) Kermit-Piggy-Denise is mirrored by Fozzie's (Jacobson) budding relationship with a human woman named Becky (Riki Lindhome*) whose parents worry that a human-bear relationship can't work and say things that are, frankly, speciesist. ("He likes the salmon, what a surprise," Becky's dad mutters.) In the second episode, Piggy falls in love with Josh Groban, which is both a good thing for the show and a very bad thing. On the plus side, Piggy's suddenly nice to everyone. On the minus side, Groban persuades her to class up the show by making Dr. Teeth and the Electric Mayhem go acoustic and play soft jazz.
There are dangers inherent in this approach: A big one is that by adopting some of the trappings of entertainment aimed at grown-ups, The Muppets would risk becoming too pretentious, too showbiz-insidery, or, heaven forbid, too tawdry, perhaps verging on Avenue Q or Peter Jackson's R-rated Muppet send-up, Meet the Feebles. The show stumbles over that last border from time to time, but not so much that young kids would notice; as with Warner Bros. cartoons and classic Simpsons episodes, the gags are pitched so that grown-ups will get the real joke while children laugh because the characters sound funny. ("When your online profile says passionate bear looking for love, you get a lot of wrong responses," says Fozzie.) It might take some time to adapt to what the gang is trying to do here, but it's definitely in sync with the Muppet mission of entertaining everyone at their own level, and for every misjudged moment there are several more that are sublime, such as when the camera zooms in to capture a Piggy-Kermit argument through the slit of a barely open dressing-room door, or when Gonzo asks Kermit for notes on his Russian-themed Dancing With the Czars sketch. "Do you have any notes?" Gonzo (Dave Goelz) asks. "I hate everything about it," Kermit says. "You hear that?" Gonzo exclaims. "Only one note!"
*This article appears in the September 21, 2015 issue of New York Magazine.
* An earlier version of this piece misidentified Eric Jacobson as Frank Jacobson, and said that Margo Harshman plays Becky. Becky is played by Riki Lindhome.