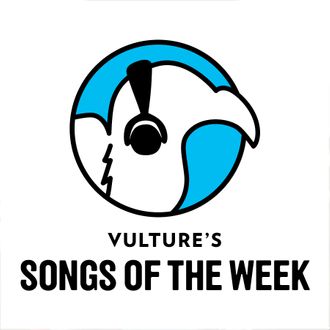 Every week, members of the Vulture staff highlight the best new music of 2015. If the song is worthy of your ears and attention, you will find it here. Read our picks below, share yours in the comments, and subscribe to the Vulture 2015 Playlist for a comprehensive guide to the year's best music.
Ryan Adams, "Style"
Picking the best track off Ryan Adams's 1989 cover LP wasn't hard. Some of the songs from the original are so irrevocably poppy that hearing Adams warble them was disconcerting, while others, like "Bad Blood," were completely stripped of any teeth they had to begin with. But on "Style," Adams gives listeners a heavy reverb treatment that actually takes us to 1989 as promised. It's scream-y, desperate, and wonderful. Ryan, can you do "All Too Well" next? —Eric King (@erickingdavid)
Alex G, "Kicker"
This week, the prolific Philly-based songwriter Alex G conjures the ghost of Mark Linkous on his new song "Kicker." The discomfiting echo of feedback, the sobering guitar, even the bird motif in the lyrics — all seemed to whisper, "Sparklehorse." —Lauretta Charlton (@vulture)
Autre Ne Veut, "Age of Transparency"
I can't decide if the fact that this song has a jazz version makes me like it more or less, but I will say that "Age of Transparency" is strong enough to warrant alternate takes. The song is monastic and funky — two things that seem fundamentally opposed, but, under the cinematic eye of the electronic-R&B musician also known as Arthur Ashin, seem to make total sense. Also, the song's video (by Yours Truly) is a compelling watch. —Jillian Mapes (@jumonsmapes)
Ellie Goulding, "On My Mind"
If you ask me, Ed Sheeran's "Don't" is the best diss track out there. Sheeran wrote the song about Goulding allegedly cheating on him. "And I never saw him as a threat/ Until you disappeared with him to have sex of course/ It's not like we were both on tour/ We were staying on the same fucking hotel floor." Come on. Well, this song is definitely not a response. It's still good, though. The sound — and Goulding's usually delicate voice — have a lot more oomph, which hopefully we can expect more of on her new album out later this fall. —EK
Father John Misty, "Welcome to New York"
Father John Misty proves that you really can put your own stamp on other people's material, and that stamp doesn't even have to be one you thought of. It's a fact that he made the least original version of Taylor Swift's "Welcome to New York," but somehow it manages to be the most entertaining. Jokey music is my least favorite thing in the world, but I would listen to an entire album of this because the Velvet Underground homage is so spot-on (and because I've worn out VU's Loaded). That said, I really shouldn't egg anyone else on with this concept — covering 1989 should not become a meme … unless all the covers are this perfect. —JM
Hamilton Cast, "My Shot"
Those of us without the luck or connections to have seen Hamilton on Broadway could only marvel at the nearly unanimous praise Lin-Manuel Miranda's historical hip-hop musical has received from every corner. It would be impossible for this play to be as good as everyone claimed it was, right? Now, with the soundtrack finally streaming, we can come close to judging for ourselves, and the answer is, Oh wow, it is. It's worth it to listen to the whole thing through, but if you don't have time, "My Shot" is a fine encapsulation of what Hamilton's about, blending intricate rhymes, Biggie references, and historical foreshadowing into something totally new. —Nate Jones (@kn8)
Demi Lovato, "Confident"
Demi might have a shot at the fall's best pop album. That probably sounds absurd, what with Adele, Grimes, and more waiting in the wings, but the two songs she's put out so far from her fifth effort have been gold. You couldn't have asked for a better midsummer earworm than "Cool for the Summer," even as obvious as it was. The album's title song has even greater hit potential: It's another boisterous Max Martin production (that borrows heavily from Kanye's thumping "Black Skinhead") about letting your freak flag fly high and really feelin' yourself. I hear shades of Gwen Stefani's "Hollaback Girl" and Macklemore's "Can't Hold Us," two former No. 1s. —Dee Lockett (@Dee_Lockett)
Joanna Newsom, "Leaving the City"
As the weeks go by, it's become clear that Joanna Newsom's Divers is not merely a beautiful-yet-dangerous mirage spun by a French-Canadian mermaid, but it is, in fact, a real album. Its second single, "Leaving the City," arrived this week, and unlike the cheerfully esoteric "Sapokanikan," this one's a comparatively sparse love song with a lush piano arrangement that's as much of a Newsom trademark at this point as multisyllabic words. —NJ
Lana Del Rey, "The Blackest Day"
A far cry (or, more accurately, a far whisper) from the immediate trip-pop of Born to Die, Lana Del Rey's Honeymoon seduces you with apathy. The pop starlet who begged to be kissed on her open mouth has given way to a morose, codeine-doped former femme fatale dragging on her last cigarette. The sepia-steeped self-eulogy hits an emotional apex with "The Blackest Day," which mingles LDR's early Portishead influences with her noir fixation; the drums quake as if experiencing massive epiphanies while Lana coos about Billie Holiday. "I got you where I want you/ You're deader than ever/ And falling forever/ I'm playing head games with you." Whether she's addressing a former lover, or her own persona, or her listeners, remains ambiguous … gorgeously ambiguous. —Greg Cwik (@GregCwik1)
ZHU and AlunaGeorge, "Automatic"
Some of the mystery surrounding electronic producer ZHU may have worn off since last year's brilliant "Faded," but the demand for his sound hasn't. This is the record Disclosure would've killed to make this year, and ZHU didn't have to team with a name like Sam Smith to do it. Instead, he went for AlunaGeorge, the British synth-pop duo whose "You Know Like It" saw a second life this year thanks to a remix from DJ Snake. Together, they've married deep house with jazz for an unofficial sequel to Disclosure's "White Noise" (which also featured AlunaGeorge), and it works beautifully — especially from 2:40 on. —DL
Do you like good music? Of course you do! Subscribe to Vulture's 2015 Playlist to hear the new music we're listening to every week.