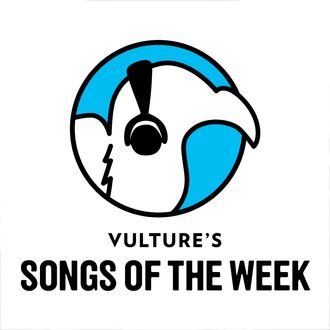 Every week, members of the Vulture staff highlight the best new music of 2015. If the song is worthy of your ears and attention, you will find it here. Read our picks below, share yours in the comments, and subscribe to the Vulture 2015 Playlist for a comprehensive guide to the year's best music.
Amy Bezunartea, "Something to Show You"
This is the perfect song for sad naps: those times when you don't want to be in a better mood or pep up — you just want to let yourself be present in your sadness. Over sparse guitar and piano, Bezunartea's voice nails the balance between longing and comfort, singing, "I just want to call you and tell you something good / just for once, just for once in my life." —Jesse David Fox (@JesseDavidFox)
Chromatics, "Shadow"
Chromatics's Johnny Jewel introduced this Adult Swim Singles track by pointing out a beautiful certainty: "The flame of nostalgia is a tempting black hole to jump into, but I recognize it as a fantasy." "Shadow" is a song about fighting that urge after allowing yourself a proper good-bye. The bittersweet sentiment comes to define the song's sepia-toned synth-pop, making it the sort of thing you'd expect to hear as John Hughes protagonists leave high school — and their first loves — behind. Singer Ruth Radelet turns the phrase "for the last time" into a battle cry repeated not in unison but in the interior of one's own mind; in many ways, it's more sacred like that. —Jillian Mapes (@jumonsmapes)
Fresh Snow, "Don't Fuck a Gift Horse in the Mouth" (feat. Damian Abraham)
Fresh Snow are a Canadian psychedelic post-rock band that sound like Broken Social Scene — or rather, Broken Social Small Get-Together. "Don't Fuck a Gift Horse in the Mouth," the massive 11-minute EP, epitomizes that. Well, it does for the song's first four minutes, which are very groove-heavy. Then, like a monster in waiting, Fucked Up's Damian Abraham shows up, offering a growl to contrast the song's pleasant vibes. After that the song builds into an interesting mix of calm and chaos. —JDF
Jess Glynne, "Gave Me Something"
Will Ferrell and Chris Kattan turned our interest in 1990s dance music into a running gag on SNL, but the era had more to offer than VIP lists, red velvet rope, and bad fashion. Powerhouse R&B vocalists like CeCe Peniston and Martha Wash ("Everybody Everybody" by Black Box) were the driving forces behind those bass-heavy beats and jazzy horn samples. I think of 25-year-old Jess Glynne, who has scored five No. 1 singles in the U.K. in 18 months, and whose debut album, I Cry When I Laugh, was released on Friday, as a vocalist in this same tradition. Her music, also very dance-floor-friendly, isn't groundbreaking, but her voice helps to elevate it beyond cliché. I had this track on repeat during one gloomy day last week. —Lauretta Charlton (@laurettaland) 
Angel Haze, "The Woods"
The coda on Angel Haze's first independent release, Into the Woods, is one of the most personal songs on the album. It opens with a brief audio recording before an intense story of loss and self-reflection unfolds. Tk Kayembe keeps the production minimal here while Haze ruminates openly on grief and suffering. It's rare to hear an artist get so personal. —LC
Jewel (feat. Dolly Parton), "My Father's Daughter"
Jewel is back after a holiday album, a collection of children's songs for Fisher-Price, and a stint on The Sing-Off. Here, she teams up with country legend Dolly Parton for "My Father's Daughter," a natural collaboration that makes you wonder why it took them until now to do it. Their voices quiver in perfect harmony as they take turns singing about growing up, family, and their love of music. —Eric King (@erickingdavid)
Leona Lewis, "I Got You"
Last year, after Simon Cowell's Syco allegedly pressured her to do an album of covers, Lewis left her label to pursue her own creative vision. Her fifth studio album, under Island Def Jam, is full of truth but a little rough around the edges. "I Got You" doesn't pace itself as strictly as Lewis's other hits "Happy" and "Bleeding Love," but it's injected with a rolling energy that I can only guess comes with the freedom to make music her way. —EK
Mac Miller feat. Miguel, "Weekend"
It took a lot to get Mac Miller to make the best album of his career, which, for me, is what his new album, GO:OD AM, represents. As the story goes, he had to write, rewrite, then scrap nine albums, and eventually beat a crippling addiction to lean and coke with the help of Rick Rubin. Now that he's a recovering addict, Miller's rapping with a clearer mind and more justifiable confidence than he ever has before. You'll feel for him when he raps, "No one gives a fuck about your loneliness" on the scary-good "Rush Hour." And you'll want to root for him when you realize he may have his first large-scale hit with the pregame essential "Weekend," thanks to a sun-soaked verse tacked on from Miguel. Isn't it amazing what sobriety and some major-label bucks can do for an artist? —Dee Lockett (@Dee_Lockett)
MNEK and Zara Larsson, "Never Forget You"
Every major pop star would do well to have London wunderkind MNEK on their songwriting roster — Rihanna and Gaga, I'm looking at you — because he's without a doubt in the top tier of those working behind the scenes. Thankfully, he also releases solo work. "Never Forget You," with Swedish star-in-the-making Zara Larsson is his latest one-off (though it may wind up on her debut album), and it's a smash. He described it to Annie Mac as a "club ballad," and that's pretty accurate — it's a twinkling, grand duet that's equal parts measured and explosive. File this next to Robyn & La Bagatelle Magique's "Love Is Free" as the second-best dance song I've heard this year. —DL
Raury feat. Tom Morello, "Friends"
What's not to love about a road-trip song? In August, your favorite industry plant hitchhiked his way from Atlanta to Chicago, hitting up fans on Twitter in each city for rides, and he filmed the whole thing. It's exactly the kiss good-bye to summer I've been waiting for — an excess of positive vibes and good energy to distract you from the months of snow that are on the horizon. In October, Raury will finally release the debut album he's spent a solid year hyping the blogs up for. It might not meet the lofty expectations hanging over his head, but I bet it comes close. —DL
Jay Rock feat. Black Hippy, "Vice City"
You can't talk about Jay Rock's overdue debut album and not mention that it reunites Black Hippy. For the first time in too long, Kendrick, Schoolboy Q, Ab-Soul, and Jay are trading bars on the same song — except they're not. The starkly produced banger has them rapping more so in a lineup than in unison, which is how the TDE pack's albums have unfolded. First up to bat on the song is Kendrick, who brings back the style of overstressing the end of his verse that he loves to do when he's with his label mates. He's followed by Jay Rock, then Ab-Soul, then Schoolboy Q — each confessing their sins to the mic. Who's got the most on his conscience? I'd say it's Q, who's now so far removed from the hood financially that his young daughter's getting cocky. Mo' money, mo' problems, as they say. —DL
Stars, "A Simple Song"
"A Simple Song" finds Stars finally going full–Postal Service. This is a good thing! Technology has advanced since a decade ago, so there are fewer beeps and boops and more gurgles and ooo-ooo-ooos, overall creating a larger sonic palette. Also, the song lets the melancholic moments linger longer, undercutting some of the twee factor. It's nice and simple. —JDF
Do you like good music? Of course you do! Subscribe to Vulture's 2015 Playlist to hear the new music we're listening to every week.