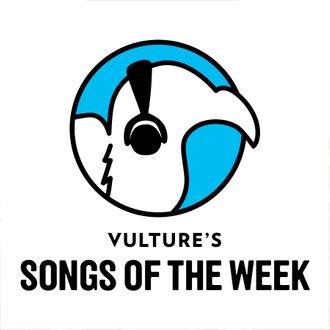 Every week, members of the Vulture staff highlight the best new music of 2015. If the song is worthy of your ears and attention, you will find it here. Read our picks below, share yours in the comments, and subscribe to the Vulture 2015 Playlist for a comprehensive guide to the year's best music.
Annie, "Cara Mia"
Finally, Norwegian godsend Annie has returned to us from wherever in the world she resides these days for a brand-new EP, out in October. And of course she's back for another electro-pop master class with her longtime producer Richard X. "Cara Mia" is the kind of song that descends from the heavens to blow Bieber's "What Do You Mean?" out of the water. She makes that and whatever Kygo's been doing sound like cheap imitations so derivative that she had to make an appearance in the studio just to flex. Here's hoping Annie sticks around for longer than an EP this go-round. —Dee Lockett (@Dee_Lockett)
Frankie Cosmos, "Sand"
As the daughter of Kevin Kline and Phoebe Cates, Frankie Cosmos knows showbiz rule No. 1: Always leave them wanting more. With her newest single, "Sand," right when you get ahold of the charming melody, the song ends. Yep, this song is only 49 seconds long. As it goes, there is only one thing to do: Press play one more time. And again, the song ends to soon. So you press play again. And so on, and so on. —Jesse David Fox (@JesseDavidFox)
Deafheaven, "Baby Blue"
On New Bermuda, Deafheaven's follow-up to 2013's masterful Sunbather, the post-metal pioneers unleash an arsenal of classic metal moves — the buzz-saw, palm-muted riffs, George Clark's banshee death-howls — while delving deeper into shoegaze territory. The album begins with fury and fades out with near-serenity, and in between spans the full spectrum of emotions. New Bermuda's standout track, "Baby Blue," includes several minutes of reverb-tinged notes coming down in flurries, possessing a newfound tranquility, gradually building like a hungry fire before the shrieking and riffing start. A metal band that appeals to people who don't like metal, Deafheaven keep on making life difficult for writers trying to slap a label on them. —Greg Cwik (@GregCwik1)
Disclosure feat. Lorde, "Magnets"
Disclosure's second album dropped last Friday, and the guest list alone was proof that the U.K. house duo has gone pop: In addition to a now-chart-topping Sam Smith returning as the Lawrence brothers' go-to vocalist, the Weeknd, Miguel, and Lorde guest-star, albeit with varying results. Although it brings to mind ICP at every mention, "Magnets" shows a more mature side of Lorde while staying true to her slight angst: "Pretty girls don't know the things they don't know," she declares coolly. Musically, the midtempo "Magnets" teeters between spacey seduction and vaguely tropical beats, keeping it deliciously low-key like any ode to boyfriend-stealing should be. I mean, this is a song about getting nasty, but Lorde's a lady, y'all. —Jillian Mapes (@jumonsmapes)
The Knocks and Matthew Koma, "I Wish (My Taylor Swift)"
The Knocks have been teasing their debut studio album 55 for the better part of 2015, collaborating on single after funky single. For their latest earworm, they call upon the pop genius of Matthew Koma, who has penned songs for a few obscure artists, like Hilary Duff, Kelly Clarkson, and Britney Spears. "I Wish," they write on the band's Facebook, was conceived in a studio somewhere in the Nicaraguan jungle (whatever) and is all about chasing the dream. "I wish I could find my Taylor Swift," they sing, "Be bad as hell, take no one's shit / She'd be a boss and so legit." Better watch your back, Ryan Adams: Looks like some other fanboys are gunning for your spot in the Swift Squad. —Eric King (@erickingdavid)
New Order, "Nothing But a Fool"
I feel like I'm constantly listening to records of bands trying to sound like New Order. Funny enough, it appears New Order's first album in a decade, Music Complete, might be the best one. The song is packed with songs that could fit in and stand up against the band's prime-era hits. There is a lot to choose from, but I'll choose "Nothing But a Fool" because, in a "Leave Me Alone" vein, it showcases New Order's unique ability to make up-tempo ballads. —JDF
Peaches feat. Feist, "I Mean Something"
Peaches' first album in six years wouldn't have been complete without a cameo from her longtime friend, collaborator, sock-puppeteer, and onetime roomie, Feist. Leslie Feist joins her fellow enigmatic iconoclast for a trap song that raises a brazen middle finger to the ludicrous ageism the industry uses as an excuse to shut out its most vital women. "No matter how old, how young, how sick, I mean something," Peaches raps, refusing to be silenced at — gasp! — 46. —DL
Kurt Vile, "That's Life, tho (almost hate to say it)"
Kurt Vile makes a better indie-rock everyman than most of his peers, and a part of that stems from his sense of balance when it comes to tackling universal themes. He'll start a song by employing the phrase "take a chillax" (as in the occasion for a pill habit), jokingly call himself a "certified badass," and end his sentences with "… man"; he'll even visibly cringe at how life's clichés turn out to be true. However, that doesn't deter him from engaging these bigger ideas about how man moves through the world and What It All Means. His folksier acoustic songs, such as this one, range from gorgeous to sleepy, but on his new LP, b'lieve I'm goin' down …, he's more or less in the former camp. It's worth a close listen on headphones, even just for his lyrics. —JM
Wet, "Weak"
The good news is we finally have a release date for the Brooklyn-based indie trio Wet's highly anticipated debut album, Don't You. The bad news is it's not until January 2016. In the meantime, we have a new single. On "Weak," lead singer Kelly Zutrau pleads for her lover to stay in a quietly seductive voice that is both urgent and cool. The song shares the intimate appeal of previous 2015 releases "Deadwater" and "You're the Best," with even more emphasis on composition and instrumentation. (For the assist, Wet enlisted Nat Baldwin of the Dirty Projectors on upright bass, the wildly talented violinist Marques Toliver, as well as Kelsey Lu McJunkins on cello.) It's yet another example of the young Brooklyn-based DIY trio's uncanny ability to craft luxuriant pop. Good things are coming in 2016, and I can't wait. —Lauretta Charlton (@laurettaland)
WOKE, "The Ravishments of Light Cooking"
Flying Lotus, Shabazz Palaces, and Thundercat have formed the supergroup of Kendrick Lamar's dreams. And their first release features that dream team, plus George Clinton, who previously worked with two thirds of the group on Lamar's "Wesley's Theory." It's a mishmash of funk, jazz, soul, and rap that sounds as deeply rooted in the past as it is headed toward the future — a creative movement in hip-hop FlyLo has pioneered for years. #StayWoke. —DL
Do you like good music? Of course you do! Subscribe to Vulture's 2015 Playlist to hear the new music we're listening to every week.