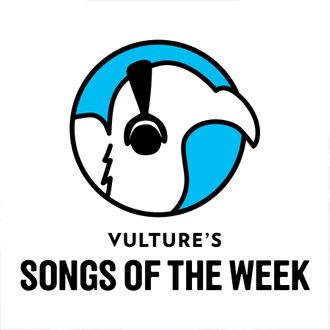 Every week, members of the Vulture staff highlight the best new music of 2015. If the song is worthy of your ears and attention, you will find it here. Read our picks below, share yours in the comments, and subscribe to the Vulture 2015 Playlist for a comprehensive guide to the year's best music.
Justin Bieber, "What Do You Mean?"
2015 Bieber is so sweetly sad. This was already apparent from his great, wrenching Skrillex-and-Diplo collab "Where Are Ü Now," but now, after his tearstained VMA performance this weekend, we have the meme to prove it. His new single "What Do You Mean?" is also quintessential Sad Bieber — he sings it as though he's muttering into his shoelaces rather than into the eyes of the girl who's confusing him so, and yet it still somehow works as a slice of beautifully breezy, late-summer pop. Why does Bieber cry? Why does Mona Lisa smile? I know the answer to neither of these questions, but I believe that they are cosmically related. —Lindsay Zoladz (@lindsayzoladz)
Car Seat Headrest, "Something Soon"
Car Seat Headrest is the sometimes–full band, sometimes–solo project from Virginia lo-fi rocker Will Toledo. Although he's only 22, he's already put out 11 (yes, 11) albums through Bandcamp, and his devoted cult audience has eaten them right up. In sound and spirit, he's like a Robert Pollard for the digital age. The stomping "Something Soon" is the first single from his forthcoming Matador Records debut, Teens of Style (out on October 30), and it's a fitting introduction to his weird, slightly macabre world. "I want to close my head in the car door, I want to sing this song like I'm dying," he says, and then proceeds, with blazing urgency, to do just that. —LZ
Alessia Cara, "Seventeen"
Rising R&B-pop star (and Vulture favorite) Alessia Cara wasn't the first person to think of the antisocial pop anthem, but that doesn't make "Here" any less classic. The same adage applies to Cara's "Seventeen," an obvious follow-up that leads off her solid new Four Pink Walls EP: The ode to youth is as common a pop trope as it gets. Even with its obvious tricks (the hand-clap beat, the sing-along vocal run, the warnings against fame's perils), "Seventeen" simply sounds like a hit, and the vocally endowed Cara a star. —Jillian Mapes (@jumonsmapes)
Miley Cyrus feat. the Flaming Lips, "Something About Space Dude"
The Flaming Lips have delivered some of the most psychedelic and audacious rock 'n' roll of the past 25 years, but maybe they've run out of ideas. This would explain Dead Petz, the band's new collaborative album with Miley Cyrus, released on Sunday night after her admirable yet boring stint as the host of the VMAs. The first song, "Dooo It," performed live at the end of MTV's broadcast, is an ode to pot and a denunciation of its hippie-lifestyle underpinnings. (A friend asked whether it would do more harm to the marijuana movement than good. The jury is still out on that, but my guess is no politician will be playing it on the campaign trail.) It's not an especially thrilling song, but the album does have a few standouts. "Something About Space Dude" is a gorgeous, understated fantasia that recalls some of the Lips' more romantic work during the Yoshimi era. It's no "Party in the USA" or "Do You Realize," but it's a treat. —Lauretta Charlton (@laurettaland)
Empress Of, "Hot N Cold"
You can hate on Katy Perry all you want (believe me, I do), but there's no denying she's responsible for some of the greatest songs of the decade. In the lead-up to Empress Of's debut album, the young Grimes in the making has covered one of Katy's older gems, the synth-heavy "Hot N Cold," for Rookie's theme song this month. Unbelievably, the magazine says it's the first cover she's ever recorded, and I'm comfortable saying it's better than the original. She doesn't wash out her silky vocals with too much synth the way Dr. Luke and Benny Blanco did to Perry, but instead finds that sweet spot on the tonal spectrum of chilled and red-hot emotions Katy Perry references. She couldn't have made a better love letter to the '80s. All it takes is Katy's stamp of approval, and Empress Of is set. —Dee Lockett (@Dee_Lockett)
Kacy Hill, "Foreign Fields"
Admit it, you thought Kacy Hill's career was DOA, too. The 21-year-old signed with Kanye's G.O.O.D. Music late last year, and then was never heard from again … until a few days ago. Now she's back with "Foreign Fields," an airy cut from her forthcoming EP that she made after Rick Rubin introduced her to Zane Lowe fave Jack Garratt. This song's all over the place: It builds in texture as it unfolds, blasting a rush of bass on top of splashes of synth on top of a piano arrangement. It's just a gorgeous piece of music, in case you were wondering if Kanye's ear for talent is still as good as it always was. —DL
Little Mix, "Hair"
Americans are just starting to catch on to British girl-group Little Mix. Up until recently, they'd only been known Stateside for Perrie Edwards, whom Zayn Malik recently broke up with. But thanks to some well-timed marketing, the X Factor alums have an album coming out in November to capitalize on all that tabloid fodder. Right now, their sugary, The Craft–inspired single "Black Magic" is climbing the charts, but it's their latest song that might give them a legit U.S. crossover. Fans will insist "Hair" is a Zayn diss track — with lines like, "Cause he was just a dick and I knew it," who can blame them? — and it's possible that's true. Whichever lame ex the song's about, it really doesn't matter. "Hair" is somewhat of a risky single to send to pop radio in that its hook includes a steel-drum breakdown, but it works! Little Mix have a banger on their hands, and if I were Fifth Harmony, I'd get to work on that sophomore album, ASAP. —DL
Rick Ross feat. The-Dream, "Money Dance"
Ricky! The-Dream! Together! Thank you, September. Thank you, pears. Thank you, racks and bands and stacks of money that I do not have but enjoy thinking about when I put items in my Amazon shopping cart. Yasssssss. (This song was produced by Jake One. Rick Ross, king of pink wine, has a new album out on Thursday titled Black Dollar.) —LC
The Weeknd, "In the Night"
There will never be another Michael Jackson, try as any hologram might to resurrect him. It's a blessing, then, that we have dudes like the Weeknd to bank on his legacy with songs like "Can't Feel My Face" and, even more so, "In the Night." Both songs were produced by pop genius Max Martin, and for the latter, the Weeknd borrows from MJ's "The Way You Make Me Feel" for the song's underlying melody. It's the kind of sensational ripoff you can't be mad at because it doesn't insult MJ's memory, nor does it try to feign any nuance. It's purely a damn fine MJ impression that'll likely buy the Weeknd his first No. 1 album and international superstardom. Smart man. —DL
Do you like good music? Of course you do! Subscribe to Vulture's 2015 Playlist to hear the new music we're listening to every week.