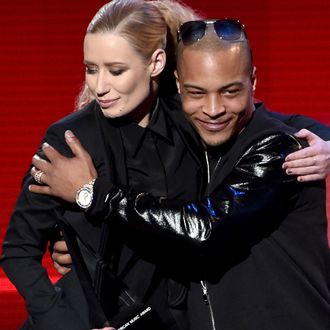 Iggy's on her own.
Photo: Kevin Winter/Getty Images
For the longest time, Iggy Azalea had no louder cheerleader than her label boss T.I., but that relationship has since hit a rough patch. Speaking to Hot 97's "Ebro in the Morning," T.I. now says he and Azalea are no longer on speaking terms. "It took a bit of a rest stop," he says of where they now stand, confirming that he personally doesn't talk to her anymore. His breaking point, he says, happened when he supported her through Q-Tip's history lesson on appropriating hip-hop and the backlash that immediately followed. "After everything was cool, they came back and undid what I had just [done to help her]," he explains. "Don't stand around and talk while I'm blocking bullets." However bad things are between the two personally, Azalea clarified in a since-deleted tweet following his interview that she is still signed to a publishing deal with T.I.'s company. And, for her part, she appears to be readying her career comeback regardless of T.I.'s concerns or lack of involvement:
Update: Azalea has responded to T.I.'s claims in a series of tweets posted this afternoon.
Update No. 2: T.I. now tells the AP that he and Azalea are still working together: "That's still my partner. Her life has taken her in a different direction. My life is still as it was before. But Iggy is doing what she feels makes Iggy happy. That's what she should do. We're focused on making the next Iggy record and dodge the same adversities we faced last time. It's definitely not a 'sever my ties, walk away, I'm upset' thing. It was more so like, OK, you have a lot on your plate right now. I'm going to pull back or wait until you come to a place where you're ready to come back to the table, so we can start again and make history some more. We speak to each other without having to speak to each other … It's funny sometimes, but we're straight."