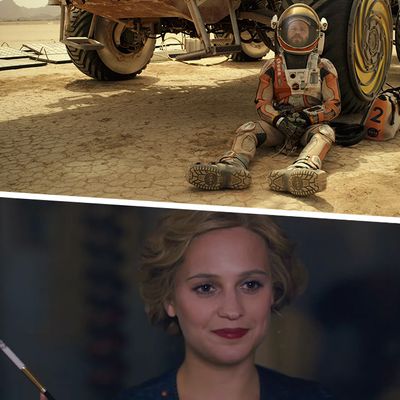 Now that your Vulture staffers have put the Toronto Film Festival to bed, which films are sitting pretty, and which sunk under waves of misplaced hype? Jada Yuan and Kyle Buchanan recapped the most notable movies they watched; here is a list of their superlatives.
The Comparisons King: Spotlight
Is there any movie that this Best Picture front-runner can't be held up to? In Toronto, it was often measured against Black Mass (another movie about a Boston community keeping crime under wraps) and Truth (which also follows a team of crack operatives laboring to report a controversial story); Oscar-wise, we compared it to the whiz-bang procedural Argo. The great thing about Spotlight, though, is that when you compare it to any of those movies, it typically comes out ahead. —K.B.

Most Hypocritical: Stonewall
Good on disaster maven Roland Emmerich to fund a tiny drama dedicated to a pivotal gay-rights moment, but isn't it a little ironic that the 59-year-old director (and his 53-year-old screenwriter Jon Robin Baitz) depicted nearly every gay man over 30 as a twink-obsessed sex predator, or that the movie had the balls to villainize the mainstream-courting Mattachine Society, even though the movie itself controversially invented a masculine blond lead in order to court that very same mainstream? —K.B.

Best Excuse to Gush About Charlotte Rampling: 45 Years
This gorgeous meditation on love and marriage from director Andrew Haigh (Weekend, HBO's Looking) won both its leads the top acting prizes at the Berlin Film Festival before making another big splash in Toronto.* Theater actor Tom Courtenay is wonderful as the male half of a British couple on the eve of their 45th wedding anniversary, but it's Charlotte Rampling who most transfixes, as the devoted wife whose preparation for their big celebration is interrupted by some stunning news. It's an exquisitely controlled performance, and one that every critic we spoke to at Toronto is rooting for; here's hoping it isn't too subtle to capture the love of the Academy. —J.Y.

Most Realistic Sex Scene: Anomalisa
Though we recently published a screed against the Muppets and their randy, TMI sex lives, it turns out that not all puppet sex is bad! In fact, the most wonderful love scene of the Toronto Film Festival involved the one-foot-tall, stop-motion characters of Anomalisa, from the minds of co-directors Charlie Kaufman and Duke Johnson. Kaufman's first directorial effort since Synecdoche, New York follows the depressed, middle-aged British customer-service expert Michael Stone (voiced by David Thewlis) to Cincinnati for one night, where he has a hotel-room assignation with insecure Lisa (Jennifer Jason Leigh). As he and Lisa awkwardly kiss and strip in his hotel room, we realize that these stop-motion figures have too-real-for-Hollywood flaws, like tummy pooches and flabby butts. But it's not just the physicality that rings true — it's also the sweetness of the encounter in which two very lonely people strive for a moment of connection, if just for one night. —J.Y.

Best Use of Liam Hemsworth: The Dressmaker
We can't in good conscience recommend The Dressmaker, an utterly balls-out, campy hot mess, but one thing it does have going for it is Liam Hemsworth at his most startlingly charismatic. Typically relegated to so-so love interests (as in The Hunger Games) or stolid leading-man parts (in direct-to-Redbox dramas you've likely never seen), Hemsworth gets to act in his natural accent here while convincing Kate Winslet to stay in their tiny Aussie hometown, and perhaps that makes all the difference. It also doesn't hurt that in the film's centerpiece scene, he happily accedes to Winslet's demand that he strip down to his underpants. —K.B.

Best New Reason to Obsess Over Cary Fukunaga: Beasts of No Nation
Ever since he stepped away from HBO's True Detective, our world has been sadly devoid of opportunities to admire Cary Fukunaga's face, man-bun, and considerable directorial talents. Well, the drought is over, thanks to Fukunaga's explosive new film Beasts of No Nation, which he wrote, directed, produced, and shot himself. It follows a child soldier in an unnamed West African country (newcomer Abraham Attah) who gets mixes up with Idris Elba's frightening warlord, and it also happens to be Netflix's first foray into original feature-film distribution: They're releasing it on their streaming platform, as well as in select theaters, on October 16. The gorgeous visuals alone make it worth paying to see on a big screen. —J.Y.

Least-Welcome Orgies: High Rise
Boy, was this movie a missed opportunity. The J.G. Ballard novel it's based on offers a premise that could hardly be more contemporary — an apartment building full of convenience-addled adults breaks down, provoking a war between the haves and have-nots — and director Ben Wheatley assembled a stellar cast, including Tom Hiddleston, Sienna Miller, and Elisabeth Moss. But after a promising introduction, High Rise essentially becomes a feature-length montage of narrative-eschewing close-ups, and even the meant-to-shock orgies feel dated and dull. —K.B.

Hottest Make-Out Sessions: Equals
In the sterile, Gattaca-like future of Equals, emotion is verboten and the "Defects" who can't contain their feelings are either institutionalized or encouraged to commit suicide. To feel is to condemn oneself to die, and yet you know from the second that Nicholas Hoult's Silas stares at the quivering hands of Kristen Stewart's Nia that these two co-workers are ready to risk it. Director Drake Doremus films Silas and Nia's furtive meetings with the same intense eroticism that he brought to his exhilarating depiction of young love in 2011's Like Crazy, and earns extra points for titillating without a single explicit image. At the very least, this ought to have the next MTV Movie Award for Best Kiss in the bag. —J.Y.

Most Delicious Star Performance: The Martian
Ridley Scott's new space drama concerns an astronaut (Matt Damon) who's accidentally been left on Mars, and after Damon's recent insensitive comments on Project Greenlight, plenty of you will shout at the screen, "Just leave him there!" But it's a shame the kerfuffle happened after Damon delivered one of his very best performances that, in its solitary nature, leverages every drop of star power the Oscar winner has to give. Can he pull his foot out of his mouth forcefully enough to accept those warranted hosannas? —K.B.

Most Cathartic: Miss You Already
Catherine Hardwicke's Miss You Already — a portrait of the lifelong friendship between two women living in London, played by Drew Barrymore and Toni Collette — might have a tears-and-death logline straight out of a Lifetime movie, but in a film landscape that so often seems to minimize the trials of modern womanhood, Miss You Already stands out for the heartbeat beneath its saccharine surface. Prep the waterproof mascara: This is a movie designed to make women cry, and we need it. —J.Y.

Most Redundant: The Program
The opening-credits sequence of this new Lance Armstrong biopic is set to Leonard Cohen's "Everybody Knows," and that song inadvertently sums up why this movie falls so flat. After all those news stories, books, documentaries, and interviews, we know all too well that the man who was once the greatest cyclist in American history actually cheated in each of his seven Tour de France wins, and few of the details in this film feel new. Ben Foster, who portrays Armstrong and even took performance-enhancing drugs for the role, is ferocious, but director Stephen Frears never manages to scratch beneath the same public record that everybody knows. —J.Y.
Biggest Breakout: The Danish Girl's Alicia Vikander
Walking into The Danish Girl, everyone expected to be blown away by Eddie Redmayne, who was cast as trans pioneer Lili Elbe. What surprised Toronto audiences is how forceful Alicia Vikander proved to be as Lili's wife, Gerda. This Swedish actress has repeatedly impressed as of late, in movies like A Royal Affair and Ex Machina, but The Danish Girl will surely be her Hollywood coronation. —K.B.

Biggest Oscar Dark Horse: Room
The pre-festival talk tipped Room as a breakout showcase for Brie Larson (Short Term 12, Trainwreck), who plays a young woman held captive for years before trying to engineer an escape for her and her young son. Then Room got three standing ovations at its public premiere and took home the festival's Audience Award — which has had a remarkable correlation to eventual Best Picture winners like 12 Years a Slave, The King's Speech, and Slumdog Millionaire — and the Oscar pundits sat up a little straighter. Now, in addition to Larson, expect voters to mull the impressive achievements of director Lenny Abrahamson and screenwriter Emma Donaghue (who adapted her own novel), as well as Larson's young co-star Jacob Tremblay, who takes child-acting to a whole new level of adorable. —J.Y.

Most Optimistic: Where to Invade Next
Based on the title and filmmaker alone, you'd be forgiven for expecting Michael Moore's new film to be a rant against America's military-industrial state. Instead, in a sneaky bit of subterfuge, Moore's film mostly concerns itself with European countries that have figured out ways to treat their citizens with respect, touching on Italy's ample vacation time for workers and Finland's no-homework educational system. The director made the movie in the wake of his divorce, his 60th birthday, and his father's death, and it's infused with the emotional depth of a man who's decided to stop complaining and become part of the solution. —J.Y.
* This post has been corrected to show that the actors in 45 Years won prizes at the Berlin Film Festival, not the Venice Film Festival.