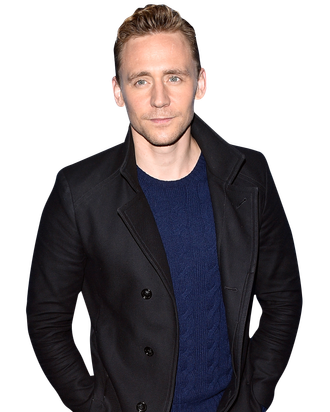 The screaming fans usually pressed up against barricades along the red carpets of the Toronto Film Festival have had a Benedict Cumberbatch–size hole to fill this year. Lucky for them, another dashing Brit, Tom Hiddleston, who happens to be Cumberbatch's BFF, had two movies premiering here. (And he was announced as the star of King Kong: Skull Island the day after this interview.)
Up first was the Hank Williams biopic I Saw the Light, in which Hiddleston tries on an Alabama accent and yodels and strums his way through the honky-tonk singer's greatest hits in such convincing fashion that the audience at my screening would often burst into applause at the end of songs. Then came the premiere of High-Rise, a gonzo adaptation of J.G. Ballard's 1975 dystopian sci-fi novel from director Ben Wheatley (Kill List, Sightseers), in which the residents of an ultramodern, luxury high-rise start ignoring societal rules and descend into orgiastic chaos. I am happy to report that both movies involve Hiddleston getting very naked and having very sexy sex (with Elizabeth Olsen in Light and Sienna Miller in High-Rise). We caught up with him amid the festival madness to talk orgies, whether he misses Marvel villainhood, and why it was important to show his butt in Guillermo del Toro's Crimson Peak.
So, High-Rise: Whoa. Had you seen it before watching at the premiere?
I'd seen it once finished, about three weeks ago. I mean, I knew it was going to deliver that kind of experience. I knew when I read the script, and again when we were shooting it, that it was going to have a playful, provocative element to it. What did you think?
It was batshit. I'm still trying to process. I loved how in the Q&A, director Ben Wheatley said whether you find the movie brilliant or appalling "depends on where you stand on orgies."
Ha-ha. Exactly.
What's yours?
What's my stance on orgies? Listen, if it floats your boat, who am I to stand in judgment? I've never been in any real-life context like some of those. I think [author J.G.] Ballard was always, particularly with High-Rise, fascinated by extremity, and what happens to human beings in the most physically and psychologically extreme situations — that actually the mask of civilization is a thin veneer. We're only one sort of neighborly argument away from all-out chaos and murder, and descent of sort of going back to the jungle. I really think he was just quite rigorous about always taking it to its end point. He never stopped at the boundaries of good taste.
I mean, the opening line of Ballard's novel is, "Later, as he sat on his balcony eating the dog, Dr. Robert Laing reflected on the usual events that had taken place within this huge apartment building during the previous three months." So you've got him eating a dog and immediately kind of pushing the sympathies of his readership, saying, "This is what you signed up for."
What was that shoot like? Did it devolve into chaos, too?
Weirdly, it felt quite contained, but in the best way. It had to be. The way the film was structured, we all shot from 8 a.m. to 6 p.m. every day, and it was quite rigorously controlled. We never went over because Ben needed to save the money for the visual-effects shots of the exterior of the building. So it was, for an actor, a strangely regular day job. We would turn up and go mad, and then pack up and go home.
And be covered and dirt and blood.
Yeah, to shoot it was enormous fun because there were so many parties where it was about lack of inhibition and dancing and being mischievous. It felt like a very mischievous set. And so any things we came up with on the hoof, you know? We knew Laing and Royal had to play squash. We didn't quite know how we were going to shoot it until we spent a day in a squash court, and I love that scene. You never see that. You sort of never see that stage.
Did you party after the 6 p.m. end of day?
No. [Laughs.] We had very sedate dinners. We shot it in a town called Bangor in northern Ireland, which is by the sea, this very beautiful northern Irish seaside town where they do fish and chips and Scotch eggs, so we would wash off the blood and the paint and the soot and the dust, and go and have a quiet piece of fish and a glass of wine, and get to bed and get ready for the next round the next day.
Between High-Rise, I Saw the Light, and the Crimson Peak trailer, I've seen your butt three times in the last couple of days.
Wow. I apologize unreservedly.
Do you have any qualms about doing nudity?
I don't, particularly. If it's justified in the storytelling, I absolutely have no problem with it. That's sort of my condition, if I can see where it fits into the story. In fact, in Crimson Peak, I really pitched for that scene because it's about the twin energies of sexuality and violence, these polar opposites. Gothic romance is actually all about sex and death, and there's always an undertone, whether it's Northanger Abbey or Jane Eyre or The Castle of Otranto. The proximity of death and our fear of it, but also the fact that we're impelled by our sexuality towards things and towards choices and people is actually what gothic romance is about. Guillermo and Mia and myself all agreed that that sex scene had to be quite powerfully realized.
The trailer is very steamy.
The movie is absolutely beautiful. It's certainly the most beautiful film I've ever been in. It's a gothic fairy-tale, so it has an extraordinary integrity in its design. It looks like a painting, and every single frame you disappear into in a way that perhaps only Guillermo del Toro can imagine. And it has an extraordinary sincerity, which is unique for our time, because there's a lot of quite glib storytelling, and some of it's very assured and successful, and some of it, you wish as though there was a little bit more heart and soul. I love that Guillermo has told this story very sincerely about a young woman who falls in love with somebody, a man, who has a mystery, and behind the veil of that mystery, actually a whole load of dark secrets, and she ends up having to save herself, and it's kind of a fable, really, about survival and independence, and finding out who you really are.
You're going to be back in the Marvel world as Loki with Thor 3, yes?
I don't know that I am. I haven't spoken to anybody at Marvel for two years. So I literally — there's no side to it. I just don't know.
Did you have villain envy watching Avengers: Age of Ultron?
Ha-ha. No. No. I was good.
You don't miss it?
I enjoyed the film enormously. Of course I did, and it made me feel proud of all those guys. They're all old friends now. But, no, I had really fulfilling, interesting year last year. I did Crimson Peak, High-Rise, and I Saw the Light in one straight year while they were shooting Age of Ultron, so I was happy. I was busy.
You sang beautifully in I Saw the Light. There were some moments when you were doing Hank Williams's songs that, afterwards, the audience burst into applause.
I'm so glad to hear you say that. That was the most challenging, the most difficult, and the most joyful aspect of the film for me.
There's been some blowback about you not being southern, or even American. How do you reconcile that?
Well, it's in my makeup somehow that when people tell me I can't do something, I want to prove them wrong. It always has been. But of course I kind of expected that before I signed on. The only way I can explain it is from my own perspective, which is, as an actor, I've always been most compelled by unknown territory. I like to think of myself as a correspondent sort of going off into foreign territory and scratching around and bringing back my findings. I hoped that the fact that I was not American and not from the South and there were so many things that I wasn't born with actually made me more committed to honor Hank Williams, his family, his legacy, even more. It gave me kind of a deeper, more profound desire to get it right.
Have you met the family?
I've met Jett, Bobbie Jett's daughter, and I've been in touch with Holly, his granddaughter, who's a musician in her own right. She saw the film, and she wrote me one of those letters that you keep forever, which is really actually all I need. I mean, people know Hank Williams, but they only know some of his songs; they don't know the circumstances of his life. But I can tell you — and I mean this really sincerely — it was such a pleasure to make that music. The thing that caught fire about Hank was his honesty and his authenticity, and the reason he became a star is because he wrote from his heart, and he sang from his heart, and he was singing about being in the doghouse or being so lonesome he could cry. Men and women in the wake of the Second World War, across the South, across America, were like, "That guy is the real deal. He has this brazen full voice, and he's singing about me. That's what my life is like." That was just a really powerful inspiration as an artist. For someone to be so truthful and say, "This is who I am. I'm going to put this out there, and I hope you can relate to it."
Are you still singing?
Yeah! I still have my Gibson J-45. Sometimes I even travel with it. I mean, it's addictive.