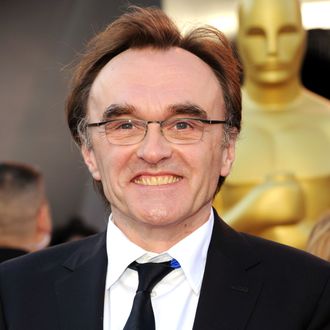 Danny Boyle.
Photo: Jason Merritt/Getty Images
Director Danny Boyle is finally making moves on his long-awaited Trainspotting sequel, according to Deadline. The director told the website this weekend that all "four main actors want to come back and do it. …  Now it is only a matter of getting all their schedules together which is complicated by two of them doing American TV series." The first movie, which followed a band of drug addicts in Edinburgh, was released in 1996 and was adapted from Irvine Welsh's novel of the same name. There have been forced, halfhearted rumblings of a sequel for a while because Welsh put out a sequel of his own, titled Porno, in 2002.
As the name implies, Porno catches up with the crew a decade later and features a last-hurrah scheme to score big bucks off a porno. Boyle's rendition of the follow-up will come from a "terrific" script adapted by John Hodge — just like the first one. The Independent adds that the screen sequel will begin production soon and will likely be Boyle's next project — actor Ewan McGregor even pointed out that "it would make sense for the sequel to be made in 2016, the 20th anniversary of the original." 
Boyle initially confirmed the sequel back in 2013, and told us it was still at least a couple years out:
So, where are you at with adapting Porno  [Irvine Welsh's sequel to Trainspotting]? From what I understand, John Hodge has a good first draft.
Oh, right, yes. He has. But these things usually take us a couple years, but we're hopeful on that one, yeah. Hopefully we can get them all back together again! And if we get a decent enough script ready for them, I think they'll all consider it, and we'll have a lovely resonance with so much time having passed for them as actors, as characters, and for the audience as well.

It's a loose adaptation, so are you switching the protagonist, since Sick Boy is the focus of Porno, versus Renton? Would you add things so they're not just making a porn film?
Oh, there will be lots of changes. The great thing about the way John adapted the original book is that he took the spirit of the book and just ran with it, because really, strictly speaking, it's not an adaptation of the book. You shouldn't think of it as an adaptation of Porno. It's more like a Trainspotting 2. There might be some characters we use from the book, but it'll be its own thing, I think.
You can read the rest of that interview here. Other information about the project is still under wraps, but if you want more clues, you can grab Welsh's Porno here.