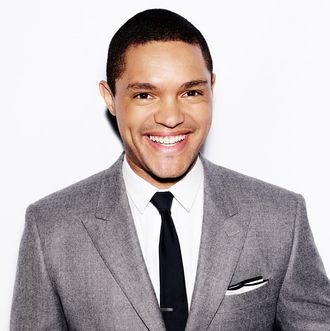 Here's his first week schedule.
Photo: Peter Yang/Comedy Central
Trevor Noah's mini-series of a first week as the new host of The Daily Show will kick off on September 28 with Kevin Hart. The comedian is scheduled to be Noah's first guest, Comedy Central has announced. Tinder co-founder and Bumble CEO Whitney Wolfe will appear on the show September 29, while Republican presidential candidate Chris Christie is set for September 30. Noah's first musical guest will be Ryan Adams, who'll likely perform a cut from his new 1989 cover album on October 1.