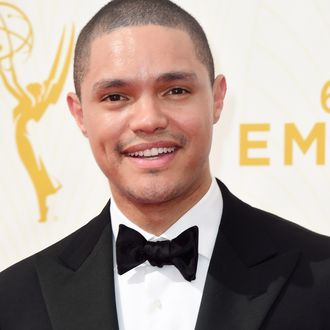 Trevor Noah.
Photo: Frazer Harrison/2015 Getty Images
With Trevor Noah's iteration of The Daily Show quickly approaching, the new host has begun teasing its beginnings. In an interview with Rolling Stone published Tuesday, Noah explained how the first episode(s) will be a reintroduction of the show; he also weighed in on the perceived strain of political correctness in comedy and how the show's staff is diversifying. We've already learned a little about Noah's Daily Show, thanks to TCA, but below are some fresher highlights from the RS interview.
On the first episode:
The first episode will be a reintroduction of the show — but you can't just go off one episode like, Oh I know what this is about, I know what this is … So what we're doing is dividing the first week into a four-part mini-series that will set the tone for what we hope the show will be.
On the topics of free speech and political correctness:
Everybody wants to speak out on everything, and everybody wants to be offended about something. Instead of getting off their asses and actually being a part of some sort of movement, they just want to put a hashtag on it and go, "This is my stamp, this is me supporting something." And that's not really activism. At the same time, we evolve a lot as people and as a society. If you look at jokes that were acceptable 10, 20 years ago, like the way comics referred to certain groups — minorities, people of certain sexual orientations — you go, Wow, I can't believe that was a normal thing to say. At certain points we say, Hey that's actually not acceptable.
On the importance of increasing the show's diversity:
That's a big part of who I am. I myself am a diverse human being: I've been mixed in blood and in my cultural upbringing, so I believe in that. And when a story comes out that you're going to cover, it's nice to have a voice that has a direct connection to it. You can directly go, How does this feel for you? … The racial diversity of the correspondents has gone up dramatically. I won't tell you who they are but you will see them. Gender-wise, we've got a ton of great female writers, too. In the new submissions, 40 percent of the final writers we decided to go with are female.

Coincidentally, Splitsider today confirmed the full writing staff, which is as follows:
Writers/EPs:
Trevor Noah
Adam Lowitt
Steve Bodow

Head Writer:
Zhubin Parang

Senior Writer:
Daniel Radosh

Staff Writers:
Hallie Haglund
Dan McCoy
Lauren Sarver
Travon Free
Matt Koff
Dan Amira
Owen Parsons
Delaney Yeager
David Kibuuka
Joseph Opio
Devin Delliquanti
Alex Marino
You can read the full RS interview here. Noah makes his Daily Show debut September 28.