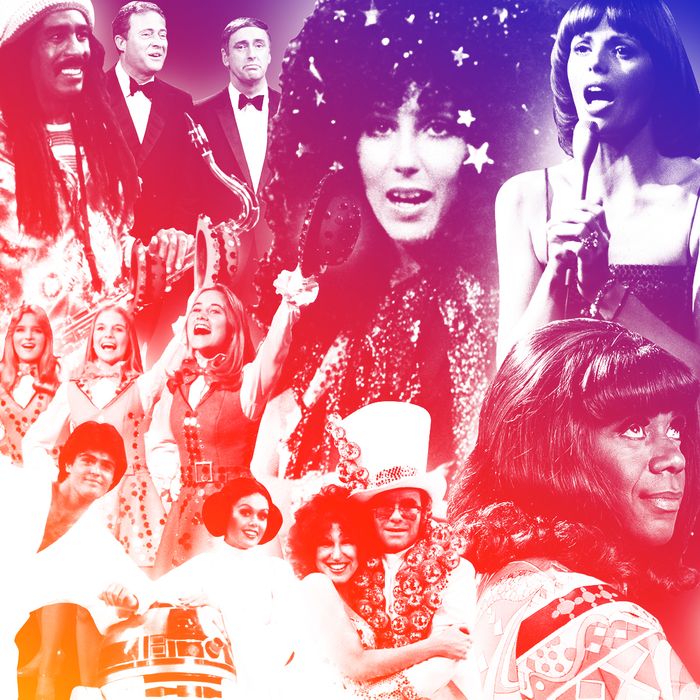 Photo: Illustration: Maya Robinson and Photos by Getty
In the months leading up to last night's Best Time Ever debut, Neil Patrick Harris and NBC had been touting the series as a modern reinvention of a great TV genre: the variety show. Technically, they didn't lie: Tuesday's opener featured an assortment of stunts and games, included both A- and C-list guest stars, and offered a kinda-sorta production number headlined by Gloria Gaynor. But for anyone who was alive prior to 1980, Best Time Ever bore virtually no resemblance to Donny & Marie, Sonny & Cher, Laugh-In, or any of the dozens of variety shows that populated American television from its infancy in the 1950s all the way through until the late 1970s. The genre beloved by baby boomers and Generation X, it seems, is still dead. And this is a shame, because variety shows — as a trip into the bowels of YouTube quickly demonstrates — were spectacularly entertaining. Don't believe us? Just watch: We've gathered more than two dozen examples of old-school variety below, mostly from the late 1960s and early 1970s. It's not meant to be a comprehensive list, and it ignores some of the biggest emcees of the age — Ed Sullivan, Carol Burnett, Dean Martin, Dinah Shore — because their shows are so very well known, even to younger folks. Check out our finds, and decide for yourself whether NPH made the right choice by going in a completely different direction.
The Sonny & Cher Comedy Hour/Sonny & Cher
The First Couple of 1970s variety starred in a series of shows, both together and apart, through much of the decade. Already rock stars, Sonny Bono and Cher translated their unlikely musical partnership into a comedy schtick built around their very different personalities. Cher played the cool, hip, glamorous superstar, while Sonny leaned into his Regular (Italian) Guy roots— basically, I Love Lucy's Lucy and Ricky Ricardo, updated for the post-Woodstock generation. The comedy was cheesy and often groan-inducing, but the production numbers were loose and fun, and the celebrity guests were top-notch. Here's the opening from their first series, The Sonny & Comedy Hour (1971 to 1974), which shows off Sonny and Cher's crazy chemistry …
… While this operatic parody of All in the Family demonstrates how the early show kept things current:
After divorcing and trying solo projects (more on those below), Cher and Sonny returned in 1976, rebooting with the simply titled Sonny & Cher. The format didn't change too much: Here are Farrah Fawcett and Cher pretending to be human mannequins.
The Sonny Comedy Revue/Cher
Both Bono and Cher landed their own shows after their marriage ended. Sonny's, which, per Wikipedia, kept on much of the creative team from the Comedy Hour, flopped after just 13 episodes. Clips are hard to find on YouTube, but this ABC promo for the series demonstrates why it failed: Minus Cher, all viewers could expect was really corny comedy.
By contrast, Cher's self-titled hour leaned heavily on production numbers, superstar guests, and stunning costumes from Bob Mackie. Here's Cher teaming up with guests Bette Midler, Elton John, and Flip Wilson to imagine what their lives will be like 50 years from then (and 10 years from now) in the year 2025. Watch as wacky comedy gives way to a rousing Motown medley:
Donny & Marie/Marie
The squeaky-clean brother-and-sister duo were massive in the mid- to late 1970s, appealing to kids, teens, their parents, and grandparents — basically, everyone (well, everyone white and living between the coasts). It helped that Donny and Marie came from showbiz stock: America had watched them grow up as part of the Osmond family TV dynasty, which began a generation earlier through appearances on variety shows hosted by the likes of Dean Martin, Lawrence Welk, and Jerry Lewis. But Donny & Marie, launched in 1976, was a much more modern variety hour. Debuting not long after Saturday Night Live had taken the country by storm, it featured much more ambitious comedy sketches and production numbers, often parodying whatever was big in pop culture at that moment. You will never think of Star Wars the same way after watching the Osmonds take on the megahit movie:
About two years after their ABC show ended, Marie Osmond returned with a solo effort for NBC. It tried to rip off the Cher post-breakup playbook — more glitz, more music — but reality just wasn't meant to be in the 1980s. We'll always have this amazing attempt by Ms. Osmond to cover Diana Ross's "I'm Coming Out":
The Captain and Tennille
Today, when one cable network finds a successful new kind of reality show, a zillion copycats follow. In the 1970s, a similar principle applied to variety shows. That's why the execs at ABC decided to rip off the mismatched-married-couple schtick of Sonny and Cher with the ordinary-looking "Captain" Daryl Dragon and his lovely wife, Toni Tennille. Immediately after the duo scored Billboard's No. 1 hit of 1975 with "Love Will Keep Us Together, the network gave them their own show. While those of us who grew up in the era remember it as a big deal, it actually lasted just one season. Hard to believe given cool guests such as Vincent Price:
Tony Orlando and Dawn
Yet another variation on the formula: alpha-male singer but instead of one female, let's give him two nagging little ladies! (Not surprisingly, the show basically just replaced Sonny & Cher on CBS.) It's hard to find clips of the comedy segments of the show, and the musical numbers were pretty basic. But here's the show's very mid-'70s opening:
The Smothers Brothers Comedy Hour
It almost seems wrong to mention this landmark series in the same breath as its campier cousins. The politically aware Dick and Tommy embraced the ethos of the late 1960s and mixed the usual production numbers and musical performances with sketches on racism and religion — nearly unheard of for the time. And famously, their activism got them canceled by CBS. They're included here because, as much as the show is remembered for how it challenged convention, it was also a variety show hosted by two oft-battling brothers (a relationship that birthed Tommy's famous line "Mom always liked you best."). Clips don't do the show justice, so here is a full episode from 1968:
The Jacksons
Before Michael became a megastar, he was the heart of this short-lived but well-remembered half-hour variety show, which began in the summer of 1976 and ended the following spring. Like the duo shows, the comedy here stemmed from faux familial feuding. But the main reason this show was awesome? America got Michael and Janet performing in their house every week, for free.
The Brady Bunch Variety Hour
In one of the many examples of how out of control the format got at its peak, in 1976, two years after The Brady Bunch ended its run on ABC, producer Sherwood Schwartz successfully pitched the idea of bringing back the Brady actors to reprise their TV roles. Only now, instead of a simple suburban family, they were all the stars of a variety show. Oh, and Jan? She was now played by a completely different actor, since Eve Plumb decided she was done with the character. It was a very dumb idea, and it lasted only nine episodes. It did, however, give us some amazing production numbers, including this salute to disco:
The Hudson Brothers Show/The Hudson Brothers Razzle Dazzle Show
Perhaps the least successful family singing group to get not one, but two variety shows during the 1970s. The trio — Brett, Bill, and Mark — had a CBS summer replacement showcase in 1974 and then immediately followed that up with a kid-friendly version on Saturday mornings (rechristened, awesomely, The Hudson Brothers Razzle Dazzle Show). Below, watch and feel sorry for Andy Griffith as he is reduced to joking with these nobodies, and then check out their moderately inventive main titles as well as a full episode of their Saturday morning show.
Shields and Yarnell
Here's how big variety shows were in the '70s: In 1977, CBS gave husband-and-wife mime duo Robert Shields and Lorene Yarnell their own summer series. Let that sink in: They were mimes. But they were also talented and funny, and they'd gained something of a following via dozens of appearances on other variety and talk shows. Here's an extended look at some of their best work:
The Flip Wilson Show (and other landmark African-American variety TV)
One of the bigger variety hits of the 1970s, and the most successful to date hosted by an African-American person. While Flip featured musical performances, its hallmark was comedy — including recurring characters and sketches, such as Geraldine ("The devil made me do it!") and Reverend Leroy. There were also lots of guest stars, including that time Leonard Nimoy stopped by:
While Wilson boasted one of the biggest hits, variety shows gave African-American entertainers a chance to serve as headliners on TV at a time when there were few black people as leads in sitcoms and dramas. Richard Pryor, Leslie Uggams, Redd Foxx, Lola Falana, and many more all had showcases.
Hee Haw (and other countrified variety shows)
Variety as a genre was so big back in the day, it had its own subgenres — like the countrified, down-home variety show. The most successful of this version of variety was Hee Haw, which began on CBS in 1969 but moved to syndication in 1971 when the network got rid of anything that smacked of "rural." Its hallmarks are intentionally corny comedy bits — played out against the fictional backdrop of Kornfield Kounty — and genuinely good musical performances. It stayed on the air until 1992, so it did something right. YouTube clips are tough to come by (perhaps since Time Life sells DVDs of episodes), but here's a look at the very first episode …
… And a big chunk of a latter-day episode of the show, from 1988.
Another country-tinged classic of the form was The Glen Campbell Goodtime Hour. Long before his "Rhinestone Cowboy" days, the musical icon was a weekly presence in homes, serving up the same mix of comedy and music as other shows — but with a focus (albeit not exclusively) on Nashville acts. It lasted four seasons, but fell victim to the same "rural purge" that claimed the life of Hee Haw. Here's Mr. Campbell with Ray Charles:
With her larger-than-life persona, of course Dolly Parton hosted a variety show — not once, but twice. The first time, in 1976, she fronted a syndicated half-hour called Dolly!, which welcomed a mix of country and pop stars. Every episode opened with Ms. Parton arriving on a swing and then singing some current hit. Here she is doing "Bad Bad Leroy Brown":
Amazingly, this show wasn't a hit. Nor, for that matter, was Parton's second attempt at the genre, the much-hyped 1987 ABC hour (it was also called Dolly, but because this was the sophisticated '80s, it lost the exclamation point). It also bombed, more because variety just wasn't working anymore. Here's a look at the opening of her very first episode:
Sha Na Na
Much the way '90s nostalgia today is all the rage, the 1970s saw a sudden surge in affection for all things from the 1950s. Grease, of course, was a big reason for this, and while John Travolta and Olivia Newton-John didn't get big reality shows, throwback rock group Sha Na Na — who appeared in a couple of key scenes in the movie — parlayed their movie success into a weekly syndicated variety showcase.
The Starland Vocal Band Show
You know that cheesy soft-rock staple "Afternoon Delight"? In the summer of 1977, CBS gave the group that sang it their own show. It would probably be forgotten by now were it not for the fact that it featured regular appearances by one of the show's writers: David Letterman.
Pink Lady
Imagine a Japanese singing duo whose members both speak in broken English. Imagine taking those two singers and pairing them with an unknown American stand-up comic named Jeff Altman, and then putting the three of them together on a variety show. NBC did this during the summer of 1980. It ran for six episodes, but its legacy — as one of the worst ideas ever in TV history — lives on. Here they are with Hugh Hefner (warning: you cannot un-see this). If anything killed variety shows, it was this.