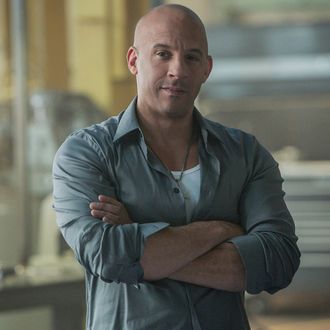 Vin Diesel.
Photo: Universal Pictures
In a VinBook post this weekend, Vin Diesel took the opportunity to clear the air regarding some recent reports about the state of the Fast and Furious franchise, the next installment of which is currently being directed by up-and-coming filmmaker No One. "My producing partner Neal [Moritz] would love for me to just sign off on a director," Diesel told fans, "but this is too special a franchise, so these matters have to be very carefully handled." Diesel did not address rumors that he would end up choosing himself for the job, but did promise that he would announce the new director in his next post. He also hinted that the Furious series would come to an end after its tenth installment, saying that he "promised the studio I would deliver one last Trilogy to end the saga."
However, Diesel also promised last year that Furious 7 would be the beginning of a new trilogy, which leads to three interpretations: That's still the plan, and the trilogy he's talking about will end the series with Furious 9; the plan has changed, and the series will now end after ten movies; or, most likely, Vin Diesel just can't stop himself from promising new Fast and Furious trilogies.