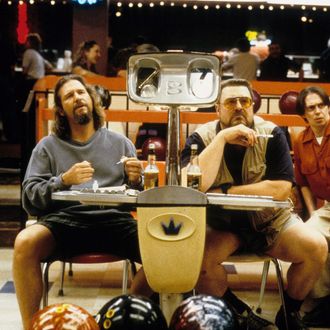 You don't roll on Shabbos, or anytime after October 1.
Photo: Gramercy Pictures
Each month, several films and TV shows leave Netflix's catalogue. We provide a list of titles leaving the platform, along with a selection of titles that may interest you. Feel free to note anything we've left out in the comments below.
Most of Netflix's offerings leave the site October 1, which means there's precious little time to watch them all. But if you want to drop everything and start streaming before it's too late, here are a few suggestions:

For chill dudes: The Big Lebowski (1998) 
As the Dude, Jeff Bridges stumbles through L.A. in Joel and Ethan Coen's Zen-like modern noir. The Big Lebowski is as memorable as it is impossible to describe in a blurb, and it's definitely worth a bit of your streaming time. Leaving October 1.
But that's just our opinion, man.
For neurotics: Annie Hall  (1977) 
One of Woody Allen's best movies, Annie Hall proved that you could play with the structure of a romantic comedy. Allen routinely breaks the fourth wall to comment on the scenes, and the plot moves through what's nearly a series of sketches about his relationship with Annie (Diane Keaton), but there's enough genuine feeling at the center to make Annie Hall's emotional moments land. Leaving October 1.
For dreamers: Days of Heaven (1978)
Terrence Malick's depiction of life in the Texas panhandle in the early 1900s features some of the best cinematography on film. Shot mostly during the magic hour, Days of Heaven is impressionistic, slow-moving, and gorgeous. Leaving October 1.
For romantics: Romeo + Juliet (1996) 
Remember when your English teacher tried to make Shakespeare relatable and told you to imagine it was set in the contemporary era, with guns and stuff? Baz Luhrmann's Romeo + Juliet is that English teacher's fantasy come to life and then some, with the action transplanted to a gang-ridden beachside resort and the balcony scene in a swimming pool. Most of the original dialogue is still there, and despite what you — yeah, you, I see you rolling your eyes in the back of the classroom — might think, the soapy postmodern look works. Plus, young Leonardo DiCaprio falls in love with young Claire Danes in a romance that's definitely too cool for school. Leaving October 1.
For kids: Sesame Street 
In August, PBS announced that Sesame Street is moving to the gated neighborhood of HBO. In October, it looks like the U-Haul trucks have started to arrive. All of Netflix's current Sesame collections leave the site this month. Bone up on basic reading and writing skills while you can so that you can write a seething letter to your local congressman about the dangers of a tiered model in public-access television afterward. All Sesame titles leaving October 15.
MOVIES
October 1
American Masters: Billie Jean King (2013)
Analyze That (2002)
Analyze This (1999)
Angela's Ashes (1999)
Annie Hall (1977)
Baby's Day Out (1994)
Bandits (2001)
Barnyard (2006)
The Beautician and the Beast (1997)
Beyond Borders (2003)
The Big Lebowski (1998)
Charlie Bartlett (2007)
Clockstoppers (2002)
Cold Mountain (2003)
The Crocodile Hunter: Collision Course (2002)
Days of Heaven (1978)
Dead Man Walking (1995)
The Devil's Rejects (2005)
Domestic Disturbance (2001)
Down to Earth (2001)
Ella Enchanted (2004)
The Exorcist (1973)
The Hunt for Red October (1990)
Interview With the Vampire (1994)
Kangaroo Jack (2003)
L!fe Happens (2011)
L'Auberge Espagnole (2002)
Maverick (1994)
Nature: Ireland's Wild River (2014)
Nature: Leave It to Beavers (2014)
Nature: Love in the Animal Kingdom (2013)
Nature: My Bionic Pet (2014)
Nature: Parrot Confidential (2013)
Nature: Saving Otter 501 (2013)
Nature: Snow Monkeys (2014)
A Nightmare on Elm Street (1984)
Gulch (2014)
Pee-wee's Big Adventure (1985)
The Phantom of the Opera (1989)
Plankton Invasion (2012)
Rob Roy (1995)
Romeo + Juliet (1996)
The Producers (1968)
The Scorpion King 3: Battle for Redemption (2011)
This Is Spinal Tap (1984)
Twilight (2008)
Twins (1998)
Windtalkers (2002)
You Got Served (2004) 
October 7
Alpha and Omega 2: A Howl-iday Adventure (2013)
Alpha and Omega 3: The Great Wolf Games (2014)
October 8
Snoop Dogg Presents: The Bad Girls of Comedy (2012)
October 9
Crank (2006)
October 12
Bratz Kidz: Fairy Tales (2007)
October 15
Good Luck Chuck (2007)
October 16
Brüno (2009)
Chico & Rita (2010)
October 20
Freelancers (2012)
October 22
Machine Gun Preacher (2011)
October 26
Bratz: Genie Magic (2006)
October 27
Alexandria (2010)
October 29
America's Sweethearts (2001)
TELEVISION
October 1
Bizarre Foods With Andrew Zimmern Collection
Buying & Selling (Seasons 1–2)
Caprica (Season 1)
Destination Truth (Season 4)
Hawaii Five-O (1968) (Seasons 11–12)
Hotel Impossible (Seasons 1–2)
Off Limits Collection (Collections 1–2)
Restaurant: Impossible Collection: Impossible
Saturday Night Live: The 2010s (Season 37)
Sid the Science Kid (Season 1)
The Dead Files (Seasons 1–2)
The Pioneer Woman Collection (Collection 1)
October 4
Wolverine and the X-Men (Season 1)
October 15
Pinky Dinky Doo (Season 1)
Play with Me Sesame (Season 1)
Sesame Street: Animals and Nature (Season 1)
Sesame Street: Classics (Vols. 1–2)
Sesame Street: Cookie and Friends (Season 1)
Sesame Street: Creativity and Imagination (Season 1)
Sesame Street: Elmo and Friends (Season 1)
Sesame Street: Everyday Moments (Season 1)
Sesame Street: Music and Dance (Season 1)
Sesame Street: Numbers and Letters (Season 1)
October 25
Nanny 911 (Season 1)
October 30
Life in Our Universe (Season 1)
October 31
Braxton Family Values (Season 3)