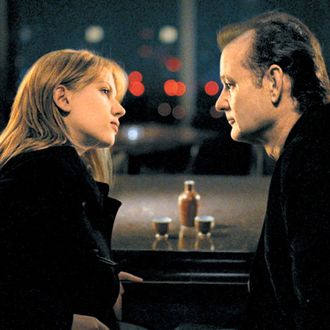 At the beginning of (and throughout) every month, HBO adds new movies and TV shows to HBO Go and HBO Now. Here is a quick list of several titles you might be interested in. Some of these may have been on HBO previously, only to have been removed and then added back. Feel free to note anything we've left out in the comments below.
Super Freak: Little Miss Sunshine (2006)
From Steve Carell's depressed Proust scholar to Paul Dano's silent aspirational fighter-pilot, there are enough quirky characters in Little Miss Sunshine to fuel ten dark indie comedies. Still, Alan Arkin's foulmouthed grandfather stands out from the crowd, as does Abigail Breslin's portrayal of wide-eyed innocence and deeply inappropriate dance moves. Available October 1.
Just Like Honey: Lost in Translation (2003)
Oh, to be old, lonely, dissatisfied with the world, and lost in a foreign country, and then to meet Scarlett Johansson. Oh, to be young, lonely, dissatisfied with the world, lost in a foreign country, and then to meet Bill Murray. In her 2003 take on gilded ennui, Sofia Coppola captured those little sympathies that sustain you through the big stuff. For a few hours of relative peace, for a landmark indie soundtrack, for a sympathetic ear in trying times, make it Suntory time. Available October 1.
Respect the Cruise: Magnolia (1999)
Is there a better avatar of pure, unhinged fury than Tom Cruise? In Paul Thomas Anderson's 1999 tale of intersecting lives in the San Fernando Valley, Cruise plays Frank Mackay, a motivational speaker for aspiring pickup artists. Cruise lets kooky intensity bubble through his performance in every scene. After watching, you'll never look at a Mission Impossible movie the same way again. Available October 1.
A Not-So Harebrained Scheme: Mrs. Doubtfire (1993)
By now you know the drill: In order to see his children, Robin Williams dresses up as an older British nanny. The results are chaotic and contrived in that '90s-family-movie-aisle-in-Blockbuster sort of way, but it's hard to deny Robin Williams's earnest performance. He really commits. Available October 1.
Muscle Up: American Sniper (2014)
The third movie to deliver Bradley Cooper (Silver Linings Playbook, American Hustle, American Sniper) an Oscar nomination. You can debate whether it was deserving, and whether Clint Eastwood's depiction of the Iraq War was unduly pro- or anti-American, but one thing is certain: American Sniper had the best worst fake baby ever. Available October 3.
The One HBO Wants You to Watch: The Leftovers (Season 2)
The Leftovers moves beyond its source text this season and sees Frank Garvey (Justin Theroux) and Nora Durst (Carrie Coon) relocate to a Texas town not affected by the Rapture-like event that made 2 percent of the world's population disappear. The Leftovers is home to some of TV's best depictions of depression and faith, and also to many shirtless shots of Justin Theroux, all of which will help you make it through a dark, cold, meaningless world. Premieres October 4.
The Ongoing Reign of Amy Schumer: Amy Schumer: Live at the Apollo
Opening a blockbuster, winning an Emmy, getting a multi-million-dollar book deal: Amy Schumer had the kind of summer the rest of us only fantasize about. Her HBO special looks to continue that streak. Premieres October 17.
TELEVISION:
Premieres of new original programming:
The Leftovers (Season 2) (10/4)
Magnífica 70 (Season 1 ) (10/9)
Amy Schumer: Live at the Apollo (10/17)
MOVIES:
Available October 1:
28 Days (2000)
Agent Cody Banks 2: Destination London (2004)
Alvin and the Chipmunks (2007)
Bee Movie (2007)
Blazing Saddles (1974)
Blood Diamond (2006)
Brick (2005)
Burn After Reading (2008)
Ella Enchanted (2004)
Happy Feet (2006)
House on Haunted Hill (1999)
The Kid (2000)
License to Drive (1988)
Like Mike (2002)
Like Mike 2: Streetball (2006)
Little Miss Sunshine (2006)
Lost in Translation (2003)
Magnolia (1999)
Mrs. Doubtfire (1993)
Return to House on Haunted Hill (2007)
Revenge of the Nerds (1984)
Rugrats in Paris: The Movie (2000)
Rumor Has It (2005)
Shrek (2001)
The Rock (1996)
Trick 'R Treat (2007)
Available later in October:
Juan in a Million (2012) (10/2)
El Mar y Él (2014) (10/2)
American Sniper (2014) (10/3)
La Juala de Oro (2013) (10/9)
Focus (2015) (10/10)
Taken 3 (2014) (10/17)
The Poet of Havana (2015) (10/23)
Bad Words (2013) (10/24)
How to Dance in Ohio (10/26)
The Purge: Anarchy (2014) (10/31)
The Pyramid (2014) (10/31)