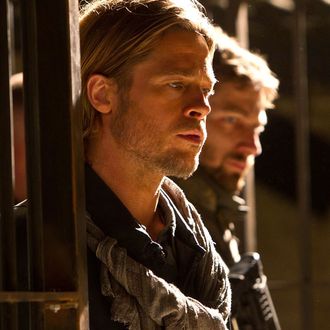 World War Z.
Photo: Paramount Pictures
At the beginning of (and throughout) every month, Hulu adds new movies and TV shows to its catalogue. Here is a quick list of several that you might be interested in. Some of these may also have previously been on Hulu, only to have been removed and then added back. Feel free to note anything we've left out in the comments below.
Crazy, Dystopian Chaos: The Hunger Games: Catching Fire (2013), The Wolf of Wall Street (2013), World War Z (2013)
Hulu made news last month when it picked up a streaming deal for Epix's movies that Netflix dropped. This means that a bunch of new tiles will flood Hulu at the beginning of the month — check out the very long list below — including The Hunger Games, The Wolf of Wall Street, World War Z, and Transformers. If you're that rare breed of TV watcher with a Hulu subscription but no Netflix account, now is the time to flaunt your Katniss access. Additionally, Mockingjay — Part 1 comes on Hulu October 23, in time for you to stream before the sequel hits theaters. All available October 1.
Relatively Calmer, More Naturalistic Chaos: Dear White People (2014), In A World … (2013), Much Ado About Nothing (2013)
Hulu's movie buys aren't all blockbusters. If you want something a little more sedate than teenagers fighting to death, check out Dear White People, a cutting satire of race relations on a college campus; In A World …, Lake Bell's Sundance comedy about voice-over artists; or Much Ado About Nothing, in which Joss Whedon has a bunch of his friends do Shakespeare in a Santa Monica mansion, because why not? All available October 1.
Biggest Time-Suck: The Good Wife (Season 6)
One of our picks for the best TV shows on Hulu, The Good Wife hit a rocky patch in its sixth season, as Alicia launched into misguided run for office and for the most part, the show's minor characters got stuck in storytelling cul-de-sacs. But even at its low points, CBS's quippy, sleek, and often very funny legal drama is a marvel to behold. Available October 4.
The One Hulu Wants You to Watch: Casual (Season 1)
Jason Reitman has had his high highs (Juno, Young Adult) and his low lows (Labor Day, Men, Women & Children). Casual, which Reitman executive-produced and directed a few episodes of, looks to fall somewhere in the middle. Written by Zander Lehmann, the 30-minute dramedy stars Michaela Watkins and Tommy Dewey as a brother and sister stuck together in the wake of Watkins's divorce. There's a good amount of well-written snark and rich-L.A.-person sadness, if that's what you're into, and if not, Watkins is excellent regardless. Remember how good she was in Trophy Wife? You didn't watch Trophy Wife? How dare you. Pilot available October 7.
And This Is Crazy … Crazy Ex-Girlfriend (Season 1)
By now the CW has become the not-so-secret home of broadcast's best, most-daring TV. With the arrival of Crazy Ex-Girlfriend, the network looks to continue that streak. In what's known as a "reverse Felicity" (Felicity is also on Hulu; this has been a plug), Rebecca Munch moves from New York to California to chase down her high-school crush. The results are predictably mixed, but they're also told in song, which makes everything 100 percent more endearing. Series premiere available October 13.
TELEVISION

October 1
Chicago P.D. (Season 3 premiere) 
Alaska: The Last Frontier (Season 4)
Cake Boss: Next Great Baker (Seasons 2–4)
Deadly Women (Season 8)
Fast N' Loud (Season 6)
Gator Boys (Season 6)
Hoarding: Buried Alive (Season 8)
How Do They Do It? (Seasons 7–8)
Leah Remini: It's All Relative (Season 1)
Long Island Medium (Season 7)
My Big Fat American Gypsy Wedding (Season 3)
My Five Wives (Season 1)
My Strange Addiction (Season 5)
MythBusters (Season 16)
Say Yes to the Dress (Season 12)
Say Yes to the Dress: Atlanta (Seasons 5, 7)
Say Yes to the Dress: Randy Knows Best (Season 3)
Street Outlaws (Season 3)
Tanked (Seasons 7–8)
Toddlers & Tiaras (Seasons 7–8)
Who Do You Think You Are? (Season 5)
Yukon Men (Season 4) 
October 2
Bones (Season 11 premiere)
Sleepy Hollow (Season 3 premiere) 
October 4
Saturday Night Live (Season 41 premiere)
The Good Wife (Season 6)
The Affair (Season 2 premiere)(*Showtime)
Homeland (Season 5 premiere) (*Showtime) 
Available October 6
American Horror Story: Freak Show (Season 4)
The Eric Andre Show (Season 3) 
Available October 7
Casual (Series premiere)
The Flash (Season 2 premiere)
iZombie (Season 2 premiere) 
Available October 8
Arrow (Season 4)
Supernatural (Season 11)
Available October 9
The Vampire Diaries (Season 7)
The Originals (Season 3) 
Available October 10
Undateable (Season 3 premiere)
Reign (Season 3 premiere) 
Available October 12
America's Funniest Home Videos (Season 26 premiere)
Doc McStuffins (Season 2)
Available October 13
Crazy Ex-Girlfriend (Series premiere)
Jane the Virgin (Season 2 premiere)
Available October 14
Chicago Fire (Season 4)
The Jim Gaffigan Show (Season 1)
Available October 17
Truth Be Told (Series premiere)  
Available October 28
Wicked City (Series premiere) 
Available October 31
Grimm (Season 4 premiere)
MOVIES

October 1
3 Geezers! (2013)
666: The Beast (2015)
A Touch of Unseen (2014)
Addicted (2014) 
All Is Lost (2013)
Altergeist (2014)
Anchorman 2: The Legend Continues (2013)
Avenged (2013)
Bandits (2001) (*Showtime)
Ben Stiller's Comedy Roundtable #2 (2013)
Billy Mize & The Bakersfield Sound (2014)
The Blair Witch Project (1999)
Blood Simple (1985)
Blue Chips (1994)
The Breakup Girl (2015)
The Butterfly Tattoo (2009)
Cantinflas (2014)
Carrie (2013)
Casa Amor: Exclusive for Ladies (2015)
The Cat's Meow (2001) (*Showtime)
Cesar Chavez (2014)
Come Out and Play (2013)
The Cutting Room (2015)
Craig Ferguson: Does This Need to Be Said? (2011)
Dear White People (2014)
Defiance (2008)
Demons (2015)
The Devil's Rejects (2005) (*Showtime)
Donovan's Echo (2011) (*Showtime)
Doomsday Book (2012)
Dragonheart (1996) (*Showtime)
Dukale's Dream (2015)
The Expendables 3 (2014)
Fightville (2011)
Fish Tank (2009) (*Showtime)
Flashdance (1983)
Frankenstein vs. the Mummy (2015)
G.I. Joe: Retaliation (2013)
Girl Most Likely (2013)
GLOW (2015)
Hannah and Her Sisters (1986)
Hard Ride to Hell (2010)
Harsh Times (2005) (*Showtime)
Hercules (2014)
Hooked Up (2013)
The House at the End of Time (2013)
Hugo (2011)
The Hunger Games: Catching Fire (2013)
I Am I (2013)
The Inkwell (1994) (*Showtime)
The Innkeepers (2011)
I, Frankenstein (2014)
In a World … (2013)
Infernal (2015)
Jack Ryan: Shadow Recruit (2013)
Jackass Presents: Bad Grandpa (2013)
Jenny McCarthy's Dirty, Sexy, Funny (2014)
Jim Breuer: And Laughter for All (2013)
Jim Breuer: Comic Frenzy (2015)
Jim Jefferies: Fully Functional (2012)
Jim Norton: American Degenerate (2013)
Jim Norton: Contextually Inadequate (2015)
Joe (2014)
Justin Beiber: Never Say Never (2011)
Katy Perry: Prismatic World Tour (2014)
Kids for Cash (2013)
La Repetition (2001)
Labor Day (2013)
The Last Keepers (2013)
Last Play at Shea (2010)
Lewis Black: Old Yeller – Live at the Borgata (2014)
A Liar's Autobiography: The Untrue Story of Monty Python's Graham Chapman (2011)
Lisa Lampanelli: Back to the Drawing Board (2015)
Little Jerusalem (2005)
Love or Whatever (2012)
Lunarcy! (2012)
Men, Women & Children (2014)
Miles to Go (2012)
Monkey Shines: An Experiment in Fear (1988)
A Most Wanted Man (2014)
Much Ado About Nothing (2013)
Nebraska (2013)
Noah (2014)
Pain & Gain (2013)
Paranormal Activity: The Marked Ones (2013)
Patton Oswalt: Tragedy Plus Comedy Equals Time (2014)
P!nk: The Truth About Love Tour (2013)
Please Be Normal (2014)
Poltergeist of Borley Forest (2013)
Primal Fear (1996)
Private Parts (1997)
The Program (2015) (*Showtime)
Psycho Beach Party (2000)
Pulp Fiction (1994) (*Showtime)
The Quitter (2014)
Rabbit Hole (2010)
Rise of the Footsoldier (2007) (*Showtime)
The Ravine of Goodbye (2013)
Riviera (2005)
Robocop (2014)    
Run, Hide, Die (2012)
Russell Brand: Messiah Complex (2014)
Serendipity (2001) (*Showtime)
Shelter (2015)
The Skeleton Twins (2014)
Skipped Parts (2000) (*Showtime)
Star Trek: Into Darkness (2013)
The Story of Luke (2012)
Swimming Upstream (2003) (*Showtime)
Tales From the Hood (1995) (*Showtime)
Teenage Mutant Ninja Turtles (2014)
They Came Together (2014)
Tom Papa: Freaked Out (2013)
Tony: London Serial Killer (2009) (*Showtime)
Transformers: Age of Extinction (2014)
Vanish (2015)
Weapons (2007) (*Showtime)
Who Bombed Judi Bari? (2012)
William Shatner's Get a Life (2012)
The Wolf of Wall Street (2013)
World War Z (2013)
You're Next (2013)
Young Hunters: The Beast of Bevendean (2015) 
October 2
Frank Miller's Sin City: A Dame to Kill For (2014) (*Showtime)
I Am Giant: Victor Cruz (2015) (*Showtime)
October 5
The Lovers (2015) (*Showtime)
October 10
Prophet's Prey (2015) (*Showtime)
October 17
Camp X-Ray (2014) (*Showtime)

Available October 23
The Hunger Games: Mockingjay — Part 1 (2014)
Compared to What: The Improbable Journey of Barney Frank (2014) (*Showtime)
Available October 25
American Dream / American Knightmare (2015) (*Showtime)
Available October 30
Why Horror? (2014) (*Showtime)