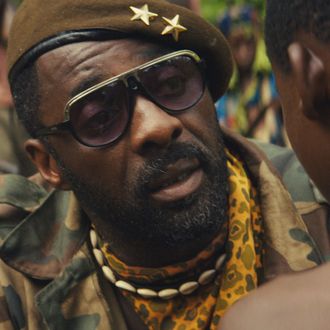 A beast of Netflix nation.
Photo: Netflix
At the beginning of (and throughout) every month, Netflix Streaming adds new movies and TV shows to its library. Here is a quick list of several that you might be interested in. Some of these may also have previously been on Netflix, only to have been removed and then added back. Feel free to note anything we've left out in the comments below.
The best of the CW: Jane the Virgin (Season 1)
Show for show, the CW might be TV's best broadcast network. Having grown from its soapy Gossip Girl roots, it now boasts an impressively ambitious slate while still featuring just as many beautiful people. Vulture favorite Jane the Virgin is a heartfelt play on the telenovela with a star-making and Golden Globe–winning turn from Gina Rodriguez. Jane was one of the best things on TV last year, and it's the best addition to Netflix this month. (To further expand your CW knowledge, check out the first seasons of iZombie, a banter-filled procedural from Rob Thomas [Veronica Mars], and The Flash, TV's most joyful superhero show, both October additions as well.) Available October 12.
The one Netflix really wants you to watch: Beasts of No Nation (2015)
Netflix's first big foray into original film comes with a lot of bankable talent. Directed by Cary Fukunaga (the good season of True Detective), Beasts of No Nation stars Idris Elba (Luther, The Wire, our fantasy Bond movie) as a ruthless commander of a West African rebel army, and newcomer Abraham Attah as the child soldier he recruits. Our Jada Yuan saw Beasts at the Toronto Film Festival and noted that it'll definitely be part of a few awards conversations. Available October 16.
The one Netflix also wants you to watch: Winter on Fire (2015)
It's gotten less advance press than Beasts of No Nation, but Winter on Fire looks to be just as important. Directed by Evgeny Afineevsky, Winter on Fire uses footage from the 2013 and early 2014 protests in Kiev's Maiden Square to dramatize the unrest and eventual revolution that led the to resignation of President Viktor F. Yanukovych. Available October 9.
The Batman Netflix deserves: Batman Begins (2005)
… But not the one it needs right now. So we'll stream it. Because it can take it. Because it's not our hero. It's a silent guardian, a watchful protector.
It's not The Dark Knight, but it's still pretty good. Available October 1.
All Hail Cobie Smulders: Results (2015)
You might know her as How I Met Your Mother's Robin Scherbatsky, or as the Marvel Universe's exposition-spouting Maria Hill, but while you weren't looking, Cobie Smulders also built up a pretty impressive indie r´sumé. In Andrew Bujalski's Results, she plays a fitness instructor tasked with tightening up a rich, pudgy client (Kevin Corrigan). Smulders turns her character's obsessive composure into a measure of her frustration with the world, adding just enough weight to strengthen the movie's soft and goofy core. Available October 22.
Awards Favorite: Million Dollar Baby (2004)
This film has everything: Hilary Swank boxing, Clint Eastwood refusing to help someone and then finally caving, Morgan Freeman offering grandfatherly advice from afar. If it wasn't made, it would already exist, somehow, in our collective memory of early 2000s culture — alongside puka-shell necklaces and getting really excited about Alias. But Million Dollar Baby does exist, and now you can stream it. What a world. Available October 1. 
Everyone's blessed with one special thing: Boogie Nights (1997)
For Mark Wahlberg's Dirk Diggler, that one special thing happens to be 13 inches long (at least according to the film's dialogue; the prosthetic wasn't even that big). Of course, like its fictional star, Paul Thomas Anderson's look at the Southern California porn industry in the 1970s and 1980s deserves to be remembered for more than just one thing. Boogie Nights has Julianne Moore, Philip Seymour Hoffman, inventive camerawork — and, yes, there is also a giant penis. Available October 1.
TELEVISION

October 1
Barefoot Contessa: Back to Basics Collection (Collection 1)
Design on a Dime Collection (Collection 1)
Extreme Homes Collection (Collection 1)
Fixer Upper (Season 1)
Genevieve's Renovation (Season 1)
The Great Food Truck Race Collection (Collection 1)
House Hunters Renovation Collection (Collection 1)
Million Dollar Rooms Collection (Collection 1)
Monkey Thieves (Seasons 1–3)
Property Virgins Collection (Collection 1)
Throwdown With Bobby Flay Collection (Collection 1)
Uncle Grandpa (Season 1)(more episodes)
Vanilla Ice Project (Seasons 1-4)
Wakfu (Season 1)
Worst Cooks in America Collection (Collection 1)
October 2
Reign (Season 2)
The Vampire Diaries (Season 6)
October 6
American Horror Story: Freak Show
iZombie (Season 1)
Last Man Standing (Season 4)
The Flash (Season 1)
The Originals (Season 2)
October 7
Arrow (Season 3)
Flor Salvaje (Season 1)
Legends (Season 1)
Supernatural (Season 10)
October 9
Mighty Med (Season 2)
The Mr. Peabody and Sherman Show (Season 1)

October 11
Jake and the Never Land Pirates (Season 3)
October 12
Jane the Virgin (Season 1)
October 15
Finding Jesus: Faith. Fact. Forgery (Season 1)
October 16
All Hail King Julien (Season 2)
Some Assembly Required (Season 2)
The Principal (Season 1)
October 20
Marvel's Avengers Assemble (Season 2)
October 23
Hemlock Grove (Season 3)
October 28
Chasing Life (Season 2)
October 30
Popples (Season 1)
MOVIES
October 1
About Alex (2014)
Alexander: Theatrical Cut (2004)
American Pie (1999)
Batman Begins (2005)
Boogie Nights (1997)
The Bourne Supremacy (2004)
A Christmas Carol (1938)
Charlie and the Chocolate Factory (2005)
Curse of Chucky (2013)
Dark Was the Night (2014)
The Devil at 4 O'Clock (1961)
El Tiempo Entre Costuras (2013)
Glass Chin (2014)
Million Dollar Baby (2004)
The Navy SEALs: Their Untold Story (2014)
The Nightmare (2015)
On the Town (1949)
Pal Joey (1957)
Pepe (1960)
Pressure (2015)
Reasonable Doubt (2014)
Richard Pryor: Icon (2014)
Robin Williams Remembered - A Pioneers of Television Special (2014)
Some Came Running (1958)
Take Me Out to the Ball Game (1949)
White Rabbit (2013)
Wild Horses (2015)
October 2
Anjelah Johnson: Not Fancy (2015)
La Leyenda de la Nahuala (2007)
October 3
Alpha and Omega 5: Family Vacation (2015)
October 5
Team Hot Wheels: Build the Epic Race (2015)
October 6
Tremors 5: Bloodline (2015)
October 8
American Heist (2014)
Strangerland (2015)
October 9
Winter on Fire (2015)
October 10
Lalaloopsy: Band Together (2015)
October 11
Glen Campbell: I'll Be Me (2014)
October 14
Lazarus (2015)
October 15
Isabella Rossellini's Green Porno Live! (2015)
The Five People You Meet in Heaven: Part 1 / Part 2 (2004)
October 16
Anthony Jeselnik: Thoughts and Prayers (2015)
Beasts of No Nation (2015)
Circle (2015)
October 18
Ain't Them Bodies Saints (2013)
October 20
Lego DC Comics: Batman Be-Leaguered (2014)
October 22
Results (2015)
October 24
Jack Strong (2014)
October 25
Walt Disney Animation Studios Short Films Collection (2015)
October 27
August: Osage County (2013)
Manson Family Vacation (2015)
October 28
The Gunman (2015)
October 29
Return to Sender (2015)