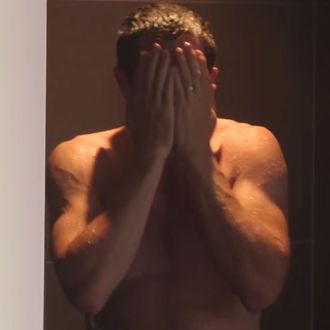 Reader, sometimes you've got to take a stand. Though I noticed last fall that Jake Gyllenhaal had shaved his chest for Nightcrawler, I said nothing. This past summer, Gyllenhaal manscaped again for Southpaw, but still, I did not speak up. Then, mere minutes into last night's Toronto Film Festival premiere of the new Gyllenhaal dramedy Demolition, the star rolled out of bed, took a shower, and then lathered up his chest to shave it.

No. No more. I will not be silent this time. Given that Gyllenhaal has one of the most famous hairy chests in Hollywood, the notion that he should keep shaving it is untenable. What's next, a waxed Mark Ruffalo?
I needed answers, or at least an explanation, and that's why I made a beeline for director Jean-Marc Vallée last night at the film's Grey Goose–sponsored after-party. Another reporter had just quizzed Vallée about the decision to move Demolition out of Oscar season and into next spring. One before him had asked Vallée about the movie's plot, which casts Gyllenhaal as a widowed Wall Streeter who finds solace in breaking things.
I had no time for that. "Why did you make Jake Gyllenhaal shave his chest again?" I asked Vallée, brandishing my recorder in his face in the same way that a reporter might accost a convicted felon outside a courthouse.

"If you look at the Wall Street guys today, they all tweeze, they all shave!" insisted Vallée. "They're perfectly clean-cut."

If anything, said Vallée, all that manscaping is actually a plot point: After Gyllenhaal's emotionally obtuse character starts to open up in the wake of his wife's death, he ditches the razor entirely. "That's why, on page ten, we decided he would go, 'Fuck off. I'm stopping tweezing. I'm stopping shaving. I'm gonna let it go,'" said Vallee. "We even shot the film in continuity for that!"

Alas, the movie does not culminate with a shot of Gyllenhaal restored to his hairy-chested splendor, but Vallée said he trimmed more from the film than just Gyllenhaal's pelt: In one flashback sequence, Gyllenhaal and his wife (played by Heather Lind) sing the Sufjan Stevens tune "To Be Alone With You" to each other, but in postproduction, Vallée ditched Gyllenhaal's rendition and kept only Lind's. "When Jake was singing it, it felt too big," said Vallée, who, in addition to directing the terrific films Dallas Buyers Club and Wild, is perhaps a monster who should be tried for crimes against humanity. "It felt like we were trying too hard."

Okay, okay, Vallée did keep one delightful thing in his movie: Halfway through the film, after Gyllenhaal has befriended quirky pot-smoker Naomi Watts and her rock-loving queer son, Judah Lewis, the latter turns him onto music, and a giddy Gyllenhaal bops through the streets of Manhattan in a sustained dance sequence. Vallée said he showed Gyllenhaal the video for R.E.M.'s "ÜBerlin" (where actor Aaron Taylor-Johnson shimmies his way down a sunny street) and told him to do his own version. "It wasn't just, like, 'Oh, let's make a cute dance sequence.' It was about this guy trying to come alive," said Vallée. "Jake was so spontaneous and beautiful in the way he was dancing, it was mind-blowing."
So while you might not get a Sufjan-singing, hairy-chested Jake Gyllenhaal in Demolition, at least you'll get to see him dance. You alone must decide if this is a manageable compromise.