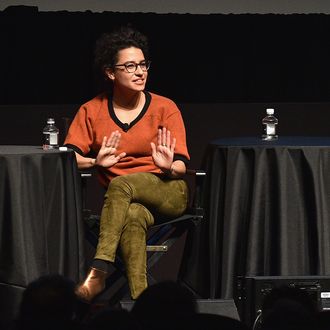 Photo: Bryan Bedder/2015 Getty Images
The dribblings of Hurricane Joaquin didn't dissuade Broad City fans from lining up in droves to see Abbi Jacobson and Ilana Glazer chat with TV critic Emily Nussbaum during the New Yorker Festival. The writers and stars of the Comedy Central hit discussed everything from the real story behind "Pussy Weed" to how their on-screen counterparts are growing up. Plus, they plumbed the depths of modern Jewish identity: Glazer ID'd as the type of Jewess who gets Bat Mitzvah'd and then becomes a "cultural" Jew (scare quotes and everything), while Jacobson is the kind who celebrates Christmas.
1. "Pussy Weed" is rooted, so to speak, in real life. "I've done it," Glazer said. "That's where it came from." Nussbaum had questions about the how's and why's, of course. "Into condoms, and to bring California weed back to New York," Glazer revealed. "Be careful. Don't necessarily do it," she cautioned. But if you do? Opt out of the scan. We're just saying.
2. Although Jacobson doesn't smoke that much pot any more, Glazer does.
"I smoke every day," Glazer said. "It is productive for me. I'm like, good night! Good niiiight! I love it. No dreams, no thank you. I wanna go to sleep!"
"I always wish I smoked more," Jacobson said. "I need time to smoke more."
3. Jacobson's awesome alter ego Val also has a real-life backstory, although it's not as glamorous as you'd think. "In college, I drank a lot more than I do now, and when I would get really drunk — I didn't sing like that, I didn't have like this performance alter ego — but I would drink and black out and become so much better," she said. "Don't do that either!" scolded Glazer.
Jacobson added, "Every once in a while I watch that Judy Garland video, because I think it's amazing, 'Summer Stock,' and when we got into 'what will Val do, what is her thing when she gets drunk?' that just came up, and I love that song. I've got a deep register. I was just like, I'm gonna go there, you know?"
4. Glazer and Jacobson are no strangers to being starstruck, but it's not always in the context you'd expect. After much prompting, Jacobson described a certain verbal tic she has when meeting famous people.
"Years ago, I met Tina [Fey] and just blurted, 'Philly!' And two weeks ago, I see Maggie Gyllenhaal at the gym, and she's talking to these women who, like, they didn't seem like they knew each other," she said. "I'm just getting my skinny jeans on — it's hard to do in front of people sometimes! And she's like, 'I live in Brooklyn,' to them." Just as Jacobson, who also lives in Brooklyn, was leaving the locker room, she felt a blurt coming on. "I'm like, Don't you say a thing … Just keep quiet. In my head, just get out of the room, hold your bags, and head on out." Of course, she couldn't resist one fist-pumping "Brooklyn!" on her way out.
5. The real-life Ilana and Abbi are growing up and apart from their on-screen counterparts, so the Broad City broads will also experience a little bit of emotional character development in the coming season and the show will respond, in its own way, to criticism of cultural appropriation.
"The Broad City world … is a world of racial discussion and topics," Glazer said, adding, "The mainstream [consciousness] is recognizing white people appropriating [black culture], you know, that sort of, like, Miley appropriation, where it's like, 'cool,' but mmmm, is it? So I think we play with that, but we've started to look at it and talk about it and talk at it and to it more."
Glazer admitted, "I feel like we've read here and there about, you know, these white girls and their language, and Ilana's language, and you know, [it's] a bummer? But yeah, cultural appropriation is a bummer … It's not cool. It's okay to point it out and for it to not be cool in the show."
"We did this scene today [about this], and we had a whole conversation about it today, and I think that is part of Ilana's growth, and sort of the growth of the show, where it is, like, do I want to be doing those things? I at least want to make sure I'm aware. Speaking as a character, oh, they're growing not just in jobs but in actual emotional beliefs and things," Jacobson added.
"And the more the show is developed and the more distinct we become from the characters, I guess the more they — we're writing them as a tool, we're using the characters as a tool, rather than of self-expression, more of, I don't know, a bigger picture," Glazer said.
6. Although the show captures the intensity of female friendship in your twenties, the real-life pals are still really close. "Ilana and I were flying back from L.A. once, and Ilana can sleep anywhere, and so she was in the middle seat, and I was on the aisle, and we were about to take off — in coach, okay? We're not in biz class — and she's like, in a ball, and I'm about to put my headphones on, and she's falling asleep, and she just goes to herself, 'Big sis.' Like, to me."
7. Glazer and Jacobson just turned in the first draft of their first film script. They didn't reveal any more details, except to say that they're not in it. "Which I think is more baller," Glazer said. "It's so boss," she said, pretending to peel script pages off like fat stacks of cash.
8. Dressing up as Abbi for Halloween this year will be super easy: "If you're gonna be me, you gotta wear a dildo. That's it," she said. "Dildo and underwear — slutty costume!" Glazer added. The infamous blue dress is still a favorite, but the strap-on is a gimme.
9. One concerned audience member asked about the state of the comedians' love life. "In your personal lives, since the show, how is the dating scene changed? Are you getting more ass? Less ass?"
Glazer has a boyfriend — the levels of ass-getting are just fine, thank you — but Jacobson said that fame has complicated dating. "I find it harder. It might be that I'm more in my head about it, too, because I'm like, you know my name already, or yeah. I just think it's harder to meet strangers. I'm very conscious of being out at a bar with twenty-somethings … I want to know before or something if they watch the show. I'm less Val-like about it, that's for sure."
10. Glazer's advice for young female writers was simple. "You have to make a lot of stuff and it has to be better than other people's stuff. It has to be really fucking good, and you gotta write so much." Jacobson added, "Ilana and I don't make Broad City by ourselves. We didn't make the web series by ourselves … It's about, yeah, you find your voice by writing your own stuff, but I think finding the right community of people is so essential. Even if you create the community yourself."
11. New York City is Broad City. "We make a point to really shoot all over the city," Jacobson said. The feeling of struggling in your twenties in NYC is similar to the logistics of filming on location, which is hugely important to the feeling of the show itself.
Glazer said, "The logic precipitates from the fact that New York is so hard, and the process is so much harder, filming in New York. It's so, like, gross and covered in garbage, and people in L.A. do not understand. It's true 1950's Hollywood or something. They drive into the lot … New York is full of trash. I think the process [of filming in NYC] is so authentically Broad City because it's like, smelly and crowded, and then the product, you feel that. Ugh," Glazer said, "It would be ridiculous to film somewhere else."