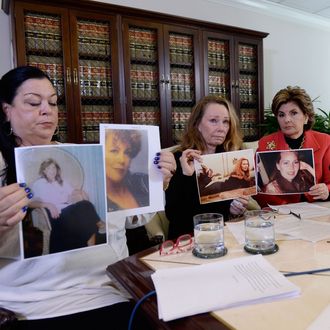 The new Cosby accusers.
Photo: Kevork Djansezian/Getty Images
At a press conference with Gloria Allred on Wednesday, three more women came forward to tell stories of sexual assault and harassment they'd received at the hands of Bill Cosby, bringing the total number of accusers over 50. Former waitress Sharon Van Ert allegedly met Cosby in 1976, when she was working at a jazz club he frequented. She claims Cosby offered her a ride home one night and then started rubbing her legs. Van Ert says she passed out after that and woke up with her underwear gone. She now believes the comedian put something in her drink.
Model Pamela Abeyta says she first met Cosby in 1979, when she tried to network with him in the hopes of appearing in Playboy. (Cosby was friends with Hugh Hefner.) She says Cosby invited her to stay with him in his hotel suite and bought her expensive clothes; after having dinner with him, she says, "Everything became a blur." She remembers blacking out and waking up in his bed, not her own.
Lisa Christie, a model who won the Mrs. America pageant in 1997, says Cosby acted like a mentor to her after they appeared in a Jell-O commercial together, inviting her to his apartment and telling her she would replace Lisa Bonet on The Cosby Show. After years of grooming, Christie claims Cosby flew her to meet him in Chicago, where he gave her a drink and tried to kiss her. After she refused, Cosby allegedly told her, "You're never going to make it in this business unless you sleep with me." Now she says, "I was one of the fortunate ones to escape … I am here to support all of the victims."