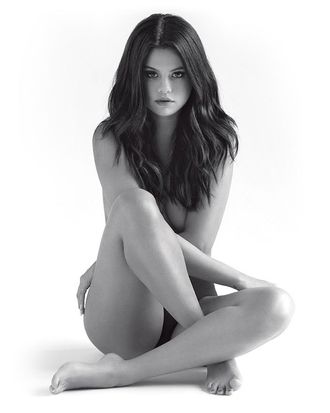 There's only one person on the cover of Selena Gomez's new album, but the liner notes list 37 other songwriters and producers. That includes Scandinavian production teams, Charli XCX, and the guy who got "Good for You" ready for A$AP Rocky. This is the village that it took to make the 16-track deluxe edition of the pop starlet's Revival.

Revival
See the roster for each track
6
Good For You
feat.
A$AP Rocky

Selena Gomez
Writer
The star. Revival is the singer's second solo studio album.
Tim Blacksmith and Danny D
Producers
These two manage Stargate and handle publishing for Charli XCX.
Dubkiller
Producer
A Rock Mafia pupil
Charli XCX
Writer
Aside from her own albums, Charli XCX has written Charli XCX-style (that is, exuberantly bubblegummy) tracks for Gwen Stefani and Iggy Azalea.
Adam Schmalholz
Writer
Also known as In-Q, he helps pen lyrics for Rock Mafia productions.
Mattman & Robin
Mattias Larsson and Robin Fredriksson
Writers and Producers
These Swedes are recent Max Martin protégés.
Chris Braide
Writer and Producer
Braide worked frequently with '80s Britpop stalwarts Squeeze (in the '90s, though).
Shane Stevens
Writer
Stevens is a Nashville songwriter who has turned his attention to pop.
Bibi Bourelly
Writer
Bourelly launched her career by co-writing Rihanna's "Bitch Better Have My Money."
Miles Walker
Producer
Now a Stargate mentee, Walker was formerly an engineer for Usher's label, Ush Records.
A$AP Rocky
Writer and Producer
A rap superstar, Rocky contributes a verse.
Rock Mafia
Tim James and Antonina Armato
Writers and Producers
The production team known for their work with Disney's Hollywood Records. Contrary to their name, they mostly make electropop.
Justin Tranter
Writer
The former front man of New York glam-punk group Semi-Precious Weapons.
Julia Michaels
Writer
She began writing music used on TV Shows like The Hills, and lately has been helping EDM DJs add lyrics and melodies to their beats.
Hit-Boy
Writer and Producer
One of rap's most in-demand producers, his best tracks are often built around a single brash loop.
Benny Blanco
Producer
Unlike most hired writers, Blanco does a little bit of everything: drums, hooks, melodies, samples.
David Audé
Writer
If you've recently heard a mainstream-oriented house remix of a Top 40 hit, that was probably Audé's work.
Max Martin
Writer and Producer
The Swedish superproducer created the sound of late-'90s teen pop via his hits for Britney Spears, 'N Sync, and others.
Ross Golan
Writer
Recently wrote and starred in a musical inspired by Johnny Cash's "Folsom Prison Blues."
Stargate
Tor Erik Hermansen and Mikkel Storleer Eriksen
Writers and Producers
Their work with Rihanna and Ne-Yo helped EDM-influenced R&B dominate pop-radio.
JKash
Writer
A Dr. Luke protégé (and hence a second-generation Max Martin protégé).
Chloe Angelides
Writer
When she writes for artists like Pitbull ("Sexy Beaches"), she often ends up singing the hook.
Dreamlab
Daniel James and Leah Haywood
Producers
James and Haywood worked in Australian pop before moving to L.A. to write for Disney stars.
Nick Monson
Writer and Producer
Monson, a former engineer in R.Kelly's studio, contributed to several tracks on Lady Gaga's Artpop.
Sir Nolan
Producer
The 25-year-old had a hand in Nick Jonas's recent R&B turn.
Hector Delgado
Writer and Producer
Delgado calls himself A$AP Rocky's "musical director."
Steve Mac
Writer and Producer
When British reality-show winners need a hit, their Svengali, Simon Cowell, has often turned to Mac.
Matt Morris
Writer
He composed some of the more inspirational songs on Christina Aguilera's 2002 album, Stripped.
Ben Rice
Producer
A recording assistant on Lady Gaga's Artpop sessions, Rice is also an adept mixer.
Felix Snow
Writer and Producer
R&B star Gallant says that Snow captures a "David Lynch feeling."
Frank Dukes
Producer
Won a Grammy for his production work on Eminem's Marshall Mathers LP 2.
Kent and Cato Sundberg
Writers
Stargate has produced this Norwegian duo.
*This article appears in the October 5, 2015 issue of New York Magazine.