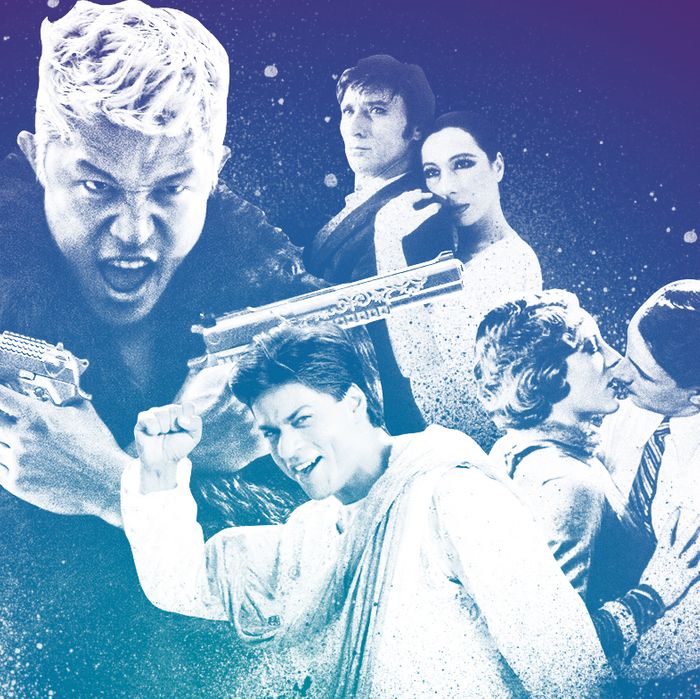 Photo-Illustration: Maya Robinson
Last week saw the opening of Sion Sono's magnificently batty Japanese hip-hop musical Tokyo Tribe, as well as the Bollywood wedding comedy Shandaar. That's something: Two foreign-language musical films arriving on American shores in the same week. It's a genre that doesn't seem to travel as well as others — due to the difficulty of translating lyrics, perhaps, and also because musical tastes differ so much from country to country. While the U.S. does now see a steady stream of Bollywood releases, it's still rare to find musicals from other countries in American theaters. It's a shame, really, because the diversity of international musicals throughout film history has been staggering.
So, this seemed like an ideal time to go around the world and highlight some of the best ones. Of course, some countries will fare better than others on a list like this. (India and France, probably to no one's surprise, dominate it.) And there are gaps in history, too: For example, many early Brazilian musicals featuring Carmen Miranda, and Portuguese ones featuring fado singer Amalia Rodrigues, are lost to the ages. Even when a film isn't lost, it's not always easy to see it: How often do you come across retrospectives of 1930s Japanese musicals, or 1950s Egyptian musicals? Still, we hope this list will be informative in highlighting lesser-known films worth seeking out.
Now, some rules: For the purposes of this list, the films and the songs therein really do have to be in a language other than English. (The South African musical Sarafina!, which is in English, with songs mostly in English, was not eligible for that reason.) Also, we excluded musical documentaries, animated films, and filmed operas, the latter due to the fact that it's really a genre unto itself. (But a film that references opera is okay, so: no to U-Karmen, but yes to Karmen Gei.) We also decided not to give any one single director more than two spaces on this list — otherwise it would have been too easy to turn it all over to such pivotal names like Jacques Demy and Carlos Saura.
Our approach to the musical may be a bit looser than most. Everybody conceives of the genre a little differently. (In Bollywood, for example, where the vast majority of works feature singing and dancing, a movie is only really considered a "musical" if it's specifically about music or musicians.) So, there are a number of films on this list that aren't walking-down-the-street-bursting-into-song movies, but rather ostensibly realistic stories set in and around the world of music (such as Emilio Fernandez's magnificent Victimas del Pecado) that allow their musical scenes to go on at some length. Such films may not fit the traditional Stanley Donen–Busby Berkeley mold, but they're still suffused with singing, dancing, and performance. In these movies, music and dancing are just a part of life. And isn't that, ultimately, the essence of the movie musical?
50. Fatmah (1947)
The Egyptian singer Umm Kulthum was one of the Arab world's greatest singers, helping to breathe new life into traditional musical forms. Her voice was refined, but it spoke of the pain of heartbreak, poverty, and injustice. All throughout the Middle East (and beyond), she became a figure of renown — an iconic diva who traversed class divides and allowed the masses to enjoy classical folk songs. In Ahmed Badrakhan's Fatmah, she plays a role perfect for her: a modern woman who believes in traditional virtues, a beloved neighborhood nurse pursued by the scion of a wealthy family. After she finally relents and marries him, his stuck-up family intervenes — and she suddenly finds herself abandoned. This is pure melodrama, the kind in which our heroine suffers nobly, the rich have power but lack backbone, and the moral code of the streets trumps even the judicial system.
49. 8 Women (2002)
In François Ozon's tongue-in-cheek homage to drawing-room mysteries and classic movie-musicals, a wealthy (unseen) family patriarch is found dead while the eight women closest to him — his mother-in-law (Danielle Darrieux), his wife (Catherine Deneuve), his two daughters (Ludivine Sagnier and Virginie Ledoyen), his sister (Fanny Ardant), his sister-in-law (Isabelle Huppert), and his two maids (Emmanuelle Béart and Firmine Richard) — try to deduce which of them is responsible. Hyper-self-aware and ironic to a fault, the film comes down to earth and grows painfully earnest whenever someone sings; the effect is like alternating spoonfuls of sugar and arsenic. As you might have noticed, this also happens to feature one of the most incredible casts ever assembled for any movie.
48. El Gran Casino (1947)
After fleeing Franco's Spain, the great surrealist filmmaker Luis Buñuel spent years in the Mexican film industry, working on both B-movies for studios and provocative personal films. This was one of the former, and while it may seem largely anonymous on its surface, Buñuel brings a studied classicism to this mystery-cum-romance set in the country's oil fields. The great Jorge Negrete is one of three men who are entangled in a murder involving the owner of an independent oil field. Watch how music is often used to mask nefarious goings-on — a typically perverse, Buñuelian mixture of the grim and the frivolous.
47. Singing Lovebirds (1939)
In this effervescent wartime romantic comedy from Japan, the daughter of an umbrella-maker (what is it with musicals and umbrellas?) falls for a local samurai, only to find herself being given away to an influential noble as a way to cover her dad's debts. But the film dwells very little on that love triangle — actually, it's more of a love quadrangle — and more on the lengthy, droll musical numbers, which have a pleasingly dashed-off, almost jazzy quality.
46. Cinderella (1947)
This magical Soviet adaptation of the classic fairy tale is distinguished by the generosity and the wit of its characters. The great Yanina Zhejmo (who was 38 at the time!) plays the young Cinderella (or Zolushka), and she makes for an exceedingly cheerful presence without coming off as sickly-sweet. Made during the economically devastated post–World War II period, this film is elegant and striking — in a painterly, artificial way — with endearingly quaint effects. It's pure escapism, made for a society reeling from a virtual apocalypse. But it carries a sly social message as well — a surprisingly antimaterialist one, subtly undercutting the fairy tale's typical interest in wealth.
45. Orfeu (1999)
Orfeu, from Brazilian director Carlos Diegues, could be said to be a correction of Marcel Camus's 1959 classic Black Orpheus — which set the myth of Orpheus and Eurydice against the backdrop of the slums of Rio and the Carnaval, but did so in a manner that has come to seem simplistic and even a little offensive over the years. (Both films, by the way, were inspired by a play by Brazilian writer Vinicius de Moraes.) Camus reveled in a kind of fairy-tale primitivism, while Diegues embraces the many contradictions of this world. He shows its exuberance, but doesn't paper over the violence of the favelas. Meanwhile, pop star Toni Garrido plays Orpheus, whose sambas carry influences of hip-hop as well, and the film features songs by Tropicalismo star Caetano Veloso. What emerges is at once joyful and dangerous, though still not realistic, per se. Orfeu can't quite match the sheer cinematic accomplishment of Black Orpheus, but it is remarkable in its own right.
44. Perhaps Love (2005)
Chinese director Peter Chan reportedly doesn't even consider this a musical, which is amazing, given that it's drenched in memorable song-and-dance numbers directed by Bollywood great Farah Khan. It's a soapy drama about two movie stars — who were once young, impoverished lovers — reuniting for a tragic musical romance set in a circus. The movie intercuts between the slick present day, the gritty past, and the eye-popping world of the musical film within a film. No individual plotline is particularly notable, as far as narrative goes — it's all fairly standard love-triangle stuff — but as the film cuts back and forth between these narrative strands, it achieves a kind of abstraction that's irresistible.
43. The Happiness of the Katakuris (2002)
Japanese director Takashi Miike specializes in weird movies, but this is one of his weirdest, where the macabre meets the zany. Simply recounting the story does it little justice: A family attempts to turn a garbage dump into a motel, but their guests keep dying in the oddest ways. Go figure, this garish film has a tremendous sense of fun in its individual scenes — it features a karaoke sing-along, as well as Claymation sequences. But it's all in the service of creating a uniquely unsettling mood in the viewer. You walk out of this film not on a cloud but on edge.
42. Alla en el Rancho Grande (1936)
Here's a case of a movie that transformed an entire industry and genre. The first of the Mexican ranchero musicals, this film (whose title translates to "Over on the Big Ranch," or "Out on the Big Ranch") revived the country's struggling film industry. After Rancho's success, Mexico started churning out around 20 such musicals a year, and even exporting them abroad. The plot is a fairly standard love triangle, about a wealthy ranch owner and his close pal/foreman falling in love with the same woman, but it's treated with a great degree of sensitivity, easygoing humor, and surprising realism. The director, Fernando de Fuentes, was one of Mexican cinema's greatest artists, and his films are refreshingly free of romanticism. (The year before Rancho, he made Vamonos con Pancho Villa!, a remarkably clear-eyed look at disillusionment and violence during the revolution.) The musical moments range from gentle ballads about home to tender moonlight serenades to a boisterous hat dance to dueling guitars. After all these years, Alla en el Rancho Grande is still transporting.
41. Zouzou (1934)
The uncontainable Josephine Baker is the main attraction in this charming French hit that has her and Jean Gabin as two orphans raised as twins (!). As a laundress who gets her chance at the spotlight with a little help from her supposed brother/object of her affection, Baker is a phenomenal presence — mugging for the camera, winking at us, playing up the humor in delightfully unpredictable ways. Her singing is marvelous, her dancing so loose and free that you start to forget the plot and just lose yourself in her moves.
40. The Love Eterne (1963)
One of the biggest hits in Chinese history, this sumptuous retelling of the classic cross-dressing "Butterfly lovers" tale — about a young scholar (Ivy Ling Po, an actress playing a man) who falls for a fellow student, who's actually a girl pretending to be a boy (and played by Betty Loh Ti, an actress playing a woman pretending to be a man) in order to go to school — is a meditation on desire and restraint. Ultimately, its deliberate tone gives way to a tornado of sadness and regret. Unlike more traditional works of Chinese opera, the music here demonstrates a mix of mainland and Western influences. Despite its archness, it's a highly involving film.
39. Where Do We Go Now? (2011)
In Lebanese director Nadine Labaki's take on Lysistrata, a small village where Christians and Muslims coexist peacefully begins to dissolve into sectarian tensions once TV and radio reception cause fragments of news from the outside world to trickle in. The women decide to take matters into their own hands by finding sly ways to keep the men from fighting, at one point even getting a bus full of Ukrainian prostitutes to distract them. Nobody really thinks of Where Do We Go Now? as a musical, but it counts — from the women's opening mourning dance to a delicately sung courtship scene to an extended number while the women bake hash cakes to keep the men docile to a great belly-dance routine. All throughout, the dancing and the singing create a vision of unity that the world tries to rip asunder.
38. Princess Raccoon (2005)
Japanese director Seijun Suzuki made his name in the 1960s with a number of stylized, inventive low-budget gangster flicks. In later years, however, his work became infinitely more surreal, theatrical, and symbolic, a style that's on glorious display throughout this musical. A young prince is banished to a deadly, sacred mountain by his father the king, who has just been informed that his son will supplant him as the most beautiful person in the realm. The prince makes the best of it by falling for a raccoon princess (played by Chinese actress Zhang Ziyi, don't ask). This has all the makings of a mystical fairy tale, but in Suzuki's hands, it becomes a fever dream of color and patterns and movement. The obviously fake sets are bewilderingly elaborate (and sometimes even animated), the story filled with non-sequiturs, and the musical numbers — which run the gamut in style and genre — like David Lynch on crack.
37. Fado: The Story of a Singer (1947)
A legend in both her native Portugal and throughout the world, Amália Rodrigues was known as "the Queen of the Fado," referring to the popular, melancholy song form at which she excelled. She made a number of films in her time, and some of them are now lost to the ages. But this loosely autobiographical melodrama stands out because of the tension at its heart: It's a rags-to-riches tale of a woman who becomes a popular fado singer, and the stark contrast between her increasingly glitzy surroundings and the mournful nature of her songs give this otherwise rote story an unsettling aura. Of course, the arc of the film does bend toward a reckoning, as our heroine comes to regret leaving her working-class origins behind. The songs that she sings thus do more than just haunt her journey; they prophesy more sadness to come. (After all, the word fado comes from the word for "fate.") As an actress, Rodrigues is intriguing to watch: She holds back when she performs typical scenes, underplaying even the film's most heartrending moments; but then, when she's called on to sing, the feelings come pouring out like a delayed reaction.
36. Three Idiots (2009)
In Rajkumar Hirani's enormously popular Bollywood buddy epic, two pals who went to engineering school together attempt to track down the mysterious, charismatic, genius third friend who taught them to think independently and to follow their dreams. Under the guise of a zany college comedy mixed with a typical romance — all seen in flashbacks — Three Idiots winds up being a surprisingly touching look at a world mired in conformity, propriety, and social hierarchies. As if to counter that, the song-and-dance scenes are both impressively choreographed and irreverently unhinged.
35. Viktor und Viktoria (1933)
Released the year the Nazis took power, the original German version of this gender-bending romance — later remade in Hollywood by Victor Saville in 1935 as First a Girl, and by Blake Edwards* in 1982 as Victor-Victoria — is an impressive blast of Weimar decadence. A once-successful actor, now sidelined as a cross-dressing cabaret singer, has the bright idea of hiring a woman to do his job — as a man pretending to be a woman. As the inevitable romantic complications ensue, what emerges is a movie with surprisingly tangled gender politics and a melancholy sense of romance, crossed with lively, creative musical numbers.
34. Hong Kong Nocturne (1967)
In the 1960s, Hong Kong's Shaw Brothers studio brought over Japanese director Umetsugu Inoue in an attempt to mount musicals that would match the splash and gloss of Hollywood. And he hit it out of the park with this exuberant confection that's so colorful and exploding with wild numbers, it takes on an almost avant-garde quality. This is the story of three dancing sisters (played by future stars He Lili, Qin Ping, and Cheng Pei-pei, the latter of whom would go on to make numerous kung-fu classics) who win a go-go contest and try to break free of their lecherous magician father. As such, the film is curiously epic and almost tragic in scope — the girls' intercut story lines provide enough melodrama to fuel five Vincente Minnelli movies — but the Expressionistically lit, exuberantly designed musical scenes are so inventive that you can't help but giggle like an idiot.
33. Ay Carmela! (1990)
In so many of the other films on this list, music expresses dreams of peace and a better world. But it effectively becomes a weapon of war in Carlos Saura's historical drama about a trio of traveling musicians trapped behind enemy lines during the Spanish Civil War. Our heroes are initially apolitical, even though they make a living entertaining Republican troops. But when they're captured and forced to put on a show for Fascist soldiers, they become aware of the power of song at a time when the whole world is being forced to take sides. It's a thought expressed most vividly by the title piece, a popular folk song of the Spanish Republican Army.
32. A Good Lad (a.k.a. Men of Novgorod) (1943)
Soviet director Boris Barnet is one of cinema history's great unsung geniuses. His films were often banned or ignored in his native country, and his work has only been discovered slowly by international cinephiles. (Only a smattering of titles in his filmography are readily available nowadays.) In this rough-edged, patriotic wartime musical, a French pilot finds himself joining a group of Soviet irregulars to fight the Germans. The musical sequences are delightfully ramshackle, as if the characters are making do with the devastated world around them. While it's filled with stirring flights of fancy, this film never glosses over the horrors of combat. It's as much an honest-to-goodness war movie as it is a musical. (Though it never got a proper release, it was apparently a hit on the front lines.) Reportedly, French director Serge Bozon was inspired by this film when he made his own wartime musical La France many years later (more on that film soon).
31. Window Shopping (1986)
Set in an underground mall that feels at times like a stage set, this vibrant, deceptively odd work by the late Chantal Akerman (who passed away recently) has a confrontational air. It's as much a meditation on capitalist commodification as it is a poppy, lighthearted look at love, betrayal, gossip, and style. The ornate, romantic-triangle-infused plot has elements that recall Jacques Demy's classics The Umbrellas of Cherbourg and The Young Girls of Rochefort, as well as Jean-Luc Godard's A Woman Is a Woman. But its unrelenting, acute gaze is all Akerman.
30. Days and Nights (1955)
Henry Barakat was one of the essential directors of the classic Egyptian musical, which helped place the country's film industry at the forefront of Middle Eastern pop culture from the 1930s to the 1950s. In this, his masterpiece, a woman abandons her alcoholic artist husband to build a new life for herself and her son with a wealthy man and his son. Years later, however, the class tensions within their family boil over when the two sons, now grown up, fall for the same girl. Like so much great populist melodrama, the film presents an aspirational portrait of bourgeois life, then undercuts it with the corrupting influence of wealth. Despite a happy ending, this film follows the broad outlines of social tragedy — as if Victor Hugo had migrated to Cairo and started to sing.
29. Karmen Gei (2001)
Senegalese director Joseph Gaï Ramaka's sensuous, evocative adaptation of Prosper Mérimée's Carmen was billed at the time as the first African musical. While that's likely not technically true (if nothing else, the Egyptians produced countless musicals for decades prior to this), Karmen Gei is still a wonderful, one-of-a-kind film. The story itself is a loose conglomeration of borrowings from previous versions of Carmen, but the film's true strength is in its unfettered atmosphere of sensual, otherworldly abandon, with the director shooting coastal Dakar like a torchlit hothouse, perpetually in twilight. As the impossibly sexy, free-spirited Karmen, who seduces male and female alike, fueled by both opportunity and romance – Djeïnaba Diop Gaï is stunning.
28. Same Old Song (1997)
In retrospect, it's perhaps surprising that the great Alain Resnais took so long to make a musical. Despite his artily structured, at-times-baffling narratives, his polished, fluid visual style also hearkened to the classicism of Hollywood filmmakers like Vincente Minnelli. In this romantic comedy-drama — dedicated to Dennis Potter, the great British dramatist and TV writer whose work often featured characters bursting into popular radio tunes — a tangle of Parisians woo and betray each other over love and real estate. The use of music, much of it songs by the likes of Edith Piaf and Serge Gainsbourg, is all over the place: Sometimes it comes out where snatches of dialogue should be, while other times we're treated to full-on musical numbers. That irreverent, seemingly offhand approach works: The dissonance between what we're seeing and what we're hearing speaks to the characters' divided natures, even as it amuses us.
27. Opera Jawa (2006)
"Dance is but a body suffused with life," we're told early on in Garin Nugroho's musical adaptation of an episode from the Ramayana. Using elements of traditional Javanese dance and sung dialogue, the film expands on that philosophy with its tale of an ex-dancer who finds herself dangerously lusted after by a local hoodlum. Passions — both overt and hidden — are expressed in the film through dance. Nugroho also filled Opera Jawa with props and sets designed by Indonesian conceptual artists. The result is a mixture of old and new, with scenes that hover between the ritualistic and the experimental while never losing their intimacy.
26. The Congress Dances (1932)
In this lavish German comedy, the scheming Prussian Prince Metternich (played by the great Conrad Veidt, who is charming even when he's being contemptible) attempts to keep the Russia's Czar Alexander I from dominating the 1815 Congress of Vienna by keeping him distracted with musical performances and women. Little does he know, the Czar has brought over a look-alike — for anti-assassination purposes — who is the one to fall for Metternich's trap. For his part, the real czar goes for a lovely but lowly glove-shop worker. This bubbly, adorable musical manages to blend politics and bedroom farce, a range matched by numbers that vary from thundering dance performances to love songs to beerhall sing-alongs. The Congress Dances was also released in an English-language version, with a slightly different cast.
25. Victimas del Pecado (1951)
Emilio Fernandez was one of Mexican cinema's most celebrated auteurs — a visionary populist filmmaker who took the stuff of pulpy potboilers and created works of surprising depth. In this cabaret thriller, a nightclub dancer (played by the sensuous Ninón Sevilla) saves a baby that's been left to die, raising him as her own. But the baby's father — a pimp, a crook, and a murderer — forces himself into her life, and our heroine sinks into increasing desperation. The musical sequences — in particular Sevilla's dancing — are raw, beautiful, and riveting, harnessing the impulses that get our characters into trouble when they go beyond the confines of the dance floor.
24. Black Cat, White Cat (1998)
"Give this man the Danube, gypsy musicians and a camera and you've got a party," was how Janet Maslin of the New York Times described Emir Kusturica's Black Cat White Cat, a densely packed, proudly indulgent crime-comedy-romance that was the Bosnian-Serbian director's follow-up to his sprawling, Palme d'Or–winning 1995 war epic Underground. Kusturica had initially planned to make a documentary about the Roma musicians who had provided the almost nonstop background (and sometimes foreground) music to Underground; then he decided to go the fictional route, and out came this comic hodgepodge about two rival scheming patriarchs living along the Danube River and their crazy, convoluted get-rich schemes. The film is filled with grotesque slapstick, boisterous drunkenness, body horror, and thwarted criminality — all accompanied by the bouncy, life-giving music that inspired this lunacy in the first place.
23. Pyaasa (1957)
In Guru Dutt's romance, an aspiring poet (played by Dutt himself) — shunned and mocked by co-workers and family — finds an unlikely ally for himself and his art in a vivacious prostitute (Waheeda Rehman), who gives voice to his lyrics. The film's subsequent tale of fame, mistaken identity, and class exploitation is one worthy of Dickens, but what really comes through is a portrait of a rapidly modernizing society obsessed with money, status, and power — and the lonely romantics who foolishly, heroically refuse to give in to it.
22. My Voice (2002)
In the first half of this little-seen but wonderful film from Guinea-Bissau, a young woman (Fatou N'Diaye) preparing to leave for college in France is told a family curse will kill her if she ever sings. And so everyone else sings, but not her. In the second half, she discovers her gorgeous voice and has to deal with the consequences as she returns home years later. Despite the constant fear of death, this is a gentle, ambling musical — the kind of film where rituals are only as powerful as the passions we ourselves invest in them.
21. Las Cosas del Querer (1989)
In Jaime Chávarri's historical drama, a trio of close friends — a former prostitute (Angela Molina), her lover (Angel de Andres Lopez), and a gay singer (Manuel Bandera) — tour Franco's Spain, wowing the crowds with folk songs and popular tunes. But they also find their lives increasingly at odds with visions of the happy, conformist, conservative state they're helping to propagate — as well as their own romantic entanglements and memories of war. A haunting film, Las Cosas del Querer juxtaposes the drab, paranoid atmosphere of Fascist Spain with the colorful, mythic fantasy of the country's music.
20. Hipsters (2008)
Valery Todorovsky's stylish musical, set in 1950s Moscow, follows a young Soviet youth as he's initiated into the subculture of "hipsters" — young men and women who listen to Western music (in particular jazz) and dress in flamboyant outfits, much to the displeasure of the authorities. This is an era in which buying a saxophone is as dangerous as owning a machine gun, when just having the wrong haircut can get you in trouble with the law, so the entire film — for all the color and verve of its musical numbers — takes place in an atmosphere of paranoia and suspicion. These kids understand freedom, but they're also delusional in their own way: They dream of a liberated America that doesn't really exist. But the movie is about more than just this time and place: The music here ranges from bebop and big band to hard rock and Eminem-style hip-hop. (Todorovsky even sneaks in a reference to the Soviet musical classic Circus.) It's a plea for youthful liberation and tolerance that stretches across generations and boundaries.
19. Destiny (1997)
Youssef Chahine was, for decades, Egypt's most eminent director, having made historical pictures, war films, pop melodramas, and expensive musicals. He combined all of those styles for this ambitious epic about the legendary Muslim philosopher and judge Averroes, who was instrumental in preserving the works of Aristotle, Socrates, and others at a time when Europe was mired in Medieval ignorance. But Destiny is topical, too: Chahine portrays how Averroes was targeted by religious extremists at the time, thanks to a local Muslim cleric's attempt to seize power. Indeed, that's where the musical numbers fit in: The boisterous, sensuous singing and dancing of Averroes's followers works as a weapon against the joyless austerity of religious zealotry. Chahine meant the film to be a warning and a corrective against what he saw as a growing tide of extremism in Egypt and elsewhere. It's sadly even more relevant today.
18. La France (2007)
In Serge Bozon's World War I drama, Sylvie Testud plays a young woman who dresses up as a man and wanders off to find her husband, a soldier on the front lines. She soon joins in with a small regiment of misfit soldiers who are alternately protective and suspicious of this strange young man in their midst. Amid this stark, deadly landscape, the musical numbers come as a surprise. They're quaint, rambling affairs, with the soldiers using whatever instruments they have on hand to create sudden bursts of crudely beautiful folk-pop songs, which double as an assertion of raw humanity in the midst of a world gone mad.
17. Tokyo Tribe (2014)
Director Sion Sono's beyond-insane Japanese hip-hop kung-fu musical is a nonstop barrage of genre tropes taken to absurdist levels: a dazzling mix of Blade Runner, The Warriors, the Step Up movies, Scarface, and a bad dream you had that one time you gorged on wasabi and malaria medicine. It's set in a dystopian Tokyo divided between rapping street gangs who join together when a sadistic yakuza joins in with one tribe leader to try to wipe out everyone else. The mêlée at the end — which combines nonstop singing and fighting, with random bits of comedy and surreal violence thrown into the mix — is one of the most unforgettable musical setpieces ever filmed.
16. The Beloved (2011)
Christophe Honoré's impossibly sad drama traverses decades and generations. Ludivine Sagnier plays a Parisian woman in the 1960s who has a girl with a Czech émigré, moves to Czechoslovakia, then returns when her marriage falls apart. Catherine Deneuve plays her in her later years, Chiara Mastroianni (Deneuve's real offspring) plays the grown-up daughter, and Milos Forman (!) plays the Czech dad in his later years. Romances never quite end in this movie — they just heat up, cool down, then hang around for years and years. But the film is not judgmental about any of this, and even the musical numbers reflect this in-between quality: They're reflective, quiet ruminations set to song instead of bold statements of emotion — songs of thought, not of action.
15. Mother India (1957)
A monumental film in Bollywood history, Mehboob Khan's epic portrays the impossible challenges faced by a farming family — in particular the proud matriarch played by the legendary Nargis — as they contend with corrupt local landowners, poverty, natural disasters, death, and disability. In keeping with the sweep and scale of the story, the music by Naushad is sometimes celebratory, sometimes mournful. Less a portrait of one family's life than of an entire nation — a point made a bit too clear in one scene where the family farms a large patch of land shaped exactly like India! — this is ultimately a somber story. It begins and ends in reflection, with Mother, representing an entire country, looking back on a life of loss and triumph.
14. Om Shanti Om (2007)
Farah Khan's delirious, romantic backstage melodrama is a great Bollywood movie about Bollywood itself. In the first part of the film, ambitious extra (Shah Rukh Khan) falls in love with a leading-lady type (Deepika Padukone), but both are killed tragically, thanks to an evil scheme set in place by her backstabbing producer-husband. Years later, the extra's reincarnation reunites with a woman who looks exactly like his movie-star beloved to bring down the producer-husband. Along the way, we get a hilarious portrait of the industry. One of the most poppy and entertaining of Bollywood films, this is a satire, an indulgence, and an escalation all at once.
13. No One Knows About Persian Cats (2009)
Many movie-musicals are thinly plotted excuses to string together performances — a fact that has been proven true throughout film history, across the globe. The earliest examples of the genre in many countries took the shape of such patchwork movies. Iranian director Bahman Ghobadi turned that formula into a political act with this free-form narrative about two young musicians fresh out of jail. Shot in secret, No One Knows About Persian Cats follows the duo around Tehran, where they hunt for potential bandmates in the underground music scene. The acts featured — often depicted in a mixture of performance and music-video-like sequences — play everything from traditional music to hip-hop to blues to alt-rock. (It's billed as a docu-fiction, and true, it is a bit of a hybrid, but when you think about it, which musical isn't?) What ultimately emerges is not just a film about political repression and music, but also a work of immense creative longing.
12. French Cancan (1954)
In Jean Renoir's fictionalized origin story of the Moulin Rouge, a down-on-his-luck impresario played by the eternally cool Jean Gabin has the bright idea of reviving the titular dance as a way of resurrecting his own career. But this is Renoir, so the film is less about a visionary artiste and more about the bustle of lives and loves around him; its power lies in its diffuseness. By playing Gabin's typically contained performance against the vitality of the dancers, the film conveys something ineffable about the nature of the creative act.
11. Black Orpheus (1959)
Marcel Camus's magical, tragic relocation of the Orpheus and Eurydice myth to Rio's Carnaval was one of the essential films of its era, and it remains a classic, in part thanks to an immortal soundtrack by the legendary Antônio Carlos Jobim. Perhaps in today's world, it seems a bit too exoticized, a bit too in love with a fantasy vision of Brazil. But this isn't just a wallow in otherness: Especially in the film's early scenes, Camus places the traditions and wonder of Carnaval in the context of a developing country where big office buildings and the trappings of modernity are all around. The film is ultimately about the mystery that always lurks beneath the everyday.
10. Sholay (1975)
One of the most influential Bollywood films of all time, Ramesh Sippy's infamous action hit is a violent, Western-inflected revenge-romance. After his family is murdered (and his arms lopped off) by an escaped bandit (Amjad Khan), a former police official (Sanjeev Kumar) hires two happy-go-lucky outlaws (played by the legendary Amitabh Bachchan and Dharmendra) to help him seek revenge. Unfolding like a musical variation on Sergio Leone's Once Upon a Time in the West, the film's pronounced style never gets in the way of its surprisingly dark story; it's fun without being tongue-in-cheek. The musical sequences often work as a counterweight to the brutality of the story itself — they speak of happiness and togetherness and fun in the midst of a stark, violent world.
9. A Woman Is a Woman (1961)
In this early Jean-Luc Godard classic, Anna Karina wants to have a child, but her boyfriend, Jean-Claude Brialy, isn't ready, so she approaches friend and fellow suitor Jean-Paul Belmondo. One of the more internalized of Godard's films from this period, A Woman Is a Woman is less a caustic portrait of its time than a look at the complicated dynamics of relationships (and particularly Godard's own relationship with then-muse Karina). As such, it presages future classics like Contempt. However, it's set apart by its friendliness and generosity toward its characters and its consciously rickety musical sequences.
8. Young Girls of Rochefort (1967)
Jacques Demy's film was a follow-up to his enormously successful Umbrellas of Cherbourg, and for some, it pales in comparison to the howling emotions of that earlier work. The plot, about twin sisters Catherine Deneuve and Françoise Dorleac and their café-owner mom looking for love over a weekend in a seaside town, seems more frivolous at first glance. But look closer and you'll see a movie that is quite lyrical and intricate. This isn't about the broad sweep of life, but rather the minutiae of experiences and interactions that form a community. It's also surprisingly weird: With his typical bighearted, fleet-footed style, Demy blends romance, drama, comedy, and some aspects of a thriller into a wonderful, mesmerizing whole. He even throws Gene Kelly in there.
7. Tangos, the Exile of Gardel (1980)
Fernando Solanas's dense masterpiece, made while Argentina was still under the control of a brutal junta, brilliantly politicizes a pop-culture sacred cow. Solanas's characters are a group of Argentine exiles in Paris, preparing a revolutionary stage musical that connects the legendary singer Carlos Gardel's persona with the turmoil of their land. While the film is fervently political, its real power comes from its tender, finely observed depiction of exile and rootlessness — of how the distant memory of a home you can't return to can slowly break your soul.
6. Kabhi Khushi Kabhie Gham … (2001)
A highpoint of modern Bollywood, Karan Johar's lavish family melodrama takes a simple — some might say even simplistic — premise and turns it into something emotionally sprawling. Beloved adopted son Shah Rukh Khan refuses his wealthy father Amitabh Bachchan's choice of a bride and follows his heart, thus estranging himself from his own family. Years later, his younger brother Hrithik Roshan tries to bring everybody back together. The rare film that is at once thoroughly indulgent yet also respectful, Kabhi Khushi Kabhie Gham … shamelessly jerks tears from you while still keeping its mood gentle and insistently human. Meanwhile, Johar's style and the energetic Farah Khan–choreographed musical numbers echo the central theme of reconciling the old and the new. A beautiful, heartbreaking film.
5. Le Million (1931)
The great René Clair was initially skeptical about the coming of sound; the idea that cinema would further adhere to prefab notions of realism and wed itself even more to theater worried him. But with this masterpiece, he gave us one of the first truly great uses of the technology. The fablelike tale — an impoverished struggling artist wins the lottery and then has to track down his lost ticket — is a vessel for the director to experiment with the use of sound and music, discarding the conventional notions of realism he so resisted. (He even lets characters' own consciences sing to them.) The simple story soon becomes something else: an exploration of our obsession with money and material goods. That it does so without losing any of its buoyancy or inventiveness — even when seen today — is incredible.
4. Circus (1936)
The great Soviet filmmaker Grigoriy Aleksandrov shared directing credit with Sergei Eisenstein on a number of iconic films (including Alexander Nevsky, Eisenstein's masterpiece), but never quite gets his due in the history books. Based on Circus alone, he deserves a place of honor. (He also directed another classic, Volga Volga, notorious for being Stalin's favorite film.) A stylized wonder doubling as a stirring cry against racial injustice, this film is leagues ahead of its time. We follow an American trapeze artist/human cannonball as she flees the U.S. under a cloud of undefined shame. Taken in by a scheming German impresario (hey, it was 1936!), she makes her way to the Moscow circus, where she's asked to teach her skills to the Russian performers. A touching love story that's punctuated with extravagant musical numbers in which all of Moscow becomes a stage, Circus has a very gentle energy. The climactic scene has lost none of its power (spoiler alert): The American woman is revealed to have a black baby, but the people in the Soviet audience, far from rejecting her and the child, embrace them. The baby is passed among the members of the crowd, each singing to the sleeping infant in his or her own language.
3. Blood Wedding (1981)
Carlos Saura's slim, exhilarating film shows, in hyperrealistic fashion, the backstage goings-on as a group of dancers prepare for a performance of Antonio Gades's flamenco-ballet of Federico García Lorca's play about feuding families and romantic betrayal. Then Saura shows us the performance itself, and the very texture of the film transforms before us. The camera draws arabesques around the dancers, capturing and reflecting their broad gestures, framing and reframing to catch compositions that bring out the violent energy of the dance itself — while somehow also managing to create an incredible sense of intimacy. Blood Wedding is one of the greatest dance movies ever, from a master of that subgenre.
2. Dil Se (1998)
In the most powerful of Indian musicals, Shah Rukh Khan plays a radio journalist who falls in love with a mysterious Kashmiri woman (Manisha Koirala) before discovering that she's involved with a terror group. But that doesn't stop his pursuit of her, even after he agrees to marry another (a young Preity Zinta). He becomes obsessed, even strident — and the more he finds out, the darker the film grows. In so many musicals, the singing and dancing representsthe possibility of reconciliation and hope, or at least emotional catharsis. In Dil Se, the musical sequences represent delusion. In them, Shah Rukh Khan gets to be the romantic action hero that the film's fatalistic story will never allow him to become.
1. The Umbrellas of Cherbourg (1964)
Could this be the saddest musical of all time? One of the greatest films ever made in any genre, Jacques Demy's masterpiece tells of a great love that turns out not be a great love at all. Despite its early dismissal as a sickly-sweet trifle, this is a film that grows up before your eyes — from its swooning, gauzy first half, in which young lovers Catherine Deneuve and Nino Castelnuovo seem inseparable, to its climax, in which the characters find a muted kind of happiness in the arms of others. Watch it in your youth, and you'll see a tragedy of thwarted passion; watch it as a grown-up, and you'll see a bittersweet reflection on life's accumulation of joys and regrets. Umbrellas not only invites this kind of complexity, it embodies it. Michel Legrand's occasionally lilting, occasionally thundering music works in tandem with Demy's alternately intimate, alternately sweeping cinematic style to create a film that is often elusive and unexpectedly complex — and never not breathtaking.
* In an earlier version of this story, we misidentified Mel Brooks as the director of "Victor-Victoria."