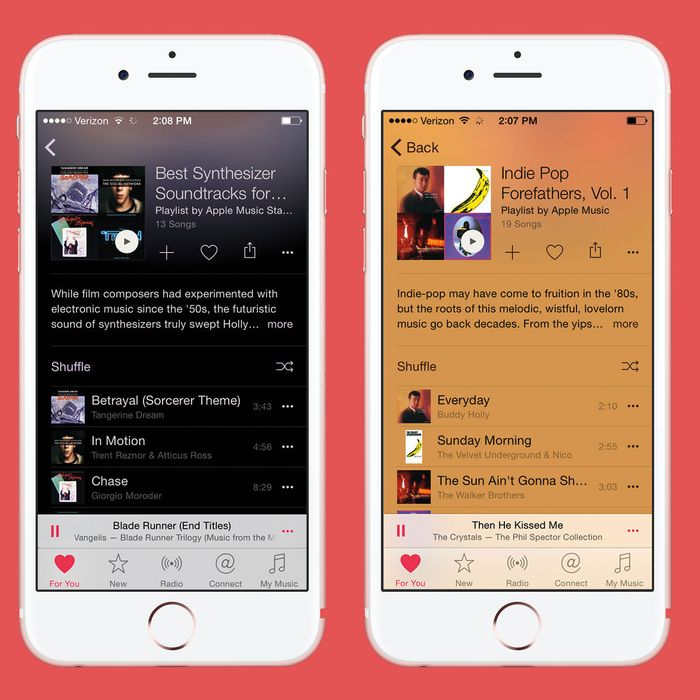 A list of playlists? In 2015, the state of music discovery has really come to this. Now that on-demand streaming is no longer a novelty, services from Spotify and Rhapsody to Google Play Music and Tidal are competing to out-curate one another. One of the main ways these companies are working to bring new music to the surface is the playlist — to the point where these simple sets of songs now cry out for a little curating of their own.
Thing is, with some variations, the types of professionally made playlists available on each interactive streaming service — as opposed to radio-style services epitomized by Pandora — are starting to become fairly consistent, too. Whatever your preferred streaming app, it's a fair bet you'll find mood- and genre-based playlists alongside playlists created with more of an editorial touch. Some services allow users to share playlists they've made themselves; others don't, opting to keep the curation in-house.
Since launching June 30, Apple Music has stood out for a particular emphasis on creative song selection by experts. That's most quickly evident in the company's Beats 1 online-radio station, but it's also true of the service's 10,000-plus playlists. When Eric Schmidt, executive chairman of Google parent company Alphabet, recently criticized the idea of a digital music service picked by "a handful of elite tastemakers" as out-of-date, media reports construed the comment as a jab at Apple — despite the fact that Google Play Music hires its own human cognoscenti as well. Apple Music just happens to do it better.
So what are the best playlists on Apple Music? Well, this gets tricky. The service recommends only so many playlists each day, and many of them seem to reflect what I already like more than what I might like. Still, with the end of Apple Music's three-month free trial approaching for many of the millions who signed up shortly after the service launched, it's time to curate the curators. From Beyoncé workouts to reggae clashes, here's a guide to 50 Apple Music playlists worth a listen.

1. "Intro to Alice Coltrane"
Apple Music has a category of playlists "introducing artists." More than a few need no introduction: Taylor Swift, Justin Bieber, Adele. (I guess listeners whose Belieber potential was piqued by "Where Are Ü Now" or "What Do You Mean" need a place to start, too.) Meanwhile, playlists like this thoughtful primer on transcendent jazz harpist and pianist Alice Coltrane (wife of John) show how much musical ground Cupertino's curators have covered.
2. "Melvins: Deep Cuts"
Another equally self-explanatory category of Apple Music playlists offers up an artist's lesser-known tracks. In the case of chart-toppers like One Direction and Luke Bryan, this approach can seem oxymoronic. But you can see how deep the playlisters have gone by steering away from current charts toward, say, this handy dive into the vast, varied discography of sludge-metal vets and grunge forefathers the Melvins.

3. "Inspired by the Beach Boys"
These playlists focus on music that follows in the footsteps from an artist or album. The Beach Boys were pretty influential, right? From Saint Etienne to Olivia Tremor Control, this playlist's more cultish selections are (here we go again, sorry) inspired.
4. "Inspired by 808s & Heartbreak"
Here's a shining example of an Inspired By playlist based around an album. With Kanye West performing his melancholy, Auto-Tune–heavy 2008 album in full lately, it's worth taking a look at its influence on Drake, Lorde, the xx, and Raury.
5. "FKA Twigs: Influences"
Influences playlists are the opposite of Inspired By, laying out ancestors rather than descendants. U.K. multi-threat Tahliah Barnett has an eclectic lineage in futuristic electronics and silky grooves, here rendered in a playlist that goes, welcomely, from Broadcast to Siouxsie & the Banshees to Erykah Badu.
6. "Country Hits: 1952"
Another batch of playlists cover a range of genres' "hits" and "gems" by year. Given the consistent and well-deserved concern over country radio's lack of female stars, why not start with the year of Kitty Wells's pioneering "It Wasn't God Who Made Honky Tonk Angels"? It's too bad the rest of the list is as male-dominated as country radio in that pre–Patsy Cline, pre–Loretta Lynn era — but at least those men include Hank Williams and Lefty Frizzell.
7. "Singer/Songwriter Gems: 1965"
Where Hits reflect their times, Gems playlists aim to compile great songs that might not have ruled the charts. And thus, here's your regularly scheduled reminder that Bob Dylan's "Like a Rolling Stone" was not a big hit.

8. "Family Tree: Parliament-Funkadelic"
The Family Tree series of playlists brings together songs from a band and its other related projects, including solo acts and spinoffs. Jazz front men and their players are ideally suited, as are certain rock groups, but it's hard to go wrong with psych-funk extraterrestrials Parliament-Funkadelic, whose playlist spans tracks credited to Zapp & Roger, James Brown, the Five Stairsteps, Ohio Players, Talking Heads, and a George Clinton–produced Red Hot Chili Peppers cover of the Meters.
9. "In the Mix: Carl Craig"
In the Mix playlists are collections of a remixer's, ahem, remixes. Sure, Apple has your Skrillex and your David Guetta, even your Jacques Lu Cont, your Four Tet, and your Justice, but why not settle in with a Detroit techno eminence? Especially when his playlist starts with a gleaming 2007 rework of Canadian electropop duo Junior Boys' "Like a Child"?
10. "Beyond the Hits: New Wave"
The Beyond the Hits category isn't limited to a particular year, or to obvious Gems. Instead it's meant to showcase a group of artists' classic songs that "got lost in the shuffle" yet are "every bit as exciting as those artists' better-known hits, without the over-familiar feeling." These tracks from the likes of Blondie and the Cure are a fine place to begin.
11. "Behind the Boards: Toy Selectah"
From superproducers Timbaland or the Neptunes, to don't-call-him-a-producer Steve Albini, the Behind the Boards set of producer collections runs the gamut of predictable subjects. Luckily, the curators don't stop at the obvious. In keeping with Apple Music's global approach, take a trip to Mexico with a madcap set of tracks produced by Monterrey DJ and producer Antonio "Toy" Hernández, formerly of trailblazing rap group Control Machete.
12. "Sampled: Art of Noise"
So far, so intuitive: Sampled playlists compile songs that, yes, sample a given source, from Billy Squier's "The Big Beat" and lesser-known funk group Skull Snaps' ubiquitous "It's a New Day" to Michael Jackson and Blue Note Records highlights. U.K. producer Trevor Horn was early to sampling with '80s synth-poppers Art of Noise, and here you can hear them repaid by Ginuwine, Lil' Kim, Fatboy Slim, the Prodigy, and, more recently, Mac Miller.
13. "Sounds Like: DJ Mustard"
Sounds Like sounds like what you'd think. Iggy Azalea's presence here (twice!) gets a pass because she anchors a fascinating look at how far the crunk&b producer's influence has extended in just a few years' time, from Jidenna's "Classic Man" to the — almost — Chris Brown–excusing "Loyal." You'll find yourself thinking, You mean Mustard didn't work on Tinashe's "All Hands on Deck"?!
14. "Reggae Clash Series: Coxsone Dodd vs. Duke Reid"
Now we're starting to get somewhere. Reggae Clash Series pits two producers or artists head-to-head, sound-system-style. The clash between King Tubby and Lee "Scratch" Perry may combine two icons of dub, but there's little denying the ska, reggae, and rocksteady from pre-dub Jamaican producers Coxsone Dodd and Duke Reid, whether Skatalites' "Guns of Navarone," Alton Ellis's "I Am Still in Love," the Paragons' "The Tide Is High," or Jackie Mittoo's "Hot Milk."
15. "Classic 45s: Early Rock, Pop, and Soul" / "Classic 45s: Punk, Post-Punk, and Indie"
Let's treat these two playlists, which celebrate the twin heydays of the 7-inch single, as the A-side and the B-side of the same idea. Here we see Apple Music branching out beyond clearly defined playlist categories, and the results find the missing link between Elvis and Buzzcocks.
16. "Best of Future Garage" / "Roots of Future Garage"
Another playlist approach is to give a primer on a genre and then trace its origins. Here, listen to how the sleek electronics of Disclosure, AlunaGeorge, SBTRKT, Joy Orbison, and Burial grew out of the impressionistic sketches of earlier Burial, James Blake, or Mount Kimbie.
17. "Indie Pop Forefathers," Vols. 1, 2, 3
The phrase indie pop gets thrown around these days, but this playlist focuses on the unassailable precursors of the '80s variety: Buddy Holly's "Everyday" and the Ronettes' "Be My Baby," Roy Orbison's "Only the Lonely," and Gal Costa's "Baby."
18. "Songs in Colours (Jamie xx)"
Some of the more interesting Influences-based playlists go beyond "influences," per se, to draw inspiration from a specific album, in the case of Jamie xx's masterful 2015 In Colours …
19. "Shades of Cool (Lana Del Rey)"
… Or a song, in the case of Lana Del Rey's '60s-soundtrack-ready "Shades of Cool," off of 2014's Ultraviolence.
20. "Best Synthesizer Soundtracks for Films"
Apple has any number of film-related playlists, from "Slackers and Swingers: Music From the Indie Film Revolution" (Reservoir Dogs' "Stuck in the Middle With You"? Check!) to best-ofs for specific actors or directors (Leonard DiCaprio's is a fine example). Spanning staples like Giorgio Moroder, Vangelis, and Daft Punk, here's one for synth-loving cinephiles.
21. "Songs That Predicted Shoegaze and Dream-Pop"
Apple has some worthwhile genre-based playlists aren't purely Best Ofs, such as this chronological guide to psychedelic folk and rock that presaged the likes of My Bloody Valentine and the Jesus and Mary Chain.
22. "Grime 2.0"
Another spin on the usual Best Of, here's a refresher on the resurgent U.K. grime scene, with plenty of Skepta (Beats 1 DJ Julie Adenuga's brother), Wiley, and Kano.
23. "Turkish Psychedelic Folk Songs"
It's hard to hate a Best Of that's this out-there. Sure, we could highlight the specificity of Apple's "Contemporary Experimental Metal," "The Folk and Americana Side of Christian Music," or the bluntly named "Hipster's Guide to Country" playlists. But this mind-melting set of Anatolian psych-folk exists, so.

24. "Best of Ghana"
That said, the service is teeming with playlists presenting the "best" of various genres, scenes, or moments. Given Dr. Dre's role at Apple, "Best of Gangsta Rap" is obvious; "Best of Musique Concrete" or "Best of Classic Prog Rock," maybe less so. But the expert approach to curation really shows its worth when you can also explore as far afield as Ghana, tracing highlife, funk, and rock from the West African nation …
25. "Brazillions: Excellent Tropicalia and Post-Tropicalia"
… Or Brazil, for tracks by Os Mutantes, Jorge Ben, and more.
26. "Global Bass: Tecnobrega"
While in Brazil, meet "Brazil's Beyoncé," Gaby Amarantos, and the city of Belém's homegrown tecno brega (literally "cheesy techno"), with its galloping beats and neon hooks.
27. "Bowie in Berlin"
A whole other tranche of playlists is based around a single artist, whether that means Robyn's remixes, the Smiths' B-sides, Weird Al's polkas, Grateful Dead's country songs, R. Kelly's theatrical songs, Led Zeppelin's heavy blues, or Slash's best guitar solos. David Bowie's Berlin period (1977's Low and Heroes, 1979's Lodger, generally hanging with Iggy Pop) turns out to be an unsurprisingly fertile source.
28. "Workout Like Beyoncé"
Here's another single-artist set, this one highlighting Bey's more up-tempo tracks. It dovetails nicely with another notion not lost on streaming companies: the strong link between music and exercise.
29. "Americana Troubadours"
Genre-based playlists come with the territory. In the Americana genre, this set of earnest balladeers gets points for including country alternatives Jason Isbell, Sturgill Simpson, and Chris Stapleton.
30. "Jukebox Hits: Classic Blues"
Other genre playlists ("Sittin' and Cryin'," "Feeling the Blues," "Rambling and Tumbling") show different shades of the blues, but "Jukebox Hits: Classic Blues" is a well-conceived introduction to the canon, helping rock-weaned ears out with some oft-covered originals by  John Lee Hooker, Muddy Waters, and Howlin' Wolf.
31. "Movin' and Groovin'"
Classified as "soul/funk," this playlist plucks up rising soul postmodernist Leon Bridges and drops him off next to both '60s originators (Aretha, Otis, Sam) and contemporary standard-bearers (Saun & Starr, Monophonics, Speedometer).
32. "Let's Have a Party"
If you're going to play "oldies," here's a batch of familiar rock-and-roll rave-ups to make your party a goodie.
33. "Soul Brother No. 2"
Opener "Sunday Candy," from Chance the Rapper's Donnie Trumpet & the Social Experiment gem of an LP Surf, sets the tone for this playlist from Apple's hip-hop team: a Zeitgeist-y intersection between slow, jazz, and highly lyrical rap. Don't worry, Kendrick's on here, too.
34. "Cinematic Soul"
Filed under R&B, this playlist handily exemplifies the unpredictable connections the format allows, jumping between up-and-comers (Andra Day, Alessia Cara), list-defining statements of purpose (Shirley Bassey's Diamonds Are Forever theme), and a lesser-known hit from a superstar (Michael Jackson's "We're Almost There"), in between the Stylistics, Marvin Gaye, Isaac Hayes, Barry White, and, because the list is set up in a way that ensures she belongs, Adele.
35. "Year of the Woman"
Okay, so that "Hipster's Guide to Country" playlist is actually full of great vintage classics, and Apple Music's "House Party" country playlist delves into current hits as befits Sam Hunt's namesake rap-informed smash. But with powerful 2014–2015 material by Miranda Lambert, Kacey Musgraves, Ashley Monroe, Maddie & Tae, and Mickey Guyton, this country playlist is a stirring corrective to all the bros dominating the airwaves. Just one thing: Where's Little Big Town's 2014-released, 2015-charting stunner "Girl Crush" (which conveniently could've doubled as this playlist's title)?
36. "The Staple Singers: Gospel and Protest"
The Staple Singers served. With guest spots from Curtis Mayfield and Steve Cropper, here's a Christian & Gospel playlist that'll give you religion.
37. "Dylanesque"
The human touch in action. "Dylanesque" is a rock-critic cliché, but this nominally "classic rock" playlist takes a bracingly broad view of what resembles Bob Dylan, encompassing Sun Kil Moon, PJ Harvey, Courtney Barnett, and even Of Montreal and the Fiery Furnaces.
38. "Opening Lines: 1-2-3-4!"
A conceit that's as simple as ABC — songs that begin with someone counting to four — gives birth to a "rock" playlist that finds space for Outkast, Cornelius, and Kraftwerk along with the Ramones, Guns N' Roses, the Flaming Lips, and Jonathan Richman & the Modern Lovers.
39. "Pop for Jorts"
Worth noting for the name alone. The description just says, "Shake it, shake it, baby, to these high-energy bangers." But the songs, drawn mainly from this year, tellingly illuminate what Apple views as up-tempo pop — from across the underground and the charts — right now. That means Shamir and Gallant, the Knocks' Fetty Wap collaboration, Calvin Harris's Haim collaboration, Sweden's Susanne Sundfør, and Los Angeles's Sky Ferreira.
40. "No Problem With Houston"
Beyoncé briefly attended Houston's High School for the Performing and Visual Arts. So did multiple-Grammy-winning R&B/hip-hop songwriter and producer Bryan-Michael Cox. So did a founder of WordPress. And, as this playlist shows, so did some of today's top jazz talents, including Robert Glasper.
41. "Blue Note Records: Jazz Funk"
This set devoted to James Brown's influence on jazz in the '70s is part of what Apple tells us is a planned 30-playlist set curating the historic label's catalogue.
42. "If You Like …  Kind of Blue"
Miles Davis's Kind of Blue is perennially among the top vinyl album sellers. There are If You Like … playlists for Beck, Ed Sheeran, Halsey, you name it — even an "If You Like Pina Coladas" playlist — but this collection of tracks that "mirror" the allure of Davis's 1959 masterpiece ably fills what — for jazz newcomers, at least — seems like a real need.
43. "Motown for the Whole Family"
Oh, yes, there are Kids & Family playlists, too. "Cool Lullabies," "Pop for the Whole Family," "Classic Children's Songs," and "Driving With the Kids" undoubtedly have their place. Motown virtually guarantees all generations can maintain their sanity.
44. "The 3 a.m. Drive Home"
Don't stress the title. This batch of "hypnotic late-night electro grooves" serves as a clever tour through a certain strain of electronic music, from Aphex Twin in 1997 to the Knife in 2006 and on through Hudson Mohawke, Rustie, and Evian Christ more recently. Car and wee hours not required.
45. "Daft Punk's Teachers"
Apple hardly has a monopoly on this concept, but a playlist based on the musical idols name-checked on Daft Punk's "Teachers" (from 1997's Homework) could introduce the French dance duo's many more recent fans to the robots' preceding, um, technologies. What's needed next is a playlist based on Swedish duo the Tough Alliance's like-minded 2005 shout-out to influences, "Take No Heroes" (there is an "Intro to Tough Alliance" playlist).
46. "Getting Parents to Like Noise"
Starting with Jimi Hendrix and ending with a track from Lou Reed's (in)famous Metal Machine Music, this playlist filed under "experimental" coaxes listeners gently into skronk and skree.
47. "It's a New Day"
Classified as "indie," this playlist stands out for its sunny genre-hopping, from the oft-sampled title track to jazz by Royer Abers Ubiquity to Earth, Wind & Fire, the Rolling Stones, A$AP Rocky, Major Lazer, Talking Heads, Gang Starr, Al Green, Rich Homie Quan, Michael Jackson's "P.Y.T.," Arthur Russell's Loose Joints disco exploration "Tell You (Today)," Frank Wilson's Motown nugget "Do I Love You (Indeed I Do)," and other auspicious picks.

48. "Girls Are Saving Indie Rock"
More conventionally indie, this set of recent songs from the likes of Bully, Hop Along, Girlpool, Sleater-Kinney, Waxahatchee, Courtney Barnett, Torres, Cherry Glazerr, Speedy Ortiz, Ex Hex, Bleached, and Best Coast very nearly lives up to its hyperbolic title.
49. "Surf Rock Para el Verano"
Summer may be gone, but this playlist of Spanish-language surf rock is a refreshing way for nonspeakers to dip their toe into Apple Music's many Latin-music playlists.
50. "Ambient Music: Studying"
Activity-based playlists are a huge focus for streaming services, and Apple Music plays this game, too, as a couple of earlier entries on this list have suggested. With school back in full swing, this playlist is sure to be one of the more popular ones this season. Flipping Brian Eno's classic definition of ambient music, this list is as interesting as it is ignorable, doubling as an undistracting soundtrack for library work and a primer on three-plus decades of ambient, from Laurie Spiegel to Max Richter. As long as you're hitting the books, you might as well learn something, right?