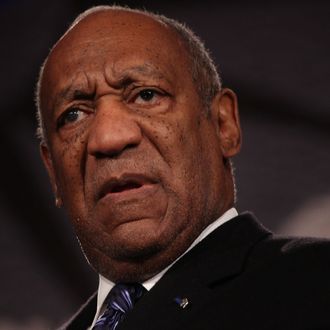 Photo: Spencer Platt/2011 Getty Images
Model Chloe Goins has filed a lawsuit against Bill Cosby for damages stemming from her alleged 2008 assault. EW reports that Goins's attorney, Spencer Kuvin, released a written statement on the legal proceedings:
"Today marks a critical step in empowering women to address the rape culture that has become so prevalent in the entertainment industry and in the American conversation. With this lawsuit, we are effectively leveling the playing field between the rich and powerful and the voiceless victims they exploit. I have chosen to relive the ordeal of this deeply traumatic attack to expose the truth and bring justice for all the victims of sexual assault across the nation. I am empowered by the more than 50 other women who have publicly described similar sexual attacks they endured, but are unable to bring Bill Cosby to justice. With the filing of this lawsuit, it is my hope that he will in fact face justice."
Goins first met with the LAPD to file a sexual-assault report against Cosby on January 14, 2015. She claims she was drugged at the Playboy Mansion in 2008 and "woke up to Cosby licking and kissing her naked body." Goins seeks justice and $75,000 in damages from Cosby in a jury trial.