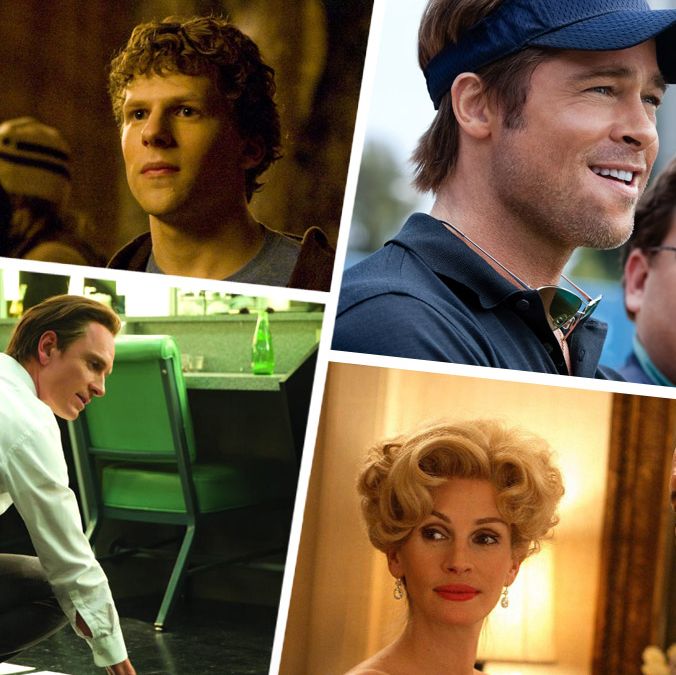 Photo: Universal Pictures, Columbia Pictures
Very few writers are Aaron Sorkin. Very few writers have worked as both TV showrunners and Oscar-nominated screenwriters while consistently maintaining a lively presence in the press. Considering the commotion that accompanied his last movie, The Social Network, which portrayed one of the richest men in the world as a disordered and unethical brat and told the origin story of a platform used by a significant portion of living human beings, one might've expected Sorkin to have reached peak cultural relevance in 2010. But no: Aaron Sorkin does not peak, he just has increasingly brief plateaus.
Cue Steve Jobs, the biopic of Apple's turtlenecked founder that bowed in New York and Los Angeles this weekend. Other than the specter of Jobs himself, Sorkin has been the one constant through a tumultuous production that, even by industry standards, more resembled an act of state than making a piece of entertainment. There was the exit of David Fincher, the director of The Social Network; there was pressure by Jobs's widow; there was the trouble of casting Jobs, a process that went through Leonardo DiCaprio, Christian Bale, and other superstars before finding a worthy vessel in Michael Fassbender; and there was the Sony hack, which laid bare all of the insane, incoherent, fascinating, and obnoxious things Hollywood people say to each other. Even more visibly than he tangled with Zuckerberg, Sorkin traded barbs with Apple CEO Tim Cook, and he and the film's eventual director, Danny Boyle, have encountered more than the usual criticism over how their biopic treats its subject, especially since the tech trades also joined the fray.
But none of that could stop Steve Jobs — which, at 87 percent on the Tomatometer, should be a player come awards season — from making $130,236 per theater, the best opening per-screen average of the year so far, and the highest since American Sniper's debut in 2014. To give you an idea of how well it did, the previous best opener by that metric was Sicario, at $66,881, or slightly more than half of what Steve Jobs averaged.
All of this is to say that Sorkin matters, in a way that very few other non-directing screenwriters do. It's a surprisingly rare role to occupy in the film industry: The last four Original Screenplay Oscar winners also directed their movies (Birdman's Alejandro Iñárritu co-wrote his with three others), and though the last three Adapted Screenplay winners wrote exclusively, none of them are even close to household names. While the writer might in theory be the boss on TV, film is still a director's game, and realizing that, many of the best writers often make their way to directing eventually.
Sorkin has indicated no such interest. He just writes. Of course, he's not the only one: Nick Hornby and Tony Kushner are all recently nominated, notable writers who don't feel the need to direct. But it's still an unusual role, and it leads to an interesting question: If, at least in the eyes of the general public, Sorkin movies belong to Sorkin more than they do their directors (though I, along with many other heads, would argue that The Social Network is far more a Fincher film), how bankable is he?
To find out, let's walk back through all the movies he's released since 1995. Prior to that, he wrote A Few Good Men, Malice, and The American President, but those came before his acclaimed TV work — in other words, before Aaron Sorkin became AARON SORKIN.
His last release before Steve Jobs was Moneyball, for which he did a third draft following Steven Zaillian's second; both were credited for the screenplay, and they shared an Academy Award nomination. Unlike with The Social Network and Steve Jobs, there was far less of a myth around the script Sorkin produced for Moneyball: He came on to the (also troubled) production late in the game, and his name didn't appear prominently on the poster like it does with Steve Jobs. But prominent or not, Moneyball played well, opening to a strong $19.5 million from 2,993 theaters, a $6,516 average. Over the course of its run, it made $75.6 million domestically, a strong-but-not-spectacular performance for an adult drama, particularly one starring Brad Pitt.
The Social Network was more exceptional. From a filmmaking perspective, Sorkin had to cede more of the credit to Fincher than he seems to be granting to Danny Boyle, who, though a prominent, Oscar-recognized director, isn't the kind of religious totem/lighting rod that Fincher has become. Instead, Steve Jobs is being actively promoted as a collaboration between writer and director. But Sorkin's screenplay for The Social Network had a miniature legend behind it by the time of release: It was obtained early in the process by film bloggers, who started the drumbeat of buzz before Fincher had even signed on. (Most people were just shocked by the idea that a movie about Facebook wasn't the world's lamest tire fire.)
Opening to $22.4 million, The Social Network might not seem like it made all that much more than Moneyball, but the difference was substantial. With a more limited release, The Social Network averaged an impressive $8,100 per theater, and its second-weekend dip of 31.2 percent was the smallest decline of any No. 1 movie that year. Domestically, it would end up with $96.9 million, and it tallied another $127.9 million overseas. The one other movie Sorkin's written since 1995, Charlie Wilson's War, only grossed $9.6 million and $66.6 million, but that's a very different animal than the higher-profile Social Network and Moneyball: Even if Sorkin couldn't propel it to massive bucks, neither could Tom Hanks, Julia Roberts, or Philip Seymour Hoffman.
While the rollout for Steve Jobs is a little different from that of The Social Network — it will expand a little further next weekend, then fully go wide October 23 — a similar performance would make Universal execs pretty happy. (Universal snapped up the project from Sony at the end of last year.) Right now, that seems likely: BoxOffice's analysts are forecasting the movie to make $23 million when it opens wide, with an eventual domestic total of $92 million, nearly identical to The Social Network's numbers. On a weekend where it'll have no serious adult competition, unless you count The Last Witch Hunter and Vin Diesel's not-dadbod (likely not a player come awards season), I could see it making even more than that.
Sorkin won't be writing Avengers: Infinity War anytime soon, and he isn't going to make $1 billion worldwide. But if you let him do what he's good at, i.e., write high-profile, reality-based psychodramas in which everyone speaks like Aaron Sorkin, chances are you'll make your money back, your movie will get nominated, and everyone will come away feeling prestigious and content, if maybe a little shell-shocked by the whole experience.