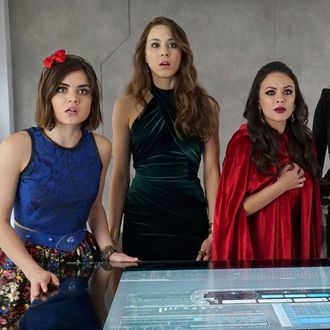 Pretty Little Liars.
Photo: Eric McCandless/ABC Family
ABC Family, the network known for Pretty Little Liars and a host of other millennial-targeted dramas, will begin 2016 by changing its name to … Freeform. No need to check your browser: You're still on Vulture, not Clickhole. The unconventional new name is part of a complete branding revamp of the Disney-owned network, which wants to shed any lingering perception that it's a "family" channel in order to emphasize its programming focus on younger viewers aged 14 to 34. Unlike ABC Family, which sounds like a wholesome network you could watch with your grandma, "Freeform evokes the spirit and adventure of our audience," ABC Family/Freeform president Tom Ascheim said in a press release explaining the change. It may also provoke a ton of social-media scorn and mocking, given how much the name sounds like it was conceived by a series of focus groups. But execs at the soon-to-be Freeform believe the name change is necessary in order for the network to evolve along with its audience. Specifically, having been among the first cable channels to cater to the rising millennial tide in the mid-'00s, Ascheim and his team now believe those same millennials are about to be yesterday's target audience. Instead, Freeform will be all about what it's calling Becomers.
Per the ABC Family/Freeform press release, "Becomers represent a life stage rather than a generation," and include both the younger end of the millennials as well as kids now in high school. Rather than keep focusing exclusively on millennials, the new Freeform will also aim to get their younger brothers and sisters to watch, since "in five years, millennials will be less than half of the [advertising] target," the network says. Freeform also has a psychological profile of its audience, describing them as youngsters who "are navigating the wonderful, fun, exciting, and scary time in life when you experience the most firsts — first car, first apartment, first job, first love, first heartbreak — all the firsts that exist between who they are and who they want to become." As for the bizarre name, ABC Family/Freeform believes its essential vagueness actually captures the spirit of the Becomers themselves. "The audience's identity and experience are fluid as they explore endless possibilities and their passions take shape.  Freeform personifies this fluidity and will deliver ideas, forms of content and ways of interacting with the brand," the network release says.  

While much of the programming on Freeform will remain the same as it is on ABC Family, there will be more of it. As announced last spring, ABC Family/Freeform is looking to double its scripted originals over the next four years. The name change is being timed to coincide with the return of some of the channel's biggest hits, including PLL and The Fosters. More new series and pilots will be announced later this month. Disney is also launching a Freeform book imprint to coincide with the rebranding of the network. And starting today, the channel will begin a social-media-powered push to begin promoting the name change, inviting audiences to post videos about themselves at a website (Freeformfan.com). As for ABC Family, the network will be just north of 14 when it ends its run at the end of the year: It's been known by the ABC Family name since it was taken over by Disney at the end of 2001.