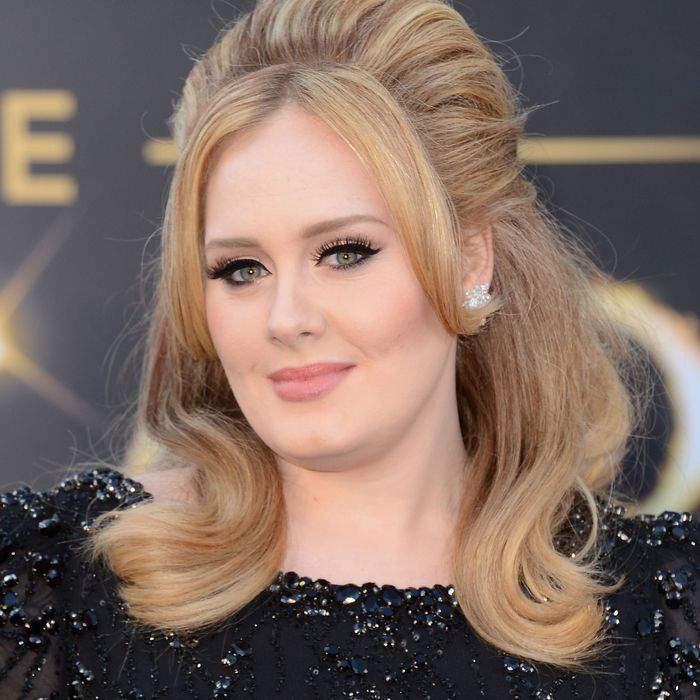 Photo: Jason Merritt/Getty Images
Last month, Adele finally revealed that her new album 25 will be released on November 20, nearly five years after 21 broke all sorts of sales records. Well, more like smashed them: 21 was the first album since Thriller to hold the top spot on Billboard's year-end album chart for two consecutive years. It has sold over 30 million copies globally, and is the only album in the last decade to earn a diamond certification — meaning over 10 million U.S. copies sold — in less than two years. After 240 weeks, it still regularly outsells much newer releases, like Ariana Grande's My Everything. For comparison, Taylor Swift's 1989, presumably the second-best-selling album of the 2010s so far, has sold roughly half as many copies in the U.S. In under five years, and in an age when physical-album sales drop every year, 21 is one of the best-selling albums of all time.
This means, of course, that the sales of 25 will be a big part of the narrative around the record. Already, the projections "are absolutely insane" and "the only suspense about 25, right now, is over just how big it will be." Can Adele "save the record industry," which is depending on 25 to boost fourth-quarter sales? She's off to a good start with both new and old metrics: The first single, "Hello," debuted at No. 1 on the Billboard Hot 100 and set the single-day U.S. record for downloads and streams in one week, and over 1 million sales for the album in its first week are "a lock." "The expectations are incredibly high," says Keith Caulfield, co-director of charts at Billboard. "It's doing so well based on pre-orders that people are asking themselves, 'Okay, how big can this album possibly get?'"
25 is going to sell millions of copies. But it's unlikely to match the sales of 21 — because almost nobody has ever been able to top that kind of success. If the sales even come close, it won't be for years — the slow burn after a big-star moment is what makes sales feats like 21 even possible in this age. Adele herself seems to be aware of this: "It's a write-off to expect anything close," she told BBC Radio 1 DJ Nick Grimshaw last week. "It was phenomenal what happened, but it was a phenomenon."
"Only a handful of albums have been able to do what 21 did," Caulfield said. "If you compare them, then it becomes the story of, 'Oh, it didn't do what 21 did,' and therefore someone might see that as a failure."
It wouldn't be the first time something like this has happened. The list of albums that have been deemed failures or "relative flops" for not living up to their predecessors' megasales is long — and the pressure suffered by artists trying to match themselves is intense. Alanis Morissette's Jagged Little Pill sold 15 million copies in the U.S, but Morissette suffered anxiety attacks after backlash from fans and media. The follow-up, the hypnotic Supposed Former Infatuation Junkie, sold less than a fifth of that and, despite its platinum status, is still considered a "disappointment." Fleetwood Mac famously took 13 months and spent $1 million (plus unknown cocaine bills) to record Tusk, the follow-up to the 20 million-selling Rumors; the brilliant but defiantly weird album hit No. 4 in the U.S.and sold "just" 2 million copies. Bruce Springsteen seemed to deliberately follow the diamond-certified Born in the U.S.A. with an introspective album, Tunnel of Love, that could never hope to be as big. (Even with its paltry 3 million in sales, it's remembered as the album that paled in comparison.) More recently, Lady Gaga's ARTPOP was plagued by scurrilous rumors of poor sales before it was even released. The ultimate flop, right? Sure, especially if you're measuring it against the massive success of 2011's Born This Way.
Even Michael Jackson couldn't avoid this trap. Thriller has sold over 65 million copies worldwide. The King of Pop himself said that if the follow-up Bad didn't match that same level of success, it would be a failure, and that it needed to be "as perfect as humanly possible." He was so consumed by the process that he wrote over 60 songs and considered releasing 33 of them as a triple album until Quincy Jones talked him out of it. Jackson angled for an unprecedented 100 million in sales. Bad sold nowhere near that number, and to this day has only sold approximately half as many copies as Thriller. But that's still good enough to make it one of the best-selling records of all time.  
The sales-expectations game can overshadow the actual music, which is why it's best not to think of records like Thriller and 21 as normal albums at all. They're more like cultural events — or phenomena, as Adele put it — that are powered by multiple chart-topping singles (Jewel's 12 million-selling Pieces of You had three), consistent sales (Hootie & the Blowfish's Cracked Rear View sold 16 million but took five years to go diamond), and mass-cultural moments that help sustain the public's interest (Thriller's iconic, big-budget 13-minute music video more than doubled album sales even though it was the seventh and final single; Adele's appearance at the 2012 Grammys, a year after 21 came out, increased sales by 207 percent; the box-office success of Alan Parker's animated film and laser light shows that continue to this day helped Pink Floyd's The Wall.)
In other words, there's an element of luck, a catching of cultural lightning in a bottle, to selling this many records. Of course, none of this means it's impossible for 25 to do as well as 21 — after all, at a time when both album sales and singles sales were going down, 21 kept going up — it would just be very rare. Think of it this way: AC/DC only has one Back in Black (22 million), and Bruce Springsteen only has one Born in the U.S.A. (15 million). Subsequent albums often bolster the sales of these classics, but they rarely — if ever — outdo them.
A few exceptions do come to mind. Chris Molanphy, the pop-chart columnist for Slate, points out: "Whitney Houston, for example, her debut album sold something like 14 million copies in America, and then the Bodyguard soundtrack [yet another example of an event album that tapped into the Zeitgeist at the right time] sold a similar number. So she came back. It's possible, when you have a massive hit, to repeat that success." Ditto Eminem: Both The Marshall Mathers LP and The Eminem Show sold over 10 million copies.
Adele herself seems pretty grounded about the pressure, recently telling Rolling Stone that she doesn't follow what's on the charts or in popular culture. If she's been cracking up with anxiety over expectations for 25, we've yet to hear about it. Maybe the rest of us could take a cue from her and remember: The sales of 25 do not determine its success or failure. The music does.