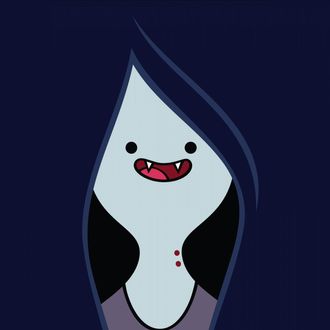 Queen of her own adventure.
Photo: Cartoon Network
At a New York Comic Con panel on Friday, Adventure Time fans got a sneak peek of the new miniseries surrounding one of the most beloved and mysterious characters in the postapocalyptic Land of Ooo: Stakes, an eight-part miniseries, will explore the backstory of Marceline the Vampire Queen and how she got her powers. The spinoff series will premiere November 14 on Cartoon Network after Adventure Time premieres November 2. Fans were treated to the first two episodes of Stakes at Hammerstein Ballroom, the second of which, "Everything Stays," features vignettes of Marceline in her pre-vampire days: singing a song by the same title, written by Rebecca Sugar, the creator of Steven Universe and author of other popular ditty "Bacon Pancakes." Woof.