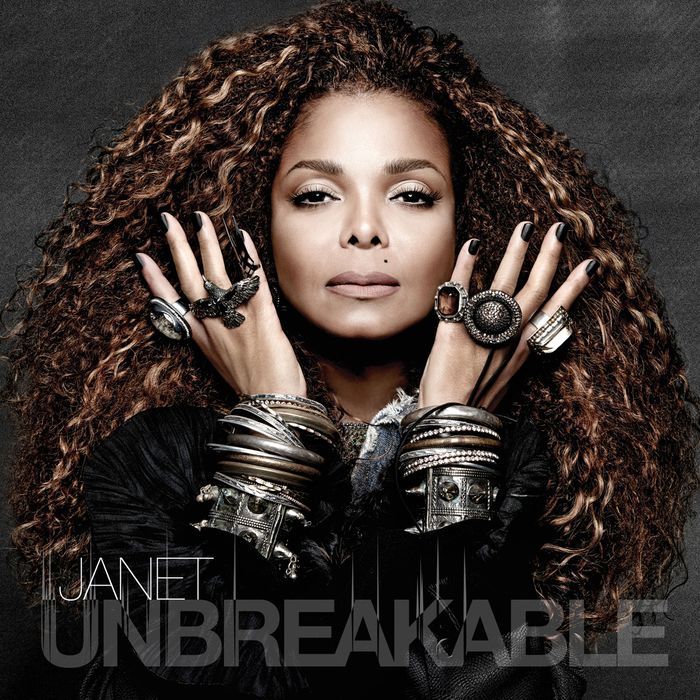 093015- Janet Jackson (courtesy of Black Doll Inc.)
Future generations will not believe us when we tell them of the havoc wreaked by Janet Jackson's boob. In this, the age of #FreetheNipple, #BreaktheInternet, and the couture-ification of "the naked dress," something about that infamous Super Bowl halftime show now feels improbably quaint. Which is why it's worth pointing out just how damaging the whole thing was to Janet's recording career: Coming off the hot streak sparked by her bubbly 2001 comeback album All for You, 2004's Damita Jo (released a month and a half after the Super Bowl performance) was the closest she'd yet come to a genuine bomb. (The fact that she was "blacklisted" from radio and TV at the time certainly didn't help.) Album-wise, Janet hasn't really regained her footing since then. Her next two releases were 2006's unremarkable 20 Y.O. and 2008's stiffly retrofuturistic Discipline, neither of which made much of an impact in the pop landscape. Janet had once inspired young women to take control of their lives and sexuality, but by the end of the last decade her story had played out like a cautionary tale, an unfortunate reminder of the exile a woman can find herself in once society has mercurially decided she's gone "too far."
Unbreakable, Janet's first studio album in seven years, seeks to add a resilient epilogue to that story. And it succeeds because it's easily her best album since All for You — and probably the best album by a veteran pop star this year. Unbreakable (Janet's reunion with longtime producers Jimmy Jam and Terry Lewis) avoids both the radio-hungry trend-pandering of Madonna's Rebel Heart and the noodly self-indulgences of the most recent Prince albums in favor of a sound that's both personal and palatable. Unbreakable is mature but fleet-footed, somehow as poignant as it is fun. Unbreakable explores Janet's depths and despair, but it doesn't stay down for long. Ballads about alienation and pain explode into confetti-flecked choruses of triumph.
After Discipline's forays into hyperdigitized pop, it's nice to hear Janet unafraid to go a little retro. The best songs have a throwback vibe: The lush, cumulous, Quincy Jones–esque "Broken Hearts Heal" envelops you like a fluffy blanket; the pulsating "Night" has a huge chorus and just the right amount of '90s nostalgia. The production is alive with playful touches, like the moment the forlorn ballad "After You Fall" begins to liquefy, or the sneeze that interrupts a lyric in "The Great Forever." ("Ooh, bless you," Janet quips, not missing a beat.) The song that sounds most like a contemporary pop hit is probably the sultry "Dammn Baby," with its skittering hi-hats and knockoff DJ Mustard beat, but it's an outlier. Unbreakable is a record that sounds aware of what's happening on the radio right now but not particularly interested in conforming to its trends.
I got chills the first time I heard "The Great Forever" — Janet sounds so much like Michael here that it's eerie. Unbreakable is the first album she's made since his death, but he feels stirringly present in these songs. Janet spent much of the late '80s and '90s trying to differentiate her aesthetic from her most famous sibling (no one could touch him in the '80s, of course, but her '90s records have definitely aged better than his), but now you can hear her subtly embracing it. "Broken Hearts Heal" sounds like an early MJ classic, and the celebratory closer "Gon B' Alright" is basically Janet's "Wanna Be Startin' Something."
For listeners as well as the artists who grew up admiring her, Janet Jackson has always provided a blueprint for how to mature. Control and Rhythm Nation are fiery proclamations of postadolescent independence; janet. and The Velvet Rope are master classes in how to make a grown-ass pop record — these days a disappointingly rare commodity. (All told, Beyoncé's self-titled album is the closest this generation has come to a janet.) Unbreakable makes the past few stops on Janet's journey look like an extended detour. "I've come a long way, got a long way to go," she sings on the bittersweet "Well Traveled." After nearly a decade stalled, she's finally found a way forward.