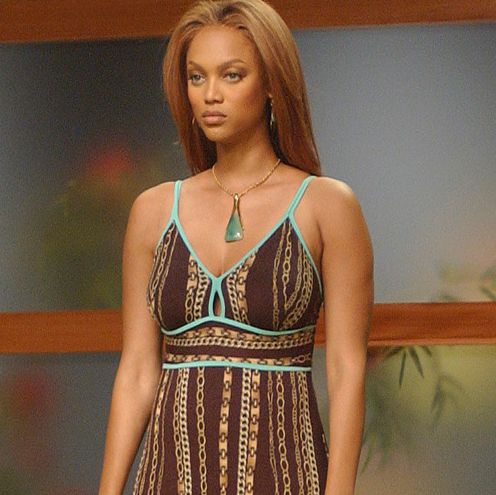 From left: Twiggy, J. Alexander, Tyra Banks, Nigel Barker.
Photo: MICHAEL YARISH/CBS/Getty Images
Tyra Banks announced Wednesday that this "cycle" of America's Next Top Model will be the show's last. Let's sing one somber round of "You wanna be on top," tear out our poorly maintained weaves, bleach our eyebrows, wobble in high heels, weep over our fear of heights, face the scorn of professional photographers surprised they're being asked to put up with our amateur-hour antics, and recognize that one of the greats is officially departing. When Top Model is on its game, it's one of the sublime treasures of reality contest television.
The show launched in 2003, as one of the earliest incarnations of the "live in a house together and compete in feats of skill, while one of you is eliminated each week" shows. American Idol — different structure, different vibe – launched in 2002; Survivor, also different in a lot of ways, debuted in 2000. MTV's Tough Enough premiered in 2001, though ANTM's clearest precursor is the British series Model Behaviour, which is basically the same show — but without Tyra Banks. And as someone who has watched a shameful number of international versions of Top Model, let me say this: The show is much, much better with Tyra.
Part of the joy of Top Model's earliest seasons was just how raw and unexpected it felt. All the contestants were beautiful, so how come they couldn't all look beautiful in photographs? Indeed, this is called modeling, and Tyra Banks was here to teach us about it. Smize is no one's favorite word, but so help me God, it is essential to looking good in photos (both for models on the show and for us hobos here in troll life). All of Banks's branded words — tooch, H-to-T, etc. — are abominations she introduced as the show trudged on, but even with stupid and grating terms, the underlying ideas were fundamentally sound. She's, you know, very good at modeling, and while her coach role has waned over the years, any time she swoops in and shows the newbies how to pose, it's genuine learning moment.
Not that the show is primarily a learning vehicle. We're watching for the human drama, obviously, and season one's Elyse-led griping is a national treasure. Things kept going from there. Let us not forget Shandi's amazing "You had sex?" phone call, or Jade's unpredictability, or Melrose's perky idiocy. Yaya's respieto. Bre's granola bars. When everyone claimed Michelle had a flesh-eating bacterial infection, but she actually just had impetigo. Angelea suing Tyra. Lisa deciding to pee in a diaper. We watched and wondered: Why were some women so against getting haircuts? Why couldn't anyone memorize one damn line from whatever mascara commercial they were pretending to make? We were all rooting for you.
Top Model came out of the gate with the exact right formula, but the more the show tinkered with it, the worse the series got. Introducing social media into the judging was excruciating; the cycles that hinged on contestants disclosing increasingly tragic and personal tales of woe felt exploitative. All-star season! Short model season! Uh, British … people … season! We had a college-themed one in there, too. Tyra was always the sun of this solar system, but the rest of the planets changed a bit: J. Alexander has been with the show from the start, but a judge only for some of the seasons. Janice Dickinson, of course, and Nolé Marin (and dog) both made early impacts. Nigel Barker seemed like a fixture, but he eventually left, too. André Leon Talley did a few years. Twiggy. Paulina Porizkova. Bryanboy. Kelly Cutrone has been a positive addition. Opening up the show to male models has also been fine.
But what makes Banks's announcement a bummer — in addition to the normal sadness that accompanies any kind of disruption of order — is that this season is totally decent. Part of that is how back-to-basics it feels. "Pageant" is still a mild slur. Issues with sharing the bathroom provide an episode's worth of conflict. The makeovers evoked the requisite tears. The go-sees resulted in the correct amount of frustrated lateness. The modeltestants have argued over whose turn it is to use the phone. It's like we're all young again, one last time. Smize through the tears, fellow ANTM fans. There's Tyra Mail waiting for us on the other side.