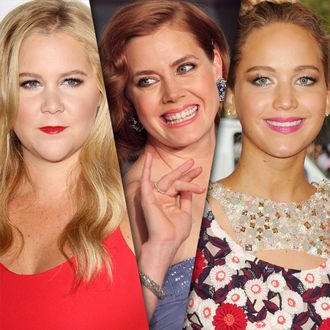 Three's Company.
Photo: Corbis
Much like a grown-up Cady Heron from Mean Girls, Amy Adams is thirsty to be a part of the "in crowd." And in a world where people think Taylor Swift invented the word squad over a decade after Fat Joe and Big Pun were in Terror Squad (and even they didn't invent it), Adams shared with THR that the "in crowd," to her, means Amy Schumer and Jennifer Lawrence.
You know, if a celebrity were to publicly announce that they wanted to be friends with another celebrity, you'd think they would pick someone more famous than them. Like Rihanna. Or Beyoncé. Or even Taylor Swift! Not an actress whom they were actually already in American Hustle with, because it's kind of weird that they don't already have her number and can't just text J.Law and ask her what's good. Amy goes on to say:
"I'm waiting for Jennifer Lawrence and Amy Schumer to invite me to their party! … So, I hope I was funny today so they will invite me to their next boating party! I'm a little more neurotic than both of them, but I think that would be — they need a little of that, and they're both so cool and I could be the 'not-cool' person."
Amy. Lou. Adams. You have five Oscar nominations. Your mere presence as a superstar made the entire world forget who Isla Fisher is. Don't do this. Turn off the Grease 2 soundtrack and stop listening to "Cool Rider" on repeat. You are cool. Love yourself.

Also, while you're at it, maybe invite Monica Lewinsky to hang out with you, too. She also needs a friend.