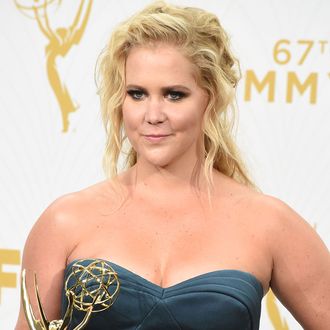 Werk!
Photo: Steve Granitz/Getty Images
Amy Schumer has mastered the art of leaning all the way in: Her new multi-million-dollar book deal apparently didn't always come with such a hefty price tag. Two years ago, according to the New York Times, she signed a similar deal with HarperCollins for a book of humor essays to be written with help from The New Yorker's Patricia Marx. At the time, Schumer was like any other emerging comedian with a lot of buzz, and so they offered her a $1 million advance. Schumer eventually canceled that deal and returned the check because she was "too busy" (likely launching Inside Amy Schumer) to write a book. She told GQ earlier this summer, "I had a whole deal, but I decided to wait — I thought I would make more money if I waited."
One rom-com, an Emmy, and #squad with Jennifer Lawrence later, and Simon & Schuster's Gallery Books bought the publishing rights to Schumer's book of essays at an auction last week for a cool $8 million. That number, if accurate, would be more than the advances reportedly offered to Lena Dunham, Tina Fey, Mindy Kaling, and Amy Poehler for their respective books. So in the span of two years, Schumer has negotiated a $7 million pay increase. Not too shabby!