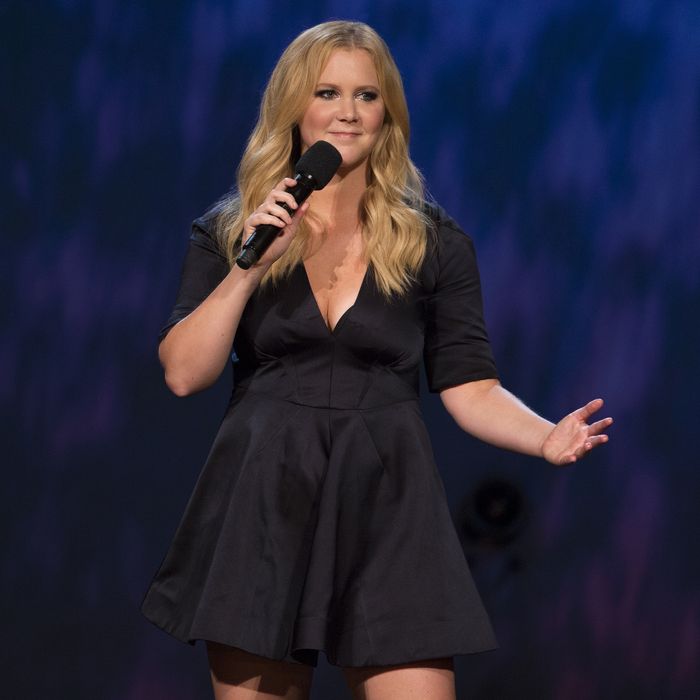 Amy Schumer, live at the Apollo.
Photo: HBO
"This has been an insane year for me," says Amy Schumer at the top of her first one-hour HBO special, after walking onstage to Nicki Minaj's "Beez in the Trap," carrying a half-drunk white-wine bottle and setting it on a stool in lieu of the usual water.
Since HBO's Amy Schumer: Live at the Apollo was taped back in May, Schumer's Comedy Central show, Inside Amy Schumer, was renewed for a fourth season. Her first feature film, Trainwreck, was a considerable success. She redefined #SquadGoals with her Instagrams featuring Jet Ski rides with Jennifer Lawrence, twerking sessions with Madonna, and private jet rides with her famous comedian friends on the Oddball Comedy Tour. She even got through hosting Saturday Night Live this weekend with nary a negative review. In her first HBO special (directed by Chris Rock, creator of some of the most memorable HBO specials of all time), Schumer's humor is the same as it ever was: self-deprecating jokes about her body image, sex life, and basest instincts all run through the hour-long set. Ahead, the five most prevalent themes to listen for in Live at the Apollo, airing October 17 on HBO.
1. Hollywood's double standards.
Chances are after watching this, you won't look at animated movies the same way again. Schumer's analysis of the casting of Zoo Keeper, in which Kevin James plays the hot (animated) love interest of the beautiful Rosario Dawson, is hard to forget. She also explores how men are rarely labeled "sex comics," as Schumer has repeatedly been referred to in the media, and opens up about the difference between male and female comics when it comes to getting attention from the opposite sex after a show (Spoiler alert: It's easier for the guys).
2. Weight loss.
Upon finding out she would actually be starring in Trainwreck, the movie she wrote, Schumer was told she just needed to do three things: "Be yourself, have fun, and 'stop eating food.'" That's not how Schumer was raised ("I was born weighing 150," she says), but that didn't stop her from losing a negligible amount of weight and having her Los Angeles personal trainer act "like he taught Helen Keller to read."
3. Vaginas.
One of the first jokes of the night sets the tone for the entire special, when Schumer recalls an old New Year's resolution: "Just once, take off a pair of underwear and have it not look like I blew my nose in it." Add that to a bit about the celebrity photo hack, a massage-parlor story, and an admission of what Schumer thinks her own vagina probably looks like, and you've got yourself a motif.
4. Sex positivity. (And Ruth Bader Ginsburg.)
There are several moments throughout the special that will have women going:
Like when she tears into the notion that only men enjoy sex and women put up with it. "You're made to feel really disgusting and weird if you're a girl who likes sex," she says, before talking about male ejaculate in a way that can best be described as adulation mixed with grief. "It gives us life," she says, but when she gets into why no woman should feel bad about "taking a load" because "all the greatest women," even RBG, have dealt with it, well, it's a hard image to get out of your head.
5. Audience interaction.
Schumer ends her set with a bit about extreme sex acts that she opens up to the audience. After going over some of the most hilariously disturbing moves you've never heard of (e.g., the "Dirty Rochester"), she makes a good point: None of them are pleasurable for the woman involved. This is capped off by a young man in the audience who explains how to do an "Angry Dragon," and, well, you're going to love who's sitting next to him.