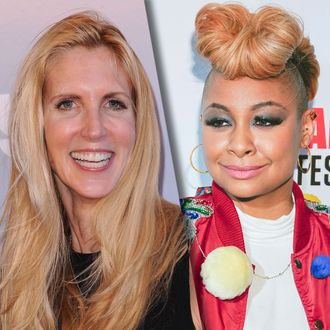 The Captain and Tenille.
Photo: Corbis
On Friday, gay icon Ann Coulter stopped by The View to share her completely empathetic, nuanced, and non-racist views on immigration. After Coulter called herself a "settler" and said "they founded America, not immigrants," Raven-Symoné, the Angela Davis of The View, responded with, "My mom taught me when I was younger, if you don't have anything nice to say, don't say it at all." The audience uproariously cheered to this Bazooka Joe–wrapper wisdom as Symoné continued with, "Why do you think it's important to mudsling?" and asked Coulter why she thinks her success is "based off that."
Coulter, however, proved she might be a stealth member of Black Twitter, because her clapback was ferocious:
"Well, I'm at least talking about policy. You have a position on what people's names should be. Watermelondrea … I mean, you'll insult people for their names. I'm talking about a government policy that affects all Americans, and immigrants, and the people living here. And it's harming our country. So you don't follow it."
Damn. When you're getting dragged by Coulter of all people on national television, maybe Raven-Symoné should take Edgar Allan Poe's advice and quoth nevermore.