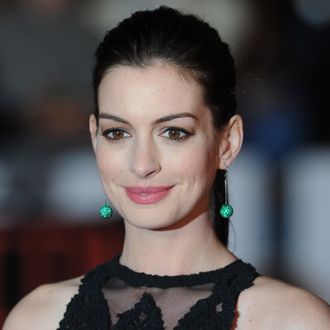 "Hot eggs, please."
Photo: Stuart C. Wilson/Getty Images
You're not able to pull off drama, comedy, action, musicals, hosting Saturday Night Live, and an absurd variety of haircuts if you don't have good taste. And Anne Hathaway put those taste buds to use last week: While shooting a Japanese commercial on the Paramount lot, TMZ reports, Hathaway sent her breakfast back four times. Here is their breakdown:
1st try: Poached egg too runny.
2nd try: English muffin was cold because it sat while egg #2 was being poached.
3rd try: Egg #2 cold because it sat while chef toasted muffin #2.
4th try: Egg, muffin and avocado were perfect, but it took so long she decided she was in the mood for a fried egg.
Sounds about right. Sorry, but who can trust an actor willing to eat cold eggs? You think Meryl Streep eats cold eggs? You think Bradley Whitford eats cold eggs?! So, enjoy your hot egg-and-avocado sandwich, Anne Hathaway — it's a great breakfast order.