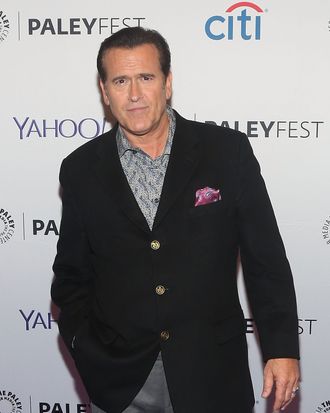 Bruce Campbell.
Photo: Taylor Hill/FilmMagic
To work alongside Sam Raimi (Evil Dead, Spider-Man), one needs to develop a kinship with blood. Bruce Campbell, the demon-battling veteran and hero of the forthcoming Ash vs. Evil Dead, explained as much at a PaleyFest panel Tuesday night, just a couple weeks ahead of the STARZ series premiere. "I enjoyed working with [my co-stars] all very much, because they passed the blood test," the actor said, detailing how being drenched in blood is akin to being trapped in special-effects makeup for hours, as he comically clawed at his face. "There's always a point — we call it 'the latex point' — where you go, Get this fucking shit off my face! And you run away, taking your clothes off … But they all passed the [blood] test."
Campbell then turned to Ray Santiago (Meet the Fockers), who plays Ash's sidekick, Pablo Simon Bolivar. "Ray, what was your description? You were covered in blood, you had a T-shirt on that was just stuck to you." Santiago replied: "It feels like little chihuahuas licking at you all the time."
"Getting the blood on isn't as terrible — yes, it stings and it's sticky and all that — but it's [worse] when it dries, because it hardens like a wax, so someone calls your name and your turn your head and it's like 'AAAARRGH!' ripping off layers of skin," Dana DeLorenzo (A Very Harold & Kumar 3D Christmas) added.
Being covered in blood during shoots also affects your hair-do, transforming it into a gory hair-don't. DeLorenzo shed light on the "Evil Dead haircut," as coined by co-star Jill Marie Jones (Sleepy Hollow). "But in your hair, if you have any amount of hair, it is over for you, there is no chemist in a lab able to figure out what we have to come up with to get it out of our hair!" she said. "The Evil Dead haircut is, 'I'm just gonna brush that out like it's fake hair.' […] And then you hear Sam in the background, going, 'Can we get more blood? More blood!'"
You can watch the entire PaleyFest panel, moderated by Vulture's Abe Riesman, here. The premiere unspools October 31 at 9 p.m. on STARZ.