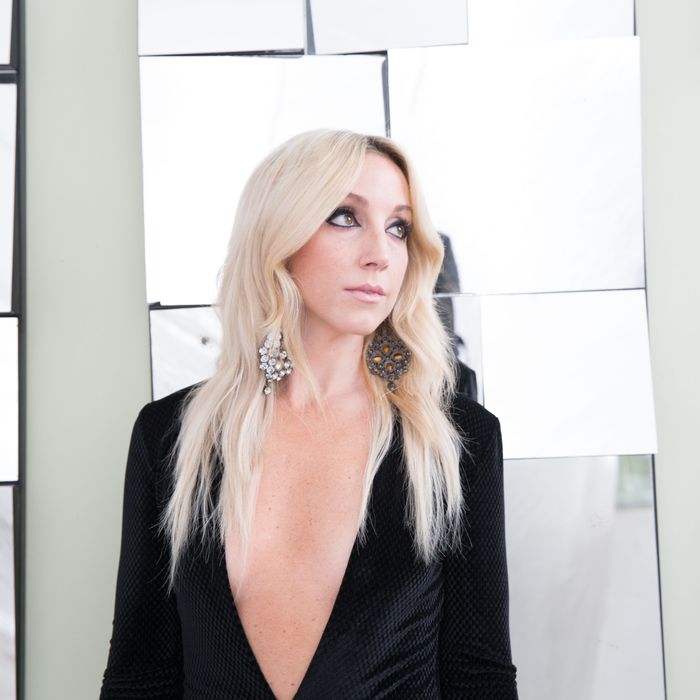 Ashley Monroe continues to make her mark outside of Pistol Annies, her saucy country trio with Miranda Lambert and Angaleena Presley. On her third solo album, The Blade, Monroe goes toe-to-toe with any of this year's biggest country heavy-hitters, thanks to her immense knack for storytelling across both kick-up-your-heels tracks and emotionally wrenching cuts. Splitting the difference between the two is the LP's most intimate moment, "Bombshell," a charming, acoustic gem about learning to rip off life's most painful Band-Aids.
"When you first hear the song, your mind automatically goes to a relationship, like you're leaving somebody, but I just think it's interesting in life how many different types of bombshells we have to drop," the Knoxville native tells Vulture. "There are so many. When my dad had cancer, my uncle came into a room to tell me he died. That's a bombshell. And the older you get, the more you have to start doing them yourself, which is hard."
For the video, Monroe wanted to stand next to actors holding metaphorical bombshells, but wasn't sure how to execute the vision. Management suggested using Molotov cocktails.

"We lit them on fire, and then you had to hurry up and throw them over [the roof] before they'd explode. That was pretty nifty," says Monroe, who didn't throw any of these bombshells herself. "When I was standing there next to them, while people kept throwing them off the roof, the director had to keep telling me, 'Ashley get closer! Ashley get closer!' But all I could see was my lashes and my hair going up in flames." At one particularly hilarious point in the video, Monroe gently pats one of the arsonists on the back while remaining a safe distance away. "I was like, 'How about I just stand way over here and watch you throw it over there,'" she laughs. "It's like, 'Good for you, good for you. I'm going to step over here!'"
Country-loving pyros, you're in luck: Vulture's premiering the "Bombshell" video exclusively below.