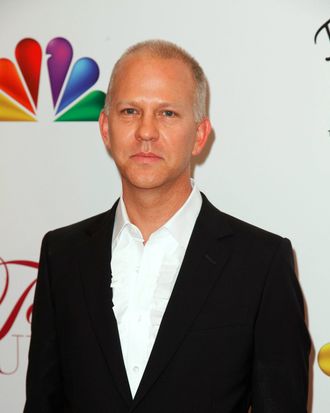 Photo: Imeh Akpanudosen/Getty Images
Entertainment Weekly's first-ever EW Fest on Saturday included a "Ryan Murphy and Friends" panel, with the seemingly indefatigable showrunner bringing out Scream Queens cast members Keke Palmer, Emma Roberts, and Lea Michele, and American Horror Story: Hotel's Kathy Bates and Matt Bomer, to chat with EW's Tim Stack about everything Murphy. Here's what we thought you should know.
Murphy and Lady Gaga ate frozen yogurt at Barbra Streisand's house.
Murphy told the story—also known as my nightly dream— of going with Lady Gaga to Barbra Streisand's house for dinner, and then taking a tour of her famous basement mall, in which she served them frozen yogurt. Let's just slow down: Barbra Streisand's basement frozen yogurt store. As he explained:
"That was an evening that was jaw-dropping for me. We had dinner with Barbra and Jim, and Kelly [Preston] and John [Travolta], and Gaga and I. That's all the people who were invited. And after dinner, she said, 'Do you want to see the mall?' And Gaga and I were out of that chair so fast … We went down to the mall and spent an hour down there. She pulled out her collection of gowns from Funny Girl and Hello, Dolly! And then she said, 'Do you want frozen yogurt?' I could write a whole book about that night."
He would reboot Nip/Tuck.
With a few changes.

"I would do Nip/Tuck again," he said. "I wouldn't write it, but I would get cool writers to do that show. I would redo that show now with two women, as two plastic surgeons who are dealing with that now. But, I wouldn't do it with the two guys. I would grandfather it, I suppose."
Jamie Lee Curtis will fight with a Supreme Court justice on Scream Queens.
Murphy said the upcoming episodes of Scream Queens will include one epic battle between Jamie Lee Curtis' character, Dean Munsch, two murderous Red Devils, and Supreme Court Justice Antonin Scalia. Curtis will apparently beat up Scalia while peppering him with insults about his negative views on gay marriage. Said Murphy, "It's great because Jamie Lee gets to say everything she's always wanted about Justice Scalia."
He has two ideas each for the next season of American Horror Story and the upcoming American Crime Story.
Also, his idea for the Season 2 of Scream Queens was just approved, and "everybody loves it."
Murphy aims high when casting.
Who do you go for after you've already gotten Patti LuPone and Lady Gaga? "I don't know … Meryl Streep." Better start writing American Horror Story: Oscars Ceremony, then.
AHS: Hotel is probably about vampires.
Murphy has said in the past that the bloodsuckers on this season of American Horror Story aren't vampires, but when Stack asked him if, after being fed blood by Donovan on the latest episode of the show, Kathy Bates' character was "a vampire" now, Murphy said yes. So, "ancient hemophilia" or otherwise, he better get his story straight.