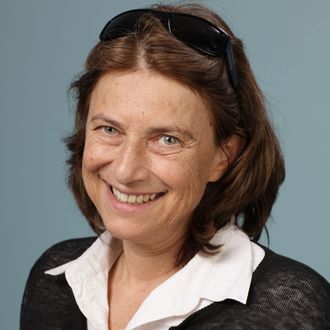 RIP.
Photo: Matt Carr/Getty Images
Belgian auteur Chantal Akerman has died of an apparent suicide at the age of 65, Le Monde reports. However, Nicola Mazzanti, the director of the Royal Belgian Film Archive told the New York Times that the cause and date of her death were unknown. Akerman had recently completed the film No Home Movie, which featured lengthy conversations between herself and her ailing mother, a survivor of Auschwitz. She recently said the film took a heavy emotional toll on her: "I think if I knew I was going to do this, I wouldn't have dared to do it." The Times also reports that, according to her friends, she had been in a "dark place."
Akerman, a giant within the worlds of avant-garde and feminist cinema, completed her first film, Saute ma ville, at the age of 18, dropping out of film school to finance it herself. Her work explores the feeling of dread and terror within the quotidian, and heavily influenced other filmmakers, including Michael Haneke, Gus Van Sant, and Tsai Ming-liang. Her most celebrated film is Jeanne Dielman, 23 Quai du Commerce, 1080 Bruxelles, a 201-minute film about the life of a widowed mother who also works as a sex worker. Critic Dennis Lim wrote that the work "forged a link between the high modernism of golden-age European cinema and the emerging trend of postmodernist deconstruction" — a language that has become familiar within international art film.
Akerman's work is difficult to pin down, and various labels have been affixed to her: experimental, feminist, minimalist. Her work is deeply personal and aesthetically specific in a way that defies categorization. Perhaps she described her work the best when she said, "All those labels are a bit annoying. To name something is a way to possess it. I think it makes the film smaller. And O.K., maybe they are right, but they are never right enough."