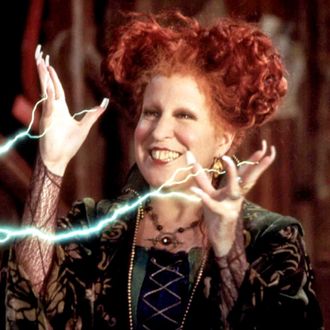 Photo: Walt Disney Pictures
If you thought a potential sequel to the spooktacular 1993 cult film Hocus Pocus was delayed because of creative differences or behind-the-scenes drama, think again. According to Bette Midler, who took to Twitter yesterday afternoon to jokingly air her grievances (complete with a GIF), it's simply because Disney can't find any virgins to continue the legacy.
This prompted fellow Sanderson sister Kathy Najimy to chime in with her thoughts. Hey, how did Marc Shaiman get in the middle of this?
Sarah Jessica Parker has remained mum — classic Sarah (the character, that is).