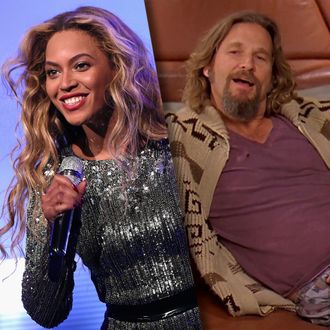 Beyoncé and the Dude.
Photo: Getty Images
After sampling Julianne Moore's "Do you like sex?" monologue from The Big Lebowski on her 2014 self-titled album, Beyoncé is taking her obsession with all things the Dude to the next level and moving into the mansion featured in the film. TMZ reports that Beyoncé and Jay Z are renting the $45 million home of ex–L.A. Dodgers owner Frank McCourt. The duo tried to purchase the home last year, but lost to a bid from a British billionaire. But seeing as the billionaire is never there, McCourt put the house up for lease and the Knowles-Carters snatched it up.
The Knowles-Carters are renting the house for a steep $150,000 a month, so hopefully the house comes stocked with a year's supply of White Russians.