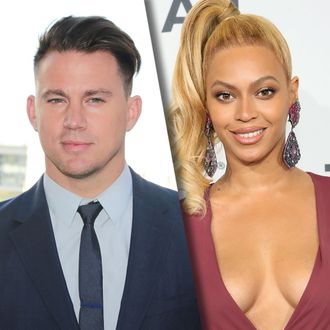 Magic Mike and Queen Bey.
Photo: Getty Images
Beyoncé is in a very giving mood as we gear up for the holiday season. After making an appearance at R&B dancer Ciara's birthday party, she will be appearing on the second season of Spike TV's Lip Sync Battle with Channing Tatum, EW reports. If Magic Mike himself dances with Queen Bey, television sets across America will surely explode from such a high concentration of blessings. In fact, maybe they can just skip the show altogether and have Beyoncé star opposite Tatum in Magic Mike XXXL.
The second season of Lip Sync Battle debuts in 2016.