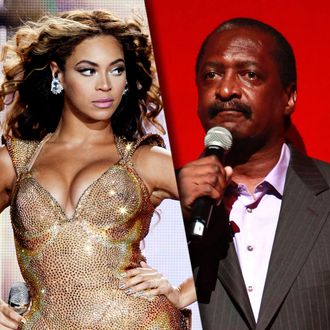 Photo: Kevin Winter/Getty Images, Brian Ach/WireImage
Mathew Knowles — father and former manager of Beyoncé, current manager of the defunct Destiny's Child, and man who earns no money when Beyoncé reunites with Kelly Rowland and Michelle Williams and doesn't refer it as "Destiny's Child" — will be teaching a one-day workshop called "The Entertainment Industry: How Do I Get In?" on October 24 at the Hobby Center in Houston, Texas.
Here's what the $199 course for "aspiring singers, dancers, composers, writers, producers, managers, publicists, attorneys, business managers and all other entertainment industry hopefuls" will probably look like:
09:00 a.m. How to spell "Beyoncé."
09:15 a.m. Receive cease-and-desist letter preventing Mathew from mentioning the name "Beyoncé" during the course.
09:30 a.m. Selling of water bottles and snacks, as "no outside food or beverage will be permitted."

10:00 a.m. Dating tips on finding a successful, motivated woman to give birth to a future superstar whose career you can manage.
11:30 a.m. Farrah Franklin guest lecture, with excerpts from her upcoming Beyoncé "tell-all."
12:00 p.m. Break for lunch.
01:00 p.m. Keri Hilson case study on how to create fans that will attack anyone who makes a disparaging comment about you.
02:30 p.m. Looking at photos of Blue Ivy and weeping.
03:00 p.m. Tina Knowles Skypes in (she won't be in attendance) to laugh.
04:00 p.m. Nap time.
05:00 p.m. Auditions for a new version of Destiny's Child, with special guest Rita Ora.
07:00 p.m. Screening of the 1992 ABC mini-series The Jacksons: An American Dream.