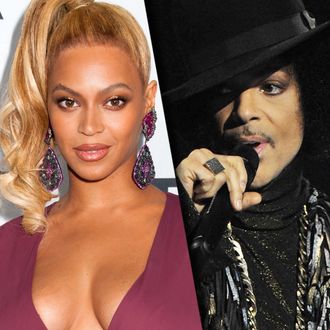 Queen and King.
Photo: Corbis
As a bonus to their "Feeling Myself" performance at last week's Tidal X charity concert, Beyoncé released backstage footage of her rehearsals with Nicki Minaj. In a smoky, noirish black-and-white video, Beyoncé and Minaj stand on an empty stage while a Beyoncé voice-over sings a remixed version of the Prince classic "Darling Nikki."
The full lyrics to the all-too-short song are:
I met a girl named Nicki
I guess you can say she was the rap queen
I met her in the studio lobby but her booty looked bigger in the magazines
She said, "Bey, would you jump on this song of mine?"
How could I resist when I heard little Nicki rhyme?
We need a full version immediately, Bey.