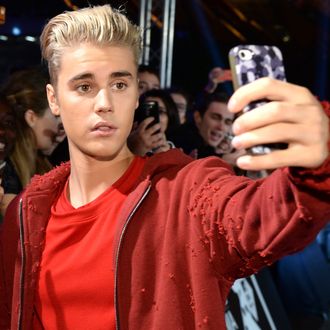 Canada Bling.
Photo: Kevin Mazur/WireImages
Even after a phenomenal Erykah Badu remix and a cavalcade of memes, Drake's "Hotline Bling" shows no signs of fading from the cultural consciousness. So of course Justin Bieber, in between promoting his album with graffiti and having his dad talk about his penis, decided to drop his own remix.
But the twist is you actually have to call him on his cell phone (or whatever land line his record label set up for him). Bieber tweeted out the number 231-377-1113 and instructed fans, "Call me on my cell phone."
When you call the number, you'll hear a voice-mail recording of Bieber's "Hotline Bling" remix. The remix is halfway between a hit and a miss, but this is a pretty awesome way to drop a song. We're gonna go out on a limb and assume it was inspired by Callin' Oates.
Listen to a fan's recording of the voice mail below: