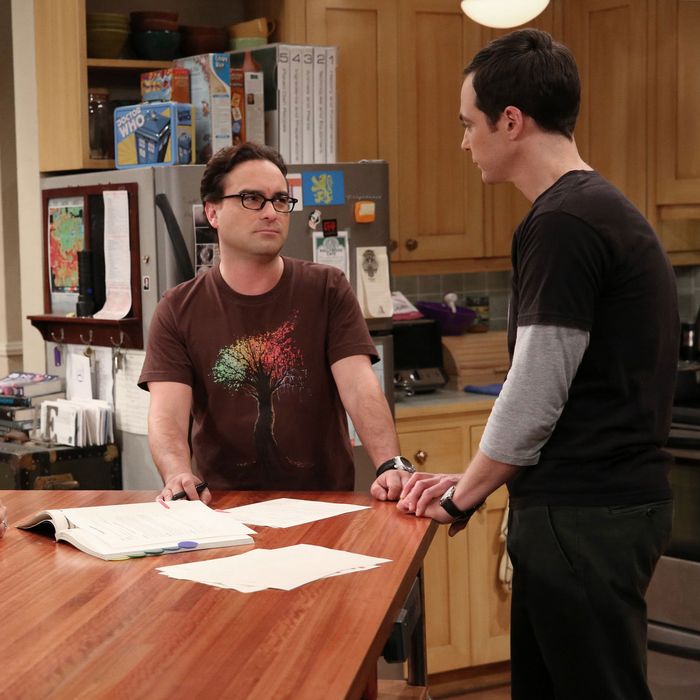 Photo: Darren Michaels/CBS
Last week's episode of TBBT included precious little movement on the Sheldon/Amy breakup front. This week there was movement, at least by Sheldon, but all it makes me wanna do is slap him silly with the rolled-up pages of his roommate agreement. The boy is regressing.
Still riding the high of a trip to the Container Store — who of the organizationally obsessed among us hasn't been soothed by an afternoon of Elfa closet-planning and Mondrian-inspired storage boxes? — Sheldon learns from Penny and Leonard that they plan to live together. In Penny's apartment. Without Sheldon.
He does not react in the manner one would hope a 30-something genius scientist would react. Everyone's abandoning him, he says, from the newlyweds to ex-girlfriend Amy Farrah Fowler. His solution: to interview new roommate candidates. When the first three applicants freak him out for various reasons (one hopeful's Band-Aid on the forearm gets him booted), he turns to a surprising option: Amy. Even though the reason she broke up with him is his repeated insensitively, he continues to be so annoyingly self-obsessed that he dares to Skype her and ask if she wants to be his roommate, then whines about his living situation to her when she (more politely than he deserves) declines his invitation.
Next, since, in his mind, all of his current problems stem from the fact that he began acknowledging his emotions once he became friends with Leonard and Penny and Amy, Sheldon's going to Marty McFly himself and go back in time — the titular 2003, the day before he met Leonard, to be exact — and resume his life of impassive solitude. He even buys a retro flip phone and returns the apartment to its pre-Leonard décor, i.e., lawn chairs in the living room and the TV on cinder blocks.
The worst part of what amounts to his hissy fit: It works. Even after Sheldon so thoughtlessly involves Amy in his roommate shenanigans, she defends him later to Bernadette. And even after making Leonard sign documents undoing the roommate agreement, and repeatedly insulting and manipulating him and Penny, Sheldon gets what he wants in the end. He tells his friends he thinks they'll drift apart now, with weekly dinners fading into monthly dinners and then only gatherings on special occasions, like when "Bernadette divorces Wolowitz," or "when Koothrappali's weird girlfriend admits where she buries his body" (the best line of the season so far), or "Amy's wedding, where she's marrying someone better than me." That last one pushes Penny into full sympathy and guilt mode, and she's suddenly agreeing to spend several nights a week in her apartment, and several nights a week in Sheldon and Leonard's apartment. Nothing will change, in other words, including that Sheldon has once again gotten away with treating those who care for and tolerate him most as shabbily as he wants. And as for those emotions he resents having, it doesn't seem to occur to any of the gang that he's learned to use them to wrap his friends around his Rock, Paper, Scissors, Lizard, Spock-throwing finger.
And how seriously is anyone taking the hastily arranged Hofstadter marriage when Penny and Leonard aren't even getting the chance to truly live as a married couple yet? Or is how easily Penny acquiesced to Sheldon's manipulation really her way of avoiding a full commitment to married life?
The bottom line is that, with 24 episodes to churn out for a season, we should probably go ahead and settle in for what will likely continue to be the milking of the problems in the two main romantic relationships. We haven't even yet gotten to the inevitable dating-other-people phase of pre-reconciliation Sheldon and Amy, so we're looking at a lot more insufferable behavior from Mr. Cooper until, at least, November sweeps.
Thankfully, just as so many episodes of Will & Grace were Karen-and-Jack-ed away from the main characters, "The 2003 Approximation" is stolen, or rather saved, by Howard and Raj. In a far more entertaining half of the episode, we're introduced to the joys of Filk. What, you may ask, is Filk? It's a genre of music that puts a science-fiction/fantasy spin on folk, and yes, it is a real thing. It's also the reason that, for at least the next week, many of us will be trying to get the chorus of "Hammer and Whip: The Untold Story of Thor vs. Indiana Jones" out of our heads.
The tune is the result of the finest collaboration yet from BFFs Howard and Raj, who respond to Stuart's call for musical acts to play at the comic-book store with the formation of their own acoustic duo: Footprints on the Moon. The band has been Howard's dream since junior high, when he envisioned it as a three-man group, but lacked two friends to make it happen.
No matter; Raj is his perfect partner in deliciously cheesy but undeniably catchy crimes against music. FOTM's first co-writing effort, the aforementioned ode to the hammer-toting Norse god of thunder and the bullwhip-and-fedora-sporting archaeologist, nearly does the band in, as Raj performs the song for Emily, and she calls it cute, then says you can't dance to it. Raj employs some Bollywood-style dance moves to try to prove her wrong, but when he shares her review with Howard, Footprints on the Moon is nearly Yoko-ed into demise.
The friends quickly make up, though, and the speed and sincerity with which the entire evolution of FOTM is shown — forming, writing their first signature song, nearly disbanding, and then reuniting, within ten minutes or so of screen time — is the sort of endearing silliness that keeps you tuning into The Big Bang Theory. That and the looks on the faces of their friends when Raj and Howard make their triumphant debut at the comic-book store, singing of "Thor and Dr. Jones / Thor and Dr. Jones / One plays with lighting / The other plays with bones."
In the grand tradition of geeky TV bands like Chuck's Jeffster!, here's hoping we're in for an encore from Footprints on the Moon.
THEOR-EMS:
Sheldon: "Blue Icees and a trip to the Container Store? It's like I died and went to the postmortem neuron-induced hallucination commonly mistaken as Heaven."
Stuart, on his ambitious plans for the comic-book store: "I was thinking it might be cool to have live music here a few nights a week. Give this place more of a 'staying in business' vibe."
Howard on Raj's song idea: "Thor versus Indiana Jones … you just blew my Filking mind."
Additional lyrics from "Hammer and Whip": "Thor and Dr. Jones / Thor and Dr. Jones / One runs from Loki / The other runs from stones."
Bernadette, offering Amy $1,000 to let Stuart move in with her: "I just thought you might have a pasty-weirdo-shaped hole in your life."

More "Hammer and Whip": "Indy's whip snapped / Thor's hammer missed / It was Avenger / Versus archaeologist / Indy held his ground / And straightened his fedora / Thor said, 'That's a nice look' / 'For 1944-a."