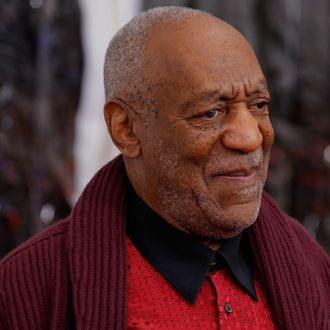 Bill Cosby.
Photo: Jemal Countess/2013 Getty Images
Bill Cosby's name adorns another defamation lawsuit — this one coming from Renita Chaney Hill, who last year accused the comedian of repeated sex abuse that began when she was a minor. The court docs, filed Wednesday in Pennsylvania's Allegheny County, seek unspecified damages for the alleged physical and emotional trauma, according to reports, and also want to hold Cosby accountable for dubbing her an extortionist and liar. "I am hopeful, with the help of my legal team, justice will be served," Hill, now 48, said at a press conference Thursday.
When Hill was a teen in the early '80s, she claims Cosby met her, sought her out, and selected her to appear with him on Picture Pages. She says he painted their initial relationship out to be that of mentor and mentee, as he would allegedly invite her to stay with him in his hotel rooms. What happened next, according to Hill, follows a pattern seen in many of the Cosby stories: There were drinks, evidently spiked, followed by something sinister. "I always thought it was odd that after I had this drink I would end up in my bed the next morning and I wouldn't remember anything," Hill told CBS Pittsburgh last year. Initially, Hill said she wasn't sure if she was raped, but she knew Cosby did something: "One time, I remember just before I passed out, I remember him kissing and touching me and I remember the taste of his cigar on his breath, and I didn't like it."
The suit explains the abuse continued for roughly four years, a time period when Cosby reportedly paid for Hill's rent and college tuition. Hill and her attorney told the media on Thursday that she severed ties once she realized what was happening. "[I]t soon became clear to Renita that she was being assaulted and taken advantage of during these occasions, and that she was not just 'blacking out' from alcohol intake," the suit reads, according to the Wrap.
Her delay in coming forward was rooted in Cosby's celebrity, but now, encouraged by the other suits levied against the once-hallowed comedian, Hill and her team want to make the case that he should come to Allegheny County for a deposition (which would not be his first). Cosby has not yet been charged with a crime; however, he has been questioned under oath. His latest answers will remain sealed until at least December 22, according to the L.A. Times.