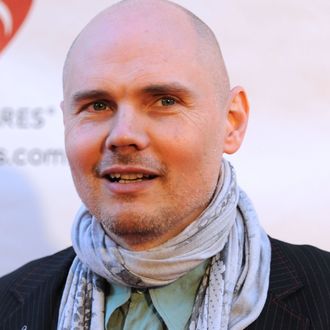 Billy Corgan.
Photo: Frazer Harrison/2011 Getty Images
Whether it's starting a niche website, tirelessly releasing new, mystically vivid music videos, or appearing on the cover of a cat magazine, Billy Corgan always has your best interests in mind. That's why he and his Chinese-style tea shop, Madame Zuzu's, are throwing a Halloween party (read: pregame) on Halloween, and he wants you to be there. If you're not overly booked, all you need is $15 (and maybe a really expensive plane ticket) to go to the spookiest 9 p.m. tea party the suburbs of Chicago have ever seen.
Here are the details:
Join Zuzu's on Halloween Night, Oct. 31 for a special Halloween bash. Your reservation includes: one reserved seat, special servings of ghoulish tea and v-gf dessert, a chance to participate in our (now) annual costume contest, and a vintage-style, peel-apart picture of you taken by your creaky yet congenial host, Count William Corgan. Only the dead could want more!
Yep! But Zuzu's warns there's limited seating, so buy your plane ticket (no, you're crazy!) and seat ASAP — especially if you want the chance to re-create this sacred thing and impress the man himself with your best Glum-Billy-Corgan-at-Disneyland costume.